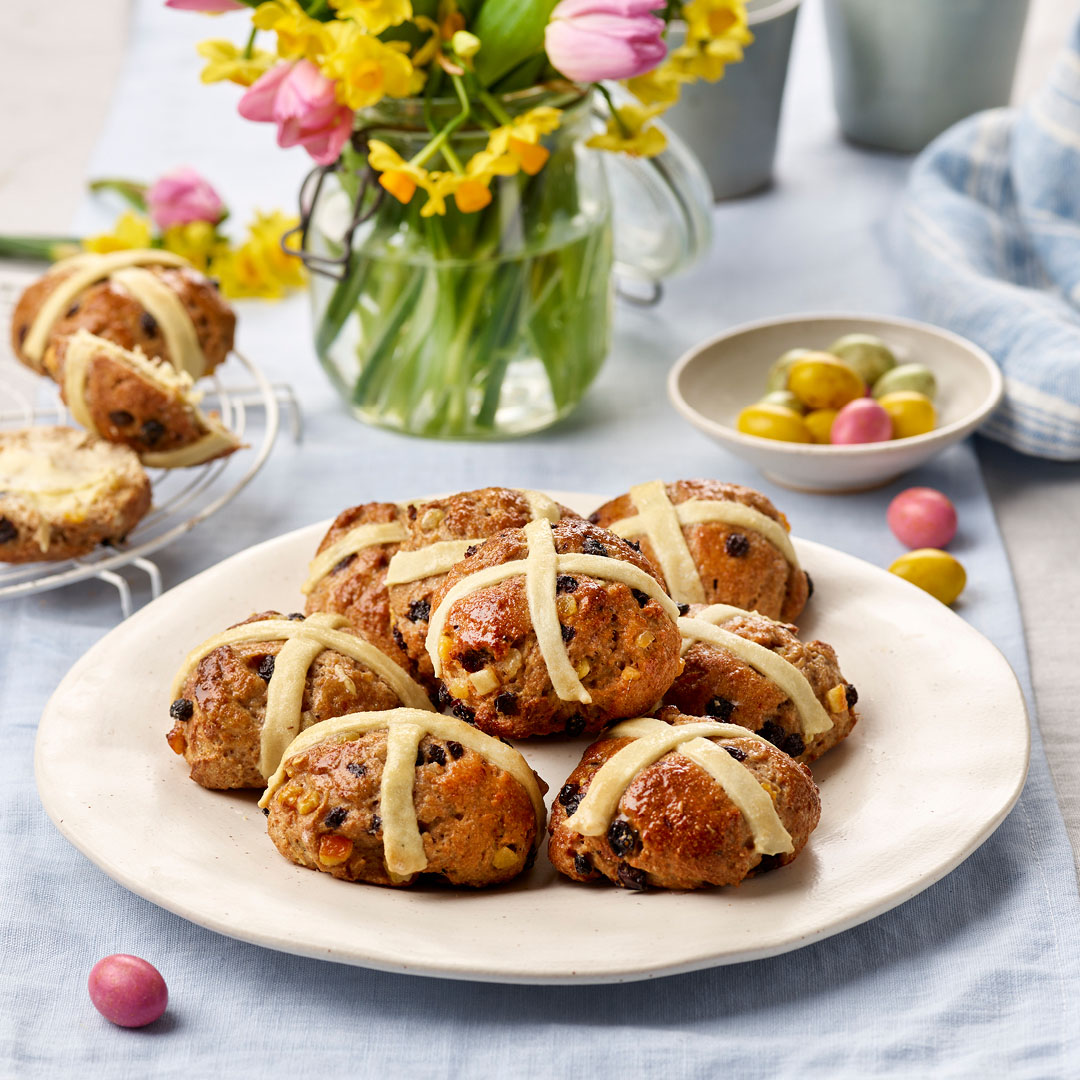 Wholemeal Spelt Hot Cross Buns
No reviews yet. Be the first to review this recipe.
18-20 minutes
10 hot cross buns
Egg,Nuts
Vegan,Vegetarian
About this recipe:
Made to a traditional recipe these lightly spiced, sweet fruit buns are decorated with a pastry cross which is typical at Easter time. Made with Wholemeal Spelt flour, you can use any kind of milk in this recipe. Serve the buns cold or gently warmed for breakfast or split, toasted and buttered as a snack or tea time treat.
Equipment:
large baking tray, 2 x mixing bowls, sieve and pastry brush
Ingredients:
FRUIT BUNS
75g currants
1 tbsp soft brown sugar
50ml boiling water
300g Doves Farm Organic Wholemeal Spelt Flour
1 tsp Doves Farm Quick Yeast
¼ tsp salt
2 tsp mixed spice
150ml milk or vegan milk
3 tbsp oil
1 tsp lemon juice
75g mixed peel, chopped
oil, for sprinkling
oil, for tray
HOT CROSS TOPPING
50g Doves Farm Organic White Spelt Flour
pinch of salt
2 tbsp water
1 tsp oil
milk or vegan milk, for brushing
flour, for dusting
BUN GLAZE
1 tbsp white sugar
1 tbsp boiling water
Method:
200°C, Fan 180°C, 400°F, Gas 6
Fruit Buns
Tip the currants into a mixing a bowl, add the brown sugar and boiling water, stir and leave to cool.
Put the wholemeal flour, yeast, salt and mixed spice into a bowl and blend them together.
Measure the milk, oil and lemon juice into another bowl.
Put a sieve over the bowl, tip in the soaking currants and drain the liquid into the bowl.
Stir and pour all the liquid into the flour bowl and stir to make a craggy dough.
Add the currants and mixed peel and stir to make a doughy mass.
Knead the dough in the bowl for 100 presses. Avoid dusting with flour if possible.
Invert a large bowl over the dough bowl and leave in a warm place for two hours.
Rub some oil around the inside of a large baking tray or insert a baking liner.
Sprinkle a little oil over the dough, about a teaspoon, and gently bring it together into a ball.
Cut the dough into 10 pieces, roll each into a ball and place them on the baking tray.
Cover with the inverted bowl or a clean tea towel and leave to rise for two hours.
Hot Cross Topping
Pre-heat the oven.
Put the white flour, salt, water and oil into a bowl and stir to make a dough.
Dust the work surface with flour and put the dough in the middle.
Roll the dough into a 7x15cm/2¾x6" rectangle.
Slice the dough into 4 pieces.
Cut each piece of dough into five strips.
Brush the top of each bun liberally with milk.
Lay dough strips over the top of the buns to form a cross.
Bake for 18-20 minutes.
Bun Glaze
Put the sugar into a small bowl and add the boiling water.
Stir until the sugar has dissolved.
When the hot cross buns come out of the oven, transfer them to a cooling rack.
Using a pastry brush, paint the glaze over the top of the hot buns.
Leave to cool on the rack.
Leave a review?