WELCOME TO DOVES FARM
As the UK's number 1 organic flour brand, we offer everything the discerning home baker might need under one roof, from organic, speciality and heritage flour to key baking essentials such as yeast. We also make delicious organic biscuits and breakfast cereals from our flour.

WE WORK WITH NATURE, NOT AGAINST IT!
Produced to the highest organic standard, we put nature first when we craft our range of organic flours and foods. When you choose Doves Farm you not only enjoy delicious results but also help nature flourish.
UK'S NO.1 ORGANIC FLOUR BRAND
SPECIALISTS IN HERITAGE GRAINS
BRITISH & FAMILY OWNED
Doves Farm started with a passion, as all good things do.
Driven by a fascination with wholegrains and organic farming, founders Clare and Michael Marriage sowed their first seeds in 1977 with the simple idea of making great quality wholemeal flour from grain grown to the toughest organic standards.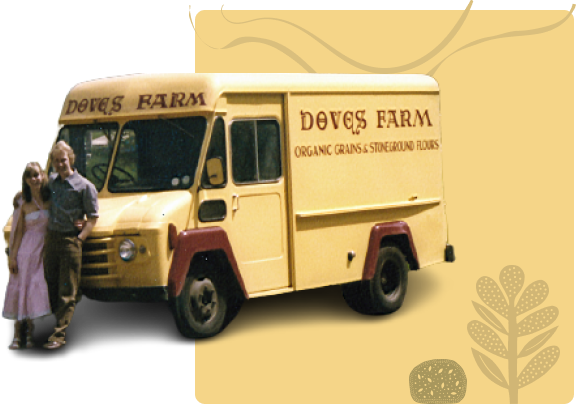 a year later their first grains were ready to harvest
With a little time and patience water, wind, soil and sun sustained their crop. They purchased an old stone grinding mill and then began to mill their wholegrains into wholemeal flour and pack it by hand into flour bags.
WE HAD TO FORGE A NEW PATH.
ONE BY ONE – SHOPS LISTENED
Back then, the nation's daily loaf was of the shop bought, white, uniformly-sliced variety and people didn't think too much about what went inside or how it was made. So, it took some convincing to get retailers to stock our flour. Soon though, health food store after health food store realised the brilliance of organic wholemeal flour, and the journey to bring home baking back to the country's kitchens had begun.
WE PIONEERED THE
RE-INTRODUCTION OF SOME OF
THE UK's LOST ANCIENT GRAINS
As interest in speciality grains grew, we pioneered the re-introduction of some of the UK's lost ancient grains back to our soils. Rye was first, then Spelt and Einkorn, and Emmer soon followed. We also started milling other interesting grains such as Khorasan, Oats, Quinoa and Teff.
today, we're immensely proud to be found in all major retailers
Today, our flours can be found in all major retailers and we have become the UK's favourite organic flour brand of which we are immensely proud. We continue to be driven by our original mission to make quality organic flour from sustainably grown grains and we are excited to be inspiring people with a range of unique and distinctive flours that make home baking a joy.