sustainability
Doing things with our planet in mind is at the heart of everything we do at Doves Farm.
We know first-hand, as farmers and food producers, nature's importance to the world we get to enjoy. That's why working in harmony with nature is deep-rooted in how we've been making our products since 1978 – from the way we farm, to the ingredients we choose, and in the way we package them – and today our sustainability practices are as important to us as ever.
UK's NO.1
ORGANIC FLOUR BRAND
SPECIALISTS IN HERITAGE GRAINS
BRITISH & FAMILY OWNED
Farming in harmony with nature
Organic farming is planet-friendly farming. On our organic farm we work to build natural soil fertility, using crop rotations to help break cycles of pests and disease instead of using numerous pesticides and artificial fertilisers, which can pollute our soil and water systems. This also means that organic farms are havens for wildlife and provide homes for bees, birds and butterflies.
Why switch to Organic?
Working with like-minded suppliers
We work with a network of wonderful local organic farmers and some further afield, both in the UK and across the globe, who share our same passion for producing sustainably grown organic grain and ethical food production. Our supply chain is fully traceable so that you can be confident about the journey your food has been on. We always look to source our ingredients and packaging from ethical and SEDEX-registered sources wherever possible. SEDEX is one of the world's leading ethical trade membership organisations and they work to improve working conditions in global supply chains.
Proudly organic certified
All of our retail flours, biscuits and breakfast cereals are Soil Association certified (the UK's leading food and farming charity and organic certification body) and we have held the certification since we were founded in 1978 – in fact we were their fourth licensee! The Soil Association logo on our products shows they have been produced to the highest organic standards, including those for environmental and wildlife protection.
Responsibly sourced palm oil
The palm oil we use to make our organic biscuit range comes from RSPO (Roundtable on Sustainable Palm Oil) certified organic producers in Colombia. It is identity preserved, which means that it is from a single identifiable certified source that is kept separately from ordinary palm oil throughout the supply chain. It is also non-GM (genetically modified), fully traceable back to a single mill, and being produced in South America, is in no way implicated in the destruction of Orangutan habitats. Our organic palm oil producers are dedicated to enhancing their local environment, by setting aside at least 10% of their land for 'wildlife corridors'.
Sustainable packaging
Most of our packaging is fully recyclable and we're working towards moving the packaging of our speciality flours to a recyclable film. You will always find information on our packs about the type of material used so that you can recycle them correctly and we are working towards including even more guidance on back of pack, through the OPRL scheme. You can find more information about the recyclability of our different ranges in our FAQs.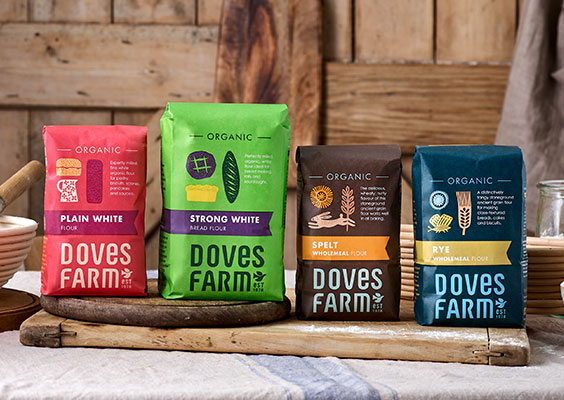 Reducing our waste
We are committed to reducing our waste at Doves Farm and work hard to ensure that it is either recycled, composted or reused.
We are also dedicated to playing our part in reducing the 6.6 million tonnes of food that gets thrown away each year by inspiring you with recipes to get the most out of your baking. Whether it be turning your leftover bread into fresh breadcrumbs or a delicious treacle tart, we are here to help you use up every last bit of your homemade bakes.
Investing in renewable energy
As part of our ongoing investment in renewable energy we have installed solar panels on site, giving us now an estimated annual total output of around 150,000 kWh.
We provide all office and manufacturing colleagues with access to electric vehicle charging points to use while on site.