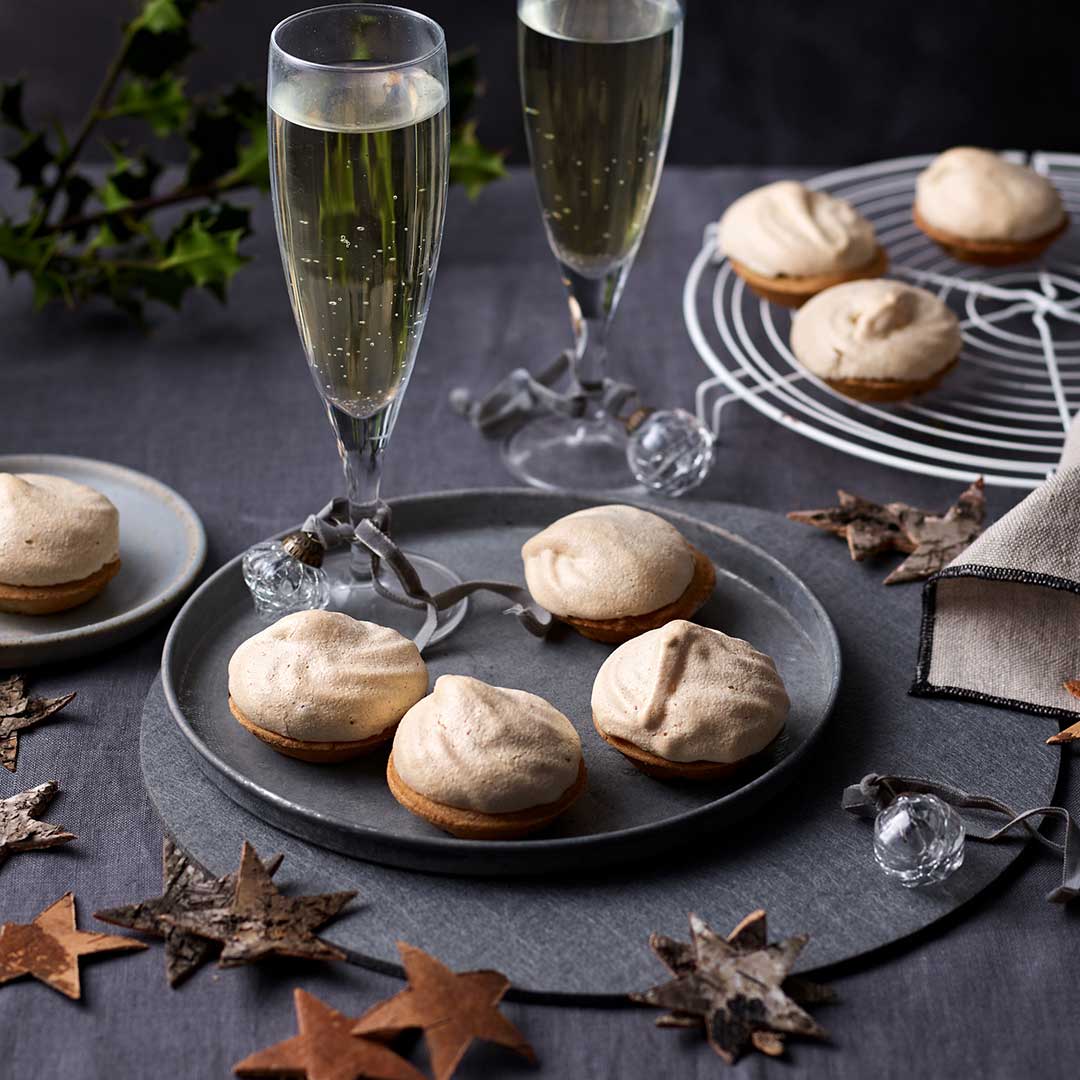 Buckwheat Flour Mince Pies with Meringue Tops
No reviews yet. Be the first to review this recipe.
12-14 minutes + 10-12 minutes
15-24 mince pies
Vegetarian
About this recipe:
Treat yourself and your family to these rather special mince pies made with our buckwheat flour, crisp almond pastry and topped with delicious meringue. Use mincemeat from a jar or rustle up some of your own using our home-made mincemeat.
Equipment:
2 x 12-hole tart trays, round pastry cutters, saucepan and 3 x mixing bowls
Ingredients:
BUCKWHEAT ALMOND PASTRY
75g butter
100g Doves Farm Organic Wholemeal Buckwheat Flour
25g icing sugar
¼ tsp xanthan gum
75g ground almonds
2 egg yolks
1 tbsp water, to mix
butter, for tart trays
flour, for dusting
FILLING
200g mincemeat
OR HOMEMADE MINCEMEAT FILLING
75g grated apple
1 orange, grated rind and juice
50g coconut oil
25g brown sugar
125g mixed dried fruit and peel
1 tsp mixed spice
MERINGUE TOPPING
100g icing sugar
½ tsp Doves Farm Organic Cornflour
½ tsp Doves Farm Vitamin C
2 egg whites
Method:
180°C, Fan 160°C, 350°F, Gas 4
Buckwheat Almond Pastry
Pre-heat the oven.
Rub a little butter around the inside of two 12-hole tart trays.
Chop the butter into small cubes.
Measure the flour, icing sugar and xanthan gum into a bowl, stir to combine and sieve into a mixing bowl.
Stir in the ground almonds.
Add the butter cubes and work them into the flour with a fork or pastry blender until it resembles breadcrumbs.
Add the egg yolks and water and stir to make a soft dough.
Dust the work surface with flour, put the dough in the middle and sprinkle it with more flour.
Roll out the pastry until about 1.5mm/1/16" thick.
Select a pastry cutter or cup with a diameter 2cm/¾" larger than the holes of the tart trays and press it into the dough to make circles.
Lift the pastry circles into the prepared tart trays.
Gather up the pastry off cuts, pressing them into a ball of dough and roll it out again to cut more circles or wrap and freeze the leftover pastry for another day.
Mincemeat Filling
Put a teaspoon of mincemeat in the centre of each tart without filling to the edge of the pastry.
Bake for 12–14 minutes.
or Homemade Mincemeat Filling
Peel and coarse grate the apple, into a saucepan.
Finely grate the orange peel into the pan, squeeze and add the orange juice.
Add the coconut oil and brown sugar and simmer over a gentle heat for 8-10 minutes, until the apple starts to collapse into the syrup.
Remove the pan from the heat and stir in the mixed dried fruit and peel and mixed spice.
Cover, leave to cool and leave to stand for 12 hours before use. The mincemeat can be put into sterilized jars, refrigerated for three days or frozen until required.
Put a teaspoon of the mixture in the centre of each tart.
Bake for 12–14 minutes.
Meringue Topping
Sieve the icing sugar, cornflour and Vitamin C into a bowl and stir to combine.
Put the egg whites into a larger bowl and beat until stiff.
Beat the prepared sugar mix into the egg whites, a spoon at a time.
Pipe a swirl or put a teaspoon of meringue on the top of each tart.
Bake for a further 10–12 minutes until the meringue is a light golden colour.
Serve warm or cold.
Leave a review?