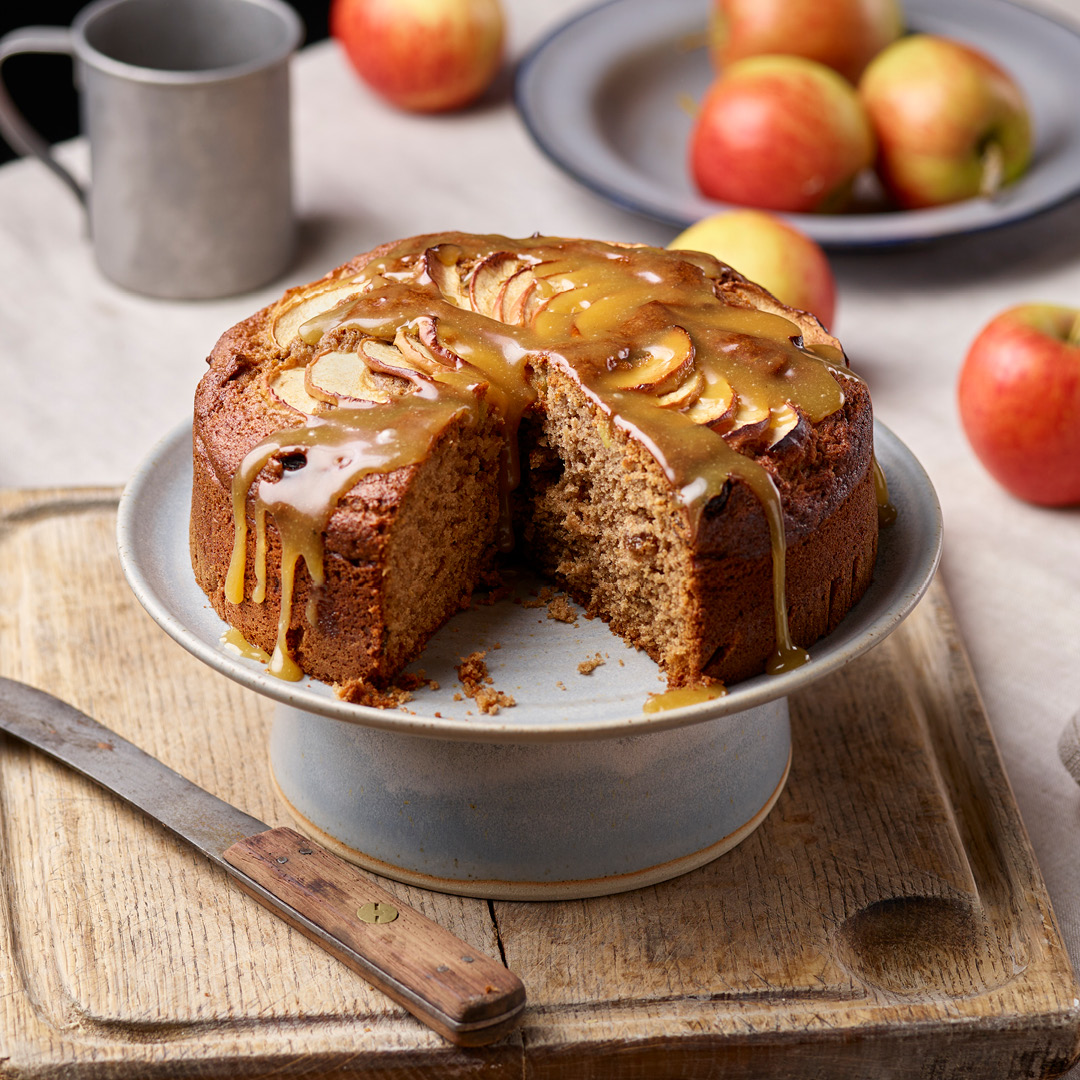 Wholemeal Spelt Toffee Apple Cake
65-70 minutes
1 cake
Nuts
Vegetarian
About this recipe:
The apple skin from the sliced eating apples on the top of this cake, will create an attractive topping for this lightly spiced apple cake. And the toffee topping is literally the icing on this wholemeal spelt flour cake! If you want to use cooking apples instead of eating apples, they should however be peeled.
Equipment:
20cm/8" deep, round cake tin, 2 x mixing bowls and saucepan
Ingredients:
APPLE CAKE
225g Doves Farm Organic Wholemeal Spelt Flour
3 tsp Doves Farm Baking Powder
2 tsp ground cinnamon
1 tsp ground cloves
3 eggs
150g light brown sugar
100ml oil
4 eating apples
50g sultanas
butter, for tin
TOFFEE ICING
75g butter
75g soft brown sugar
Method:
190°C, Fan 170°C, 375°F, Gas 5
Apple Cake
Pre-heat the oven.
Rub some butter around the inside of a 20cm/8" deep round cake tin or insert a baking liner.
Measure the flour, baking powder, cinnamon and cloves into a bowl, blend together and sieve into another bowl.
Break the eggs into a mixing bowl, add the sugar, oil and beat together.
Peel, core and coarsely grate two apples into the mixing bowl.
Tip the prepared flour into the mixing bowl and stir to combine.
Add the sultanas and stir again.
Tip the mixture into the prepared tin and smooth the top.
Quarter, core and slice the remaining apples thinly (there is no need to peel the apples unless they are cooking apples).
Lay the apple pieces decoratively on top of the cake.
Bake for 65-70 minutes, until a cocktail stick comes out clean.
Allow to cool in the tin.
Toffee Topping
Remove the cake from the tin and stand it on a flat surface.
Cut the butter into cubes and put them into a saucepan.
Add the sugar.
Put the pan over a gentle heat and stir occasionally as the butter and sugar melt.
Bring to a rolling boil then remove from the heat.
Stir until the bubbles subside.
Immediately pour the toffee icing over the top of the cake allowing it to run down the sides.