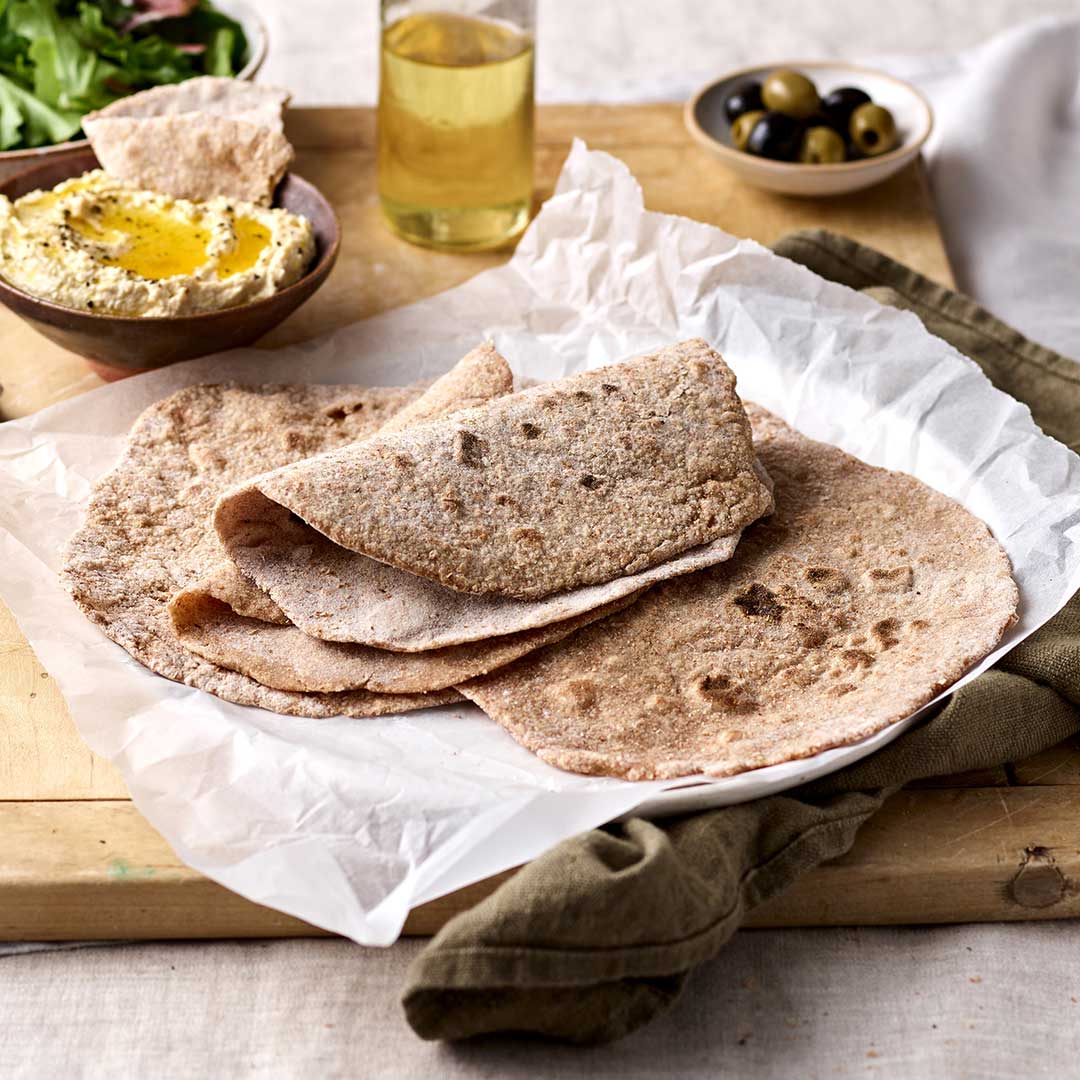 Wholemeal Chapati Flatbread
No reviews yet. Be the first to review this recipe.
15 minutes
6 flatbreads
Egg,Nuts
Vegan,Vegetarian
About this recipe:
There are many names for simple unleavened bread, of which chapati is one of the best known. These are surprisingly simple to rustle up and make a great accompaniment to all types of soups, stews and curry. You can easily adapt chapati ingredients such as using half wholemeal and half white flour or try our Rye Flour Chapati.
Equipment:
skillet, heavy frying pan or griddle, mixing bowl, rolling pin and fish-slice.
Ingredients:
250g Doves Farm Organic Fine Plain Wholemeal Flour
pinch of salt
275ml boiling water
25g butter
flour, for dusting
Method:
Put the flour and salt into a bowl, pour on the boiling water.
Mix to make a smooth dough.
Cover and leave for 15 minutes or up to 4 hours.
Set a skillet, heavy frying pan or griddle to get very hot.
Melt the butter.
Cut the dough into 6 pieces and roll each piece into a ball.
Lightly dust the work surface and a rolling pin with flour.
Roll each dough ball into a 15cm/6" circle.
Transfer a dough circle to the hot surface and cook for 1-2 minutes.
When the chapati starts to bubble up and the base has brown, toasted patches, turn it over and cook the other side for a couple of minutes.
Lift the chapati onto a plate and brush both sides with melted butter.
Wrap in kitchen foil and keep warm until ready to serve.
Repeat with the remaining dough circles.
Leave a review?