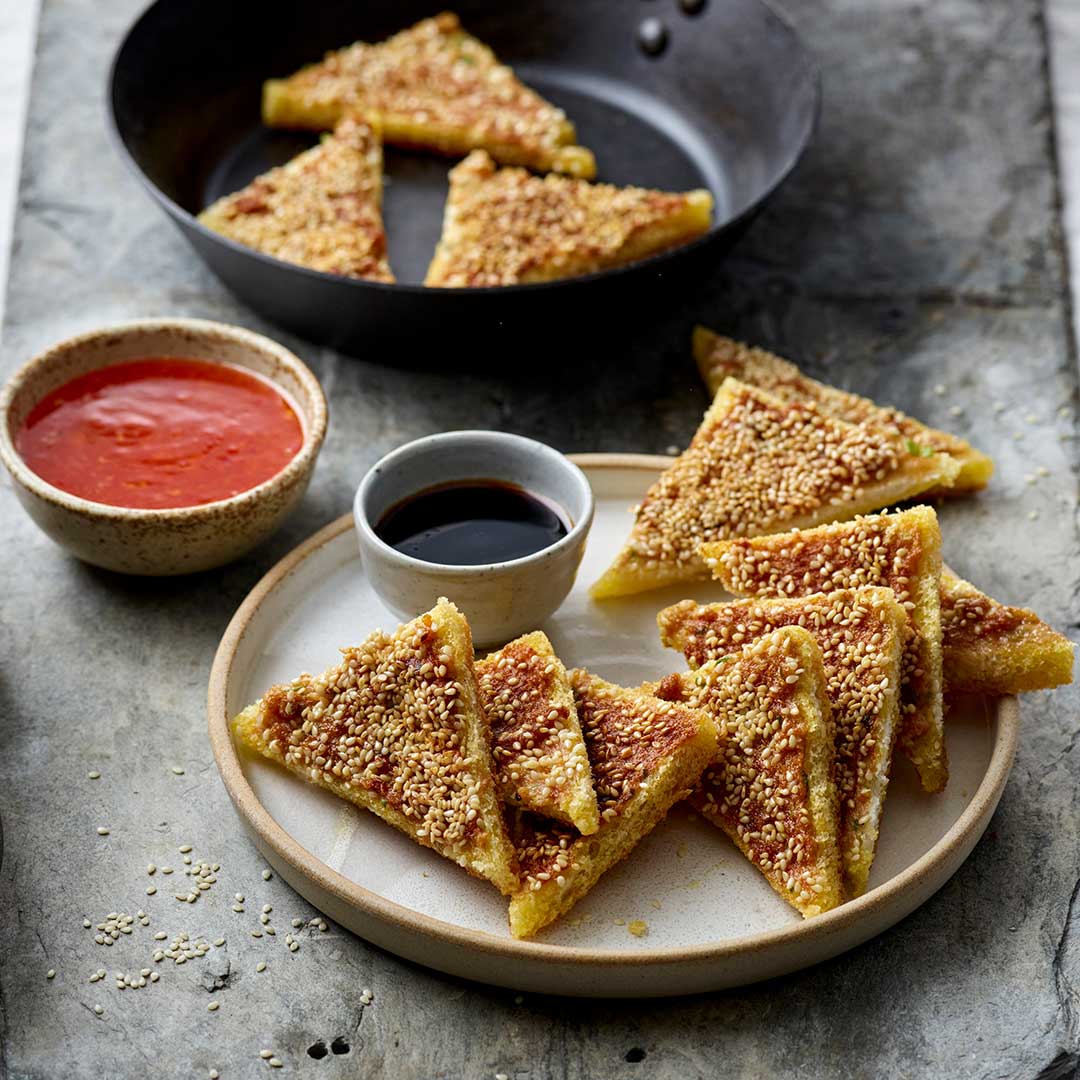 Prawn Toast
No reviews yet. Be the first to review this recipe.
15 minutes + 5 minutes
24 prawn toasts
Nuts
No added sugar
About this recipe:
A classic appetizer of Chinese origin, you can use a White Bread Machine Loaf or Traditional White Bread to make these tasty fishy triangles. Prawn or shrimp toasts are surprisingly simple to make and make a great appetizer or party food. They can also be frozen for re-heating on another day.
Equipment:
large frying pan, fish slice and food processor
Ingredients:
1cm fresh ginger, grated
1 garlic clove, diced
1 spring onion, diced
1 tsp light soy sauce
1 egg white
salt and pepper
150g raw prawns
6 slices of bread
1 tbsp sesame seeds
sesame oil, for frying
Method:
180°C, Fan 160°C, 350°F, Gas 4
Grate the ginger into a food processor, finely dice the garlic and spring onion adding these.
Add the soy sauce, egg white and a twist of salt and pepper to the food processor.
Remove the head and shell from the prawns and add these too.
Pulse the food processor to make a smooth paste.
Remove the crusts from the sliced bread.
Divide the prawn paste between the slices, spreading it out to the edges.
Cut each slice into triangles.
Scatter some sesame seeds over each triangle.
Pour some sesame oil into a large frying pan over a medium heat.
Lift a few triangles into the frying pan with a fish slice, bread side down, and fry for 1-2 minutes until the base is golden.
Carefully turn the triangles over and cook the prawn side for another 1-2 minutes.
Lift the prawn toasts out of the pan onto a plate and repeat the cooking process with the remaining triangles.
To serve the prawn toasts, heat them in a pre-heated oven for about 5 minutes until warmed through.
Leave a review?