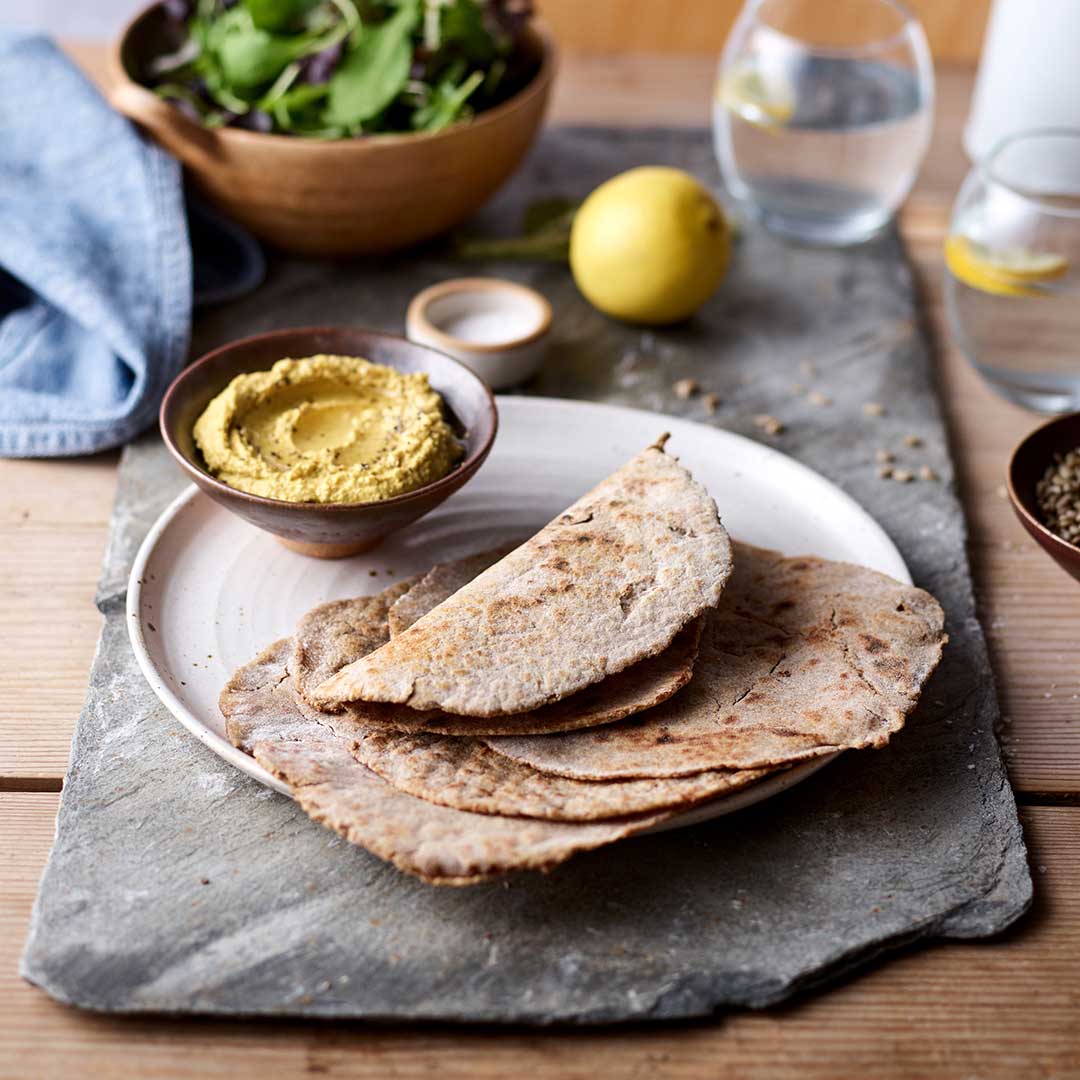 Wholemeal Rye Chapati Flatbreads
No reviews yet. Be the first to review this recipe.
15 minutes
6
Egg,Nuts
Vegetarian
About this recipe:
Use Wholemeal Rye flour to make these simple flat breads. We like to brush the hot chapati with a little butter but you could do this with a spot of oil instead.
Equipment:
skillet, heavy frying pan or griddle, mixing bowl, rolling pin and fish-slice
Ingredients:
250g Doves Farm Organic Wholemeal Rye Flour
pinch of salt
300ml boiling water
2 tbsp olive oil
25g butter, melted
flour, for dusting
Method:
Put the flour and salt into a bowl, pour on the boiling water and add the olive oil.
Quickly mix into a soft slightly sticky dough. Do not knead or over mix.
Cover and leave for 15 minutes or up to 4 hours.
Set a skillet, heavy frying pan or griddle to get very hot.
Melt the butter.
Dust the work surface, rolling pin and dough with flour.
Cut the dough into 6 pieces and roll each piece into a ball.
Roll each dough ball into a 15cm/6" circle.
Transfer a dough circle to the hot surface and cook for 1-2 minutes.
When the chapati base is golden brown with toasted patches, turn it over and cook the other side for 1-2 minutes.
Lift the chapati onto a plate and brush both sides with melted butter.
Wrap in kitchen foil and keep warm until ready to serve.
Repeat with the remaining dough circles.
Leave a review?