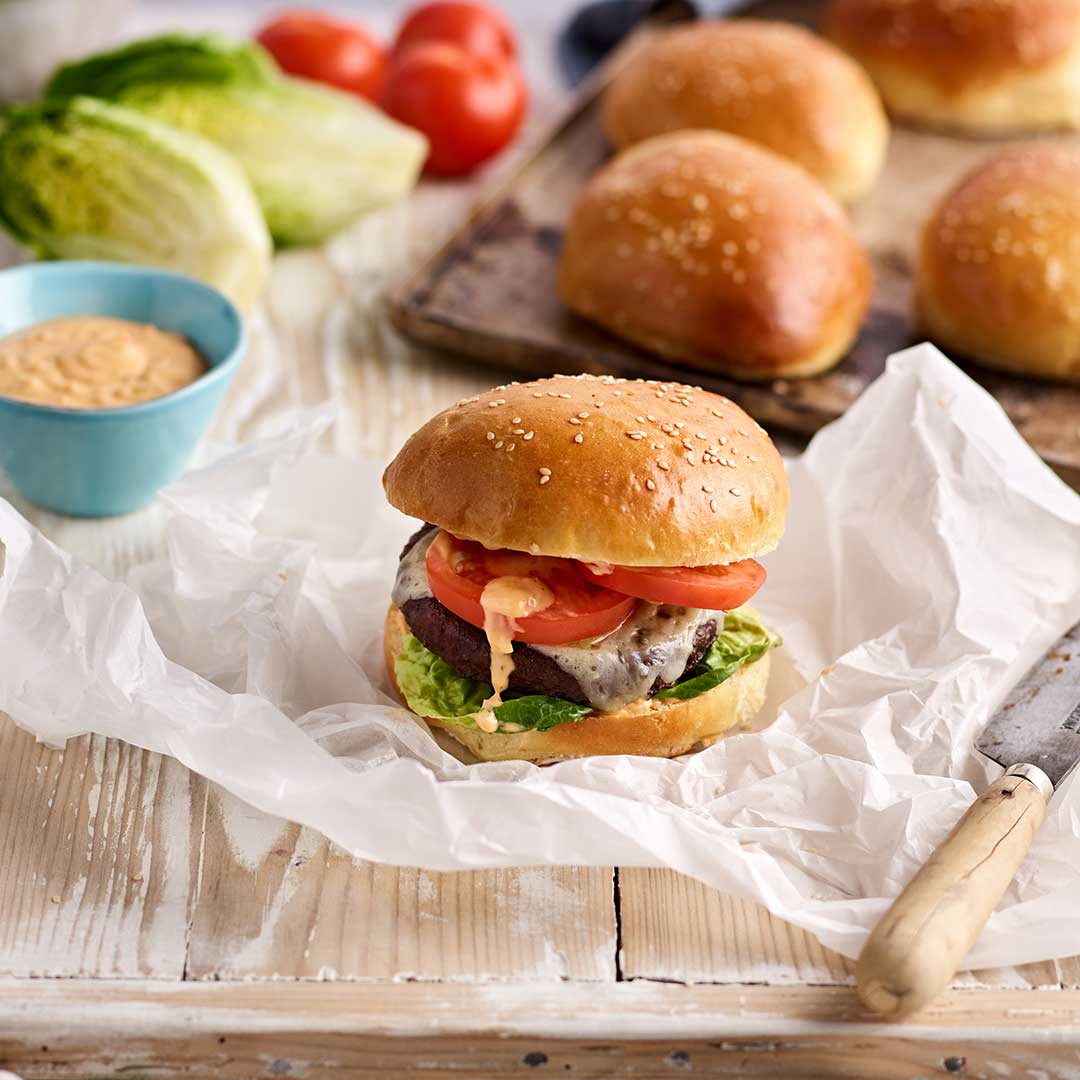 White Spelt Burger Bun Rolls
15-20 minutes
9 burger buns
Nuts
Vegetarian
About this recipe:
These creamy white spelt flour burger buns are great with any kind of meat or veggie burgers. Homemade burger buns are a nice way of adding a special touch to the usual BBQ routine and if there are ever any left over, wrap and freeze them for another day.
Equipment:
large baking tray, mixing bowl and clean tea towel
Ingredients:
500g Doves Farm Organic White Spelt Flour
1 tsp Doves Farm Quick Yeast
1 tsp sugar
1 egg
325ml tepid milk
1 tsp salt
2 tbsp oil
1 tsp sesame seeds
oil, for tray
flour, for dusting
Method:
220°C, Fan 200°C, 425°F, Gas 7
Put the flour, yeast, sugar into a large bowl and blend them together.
Separate the egg, putting the yolk into a mixing bowl and the white into a small bowl.
Cover the white and save it for later.
Add the milk to the egg and beat well.
Pour this into the flour bowl and stir until everything looks craggy and lumpy then stir in the salt.
Stir in the oil.
Using your hands gather everything together into a slightly sticky dough.
Knead dough in the bowl for 100 presses dusting with a little flour if needed.
Cover the bowl with a large upturned mixing bowl and leave it in a warm place for the dough to double in size.
Rub some oil around the inside of a large baking tray.
Pre-heat the oven.
Knead the dough for another 100 presses.
Turn the dough out onto a lightly floured surface and cut it into 9 pieces. Roll each into a ball.
Place the dough balls onto the prepared baking tray and flatten until 2cm/¾" thick.
Brush the reserved egg white over the top of the bun rolls.
Sprinkle a pinch of sesame seeds over each bun.
Cover with a clean tea towel and leave them to rise in a warm place for 40-45 minutes.
Bake for 15-20 minutes until golden brown.