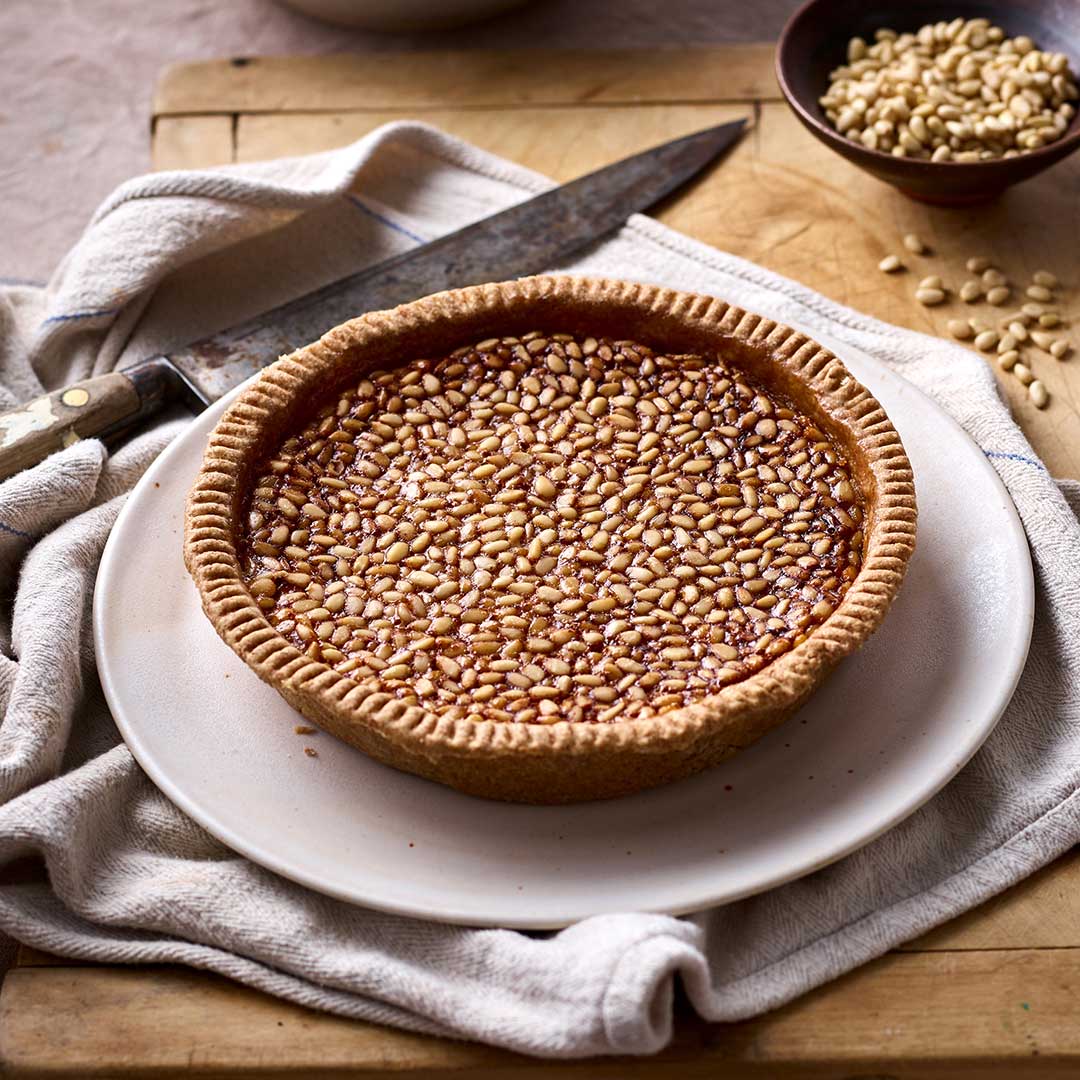 Wholemeal Spelt, Pine Nut and Honey Tart
No reviews yet. Be the first to review this recipe.
35-40 minutes
1 tart
Nuts
Vegetarian
About this recipe:
The distinctive flavours of spelt, pine nut and honey combine and intensify in this delicious tart which we nickname Aphrodite's Flan.
Equipment:
20cm/8" round dish or tin, 2 x mixing bowls and pastry blender
Ingredients:
WHOLEMEAL SPELT PASTRY
50g butter
100g Doves Farm Organic Wholemeal Spelt Flour
3-4 tbsp orange juice
oil, for dish
flour, for dusting
PINE NUT AND HONEY FILLING
1 egg
175g runny honey
3 tbsp orange juice
125g pine nuts
Method:
180°C, Fan 160°C, 350°F, Gas 4
Wholemeal Spelt Pastry
Pre-heat the oven.
Rub a little butter around the inside of a 20cm/8" round dish or tin.
Chop the butter into small cubes.
Put the flour and butter cubes into a mixing bowl.
Using a pastry blender or fork, work the butter cubes into the flour until it resembles breadcrumbs.
Stir in enough of the orange juice to bring the pastry together into a soft dough.
Using your hands gather the mix together to form a smooth ball of pastry dough.
Dust the work surface with flour, put the dough in the middle and sprinkle it with flour.
Roll out the pastry into a circle 5cm/2" larger than your dish and lift it into the dish, OR simply press it into the baking dish using your fingers.
Cut away any pastry that hangs over the edge of your dish.
Pine Nut and Honey Filling
Break the egg into a mixing bowl and whisk well.
Continue whisking, adding the honey and orange juice.
Stir in the pine nuts.
Pour the mixture into the pastry lined dish, spreading it out.
Bake for 35-40 minutes.
Leave a review?