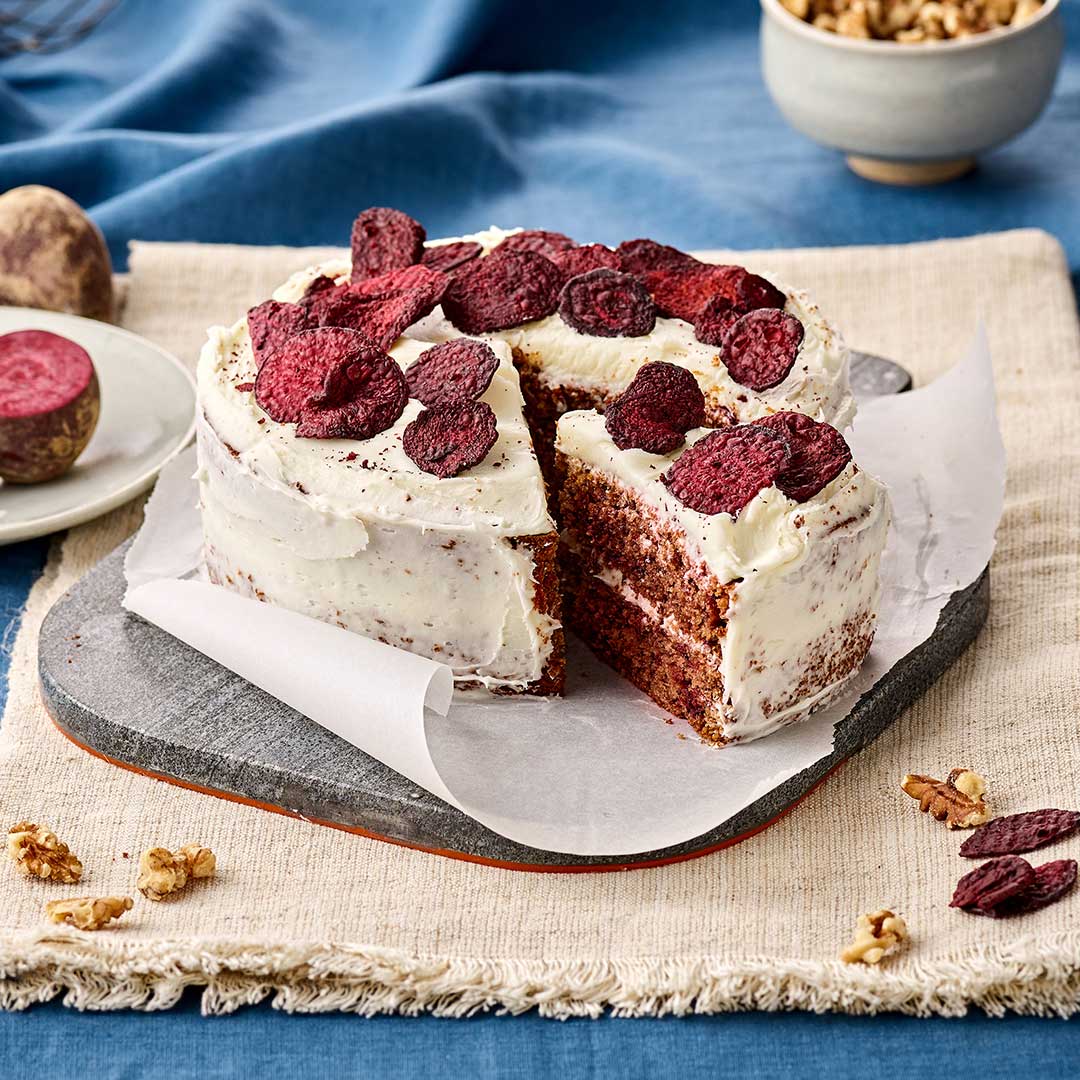 Wholemeal Emmer Walnut and Beetroot Cake
30-35 minutes for the cake + 20-25 minutes for the beetroot crisps
1 cake
Vegetarian
About this recipe:
The combination of intense flavours in this artisanal whole grain bake creates a memorable special occasion cake. It is decorated with naturally sweet beetroot crisps which can be made in advance and stored in a tin.
Equipment:
potato peeler, large baking tray, food processor, 2 x 20cm/8" round, loose bottom cake tins and 2 x mixing bowls
Ingredients:
CRISP BEETROOT TOPPING
100g raw beetroot
1 tbsp oil
oil, for tray
WALNUT AND BEETROOT CAKE
125g butter, melted
150g raw beetroot
pinch of Doves Farm Vitamin C
3 eggs
200g Doves Farm Organic Wholemeal Emmer Flour
1 tsp Doves Farm Baking Powder
125g walnuts
150g soft brown sugar
butter, for tins
CREAM CHEESE FILLING AND ICING
75g butter
125g icing sugar
75g cream cheese
Method:
180°C, Fan 160°C, 350°F, Gas 4
Crisp Beetroot Topping
Pre-heat the oven.
Rub a little oil around a large baking tray or insert a baking liner.
Using a potato peeler, thinly slice the beetroot into a bowl.
Add the oil and stir so that the slices are lightly coated in oil.
Spread the slices onto the baking tray.
Bake for 20-25 minutes until crisp.
Leave to cool completely.
Walnut and Beetroot Cake
Pre-heat the oven.
Rub some butter around the inside of two 20cm/8" round, loose bottom cake tins or insert a baking liner
Melt the butter.
Finely grate the beetroot into a large bowl.
Sieve the vitamin C into the bowl and stir to combine
Add the melted butter and eggs and mix together well.
Put the flour, baking powder, walnuts and sugar into a food processor and blitz until combined.
Tip this into the beetroot mixture and stir well.
Divide the mixture between the prepared tins and smooth the tops.
Bake for 30-35 minutes.
Leave the cakes to cool in the tin for 5 minutes then turn them out onto a wire rack and leave to cool.
Cream Cheese Filling and Icing
Put the butter into a bowl and beat until it is light and fluffy.
Add half the icing sugar and beat to combine.
Add the cream cheese and beat again.
Spread a third of the mixture onto one cold sponge layer and place the second sponge layer on top.
Spread the remainder over the top and sides of the cake.
Press the beetroot crisps into the top of the icing.