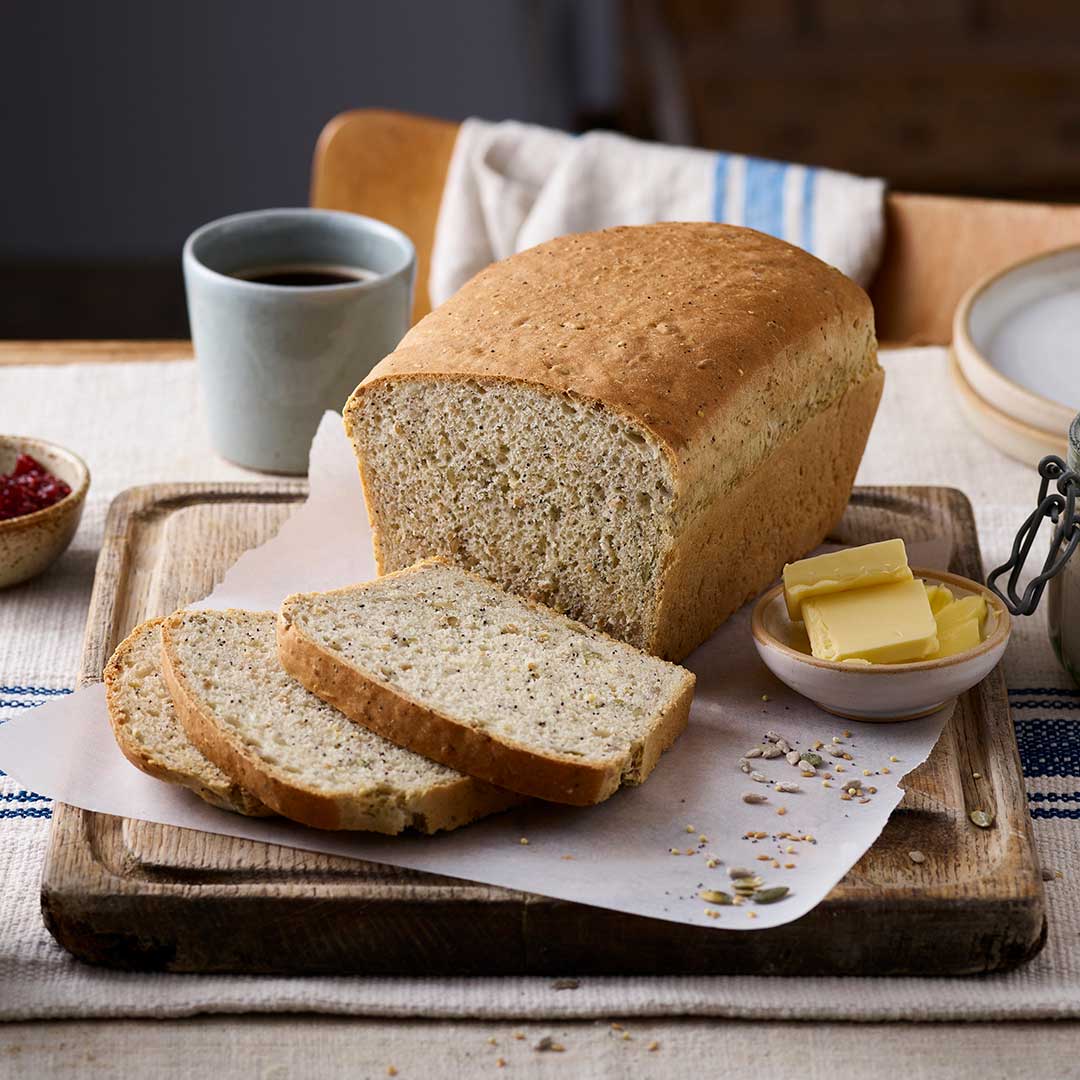 Seedhouse Oven Baked Bread Loaf
No reviews yet. Be the first to review this recipe.
35-40 minutes
1 loaf
Dairy,Egg,Nuts
Vegan,Vegetarian
About this recipe:
A pleasing golden crust and soft and light crumb studded with pumpkin, sunflower, millet, poppy and golden linseeds seeds. Simply sliced or toasted this loaf is delicious with sweet and savoury toppings.
Equipment:
1kg/2lb bread tin and 2 x large mixing bowls
Ingredients:
500g Doves Farm Organic Seedhouse Bread Flour
1 tsp Doves Farm Quick Yeast
350ml tepid water
1 tsp salt
2 tbsp oil
oil, for tin
Method:
220˚C, Fan 200˚C, 425˚F, Gas 7
Put the flour and yeast into a mixing bowl and stir to combine.
Add the water, and stir until craggy and lumpy.
Scatter the salt over the top and stir it in.
Stir to form a ball of dough.
Invert a large bowl over the dough bowl and leave it in a warm place for about two hours for the dough to double in size.
Rub some oil around the inside of 1kg/2lb bread tin.
Sprinkle one spoon of oil over the dough and knead it in the bowl for 25 presses, without adding flour.
Add the second spoon of oil and knead for another 25 presses.
Shape the dough into an oval and transfer it to the tin. If the dough is sticky use oiled fingers.
Invert the mixing bowl over the tin and leave it to rise in a warm place for 40-45 minutes.
Pre-heat the oven 20 minutes before you are going to bake.
Remove the bowl and bake for 35-40 minutes.
Turn the bread out of the tin, tap the base and if it sounds hollow the bread is cooked.
Leave to cool on a wire rack.
Leave a review?