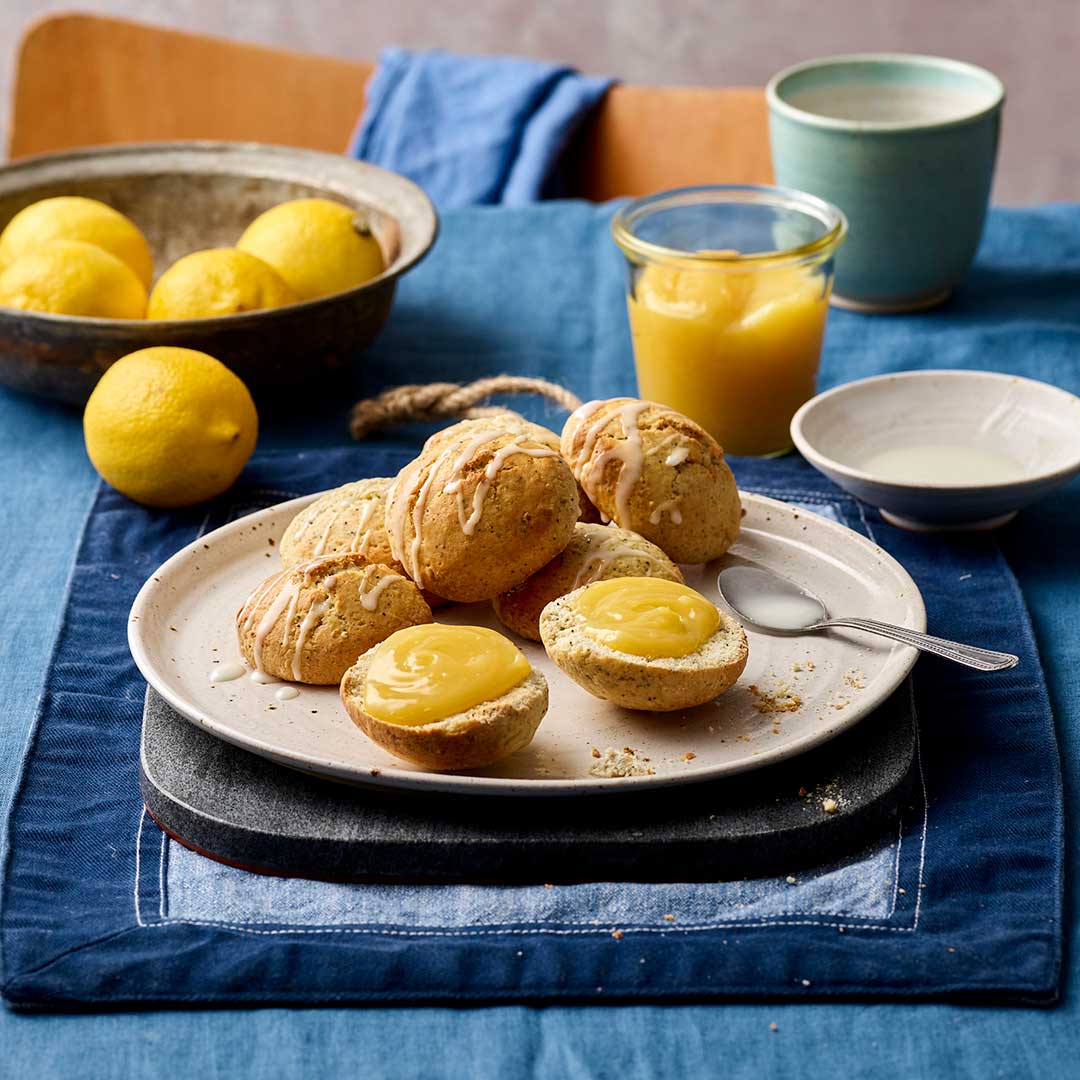 Seedhouse Bread Flour Lemon Scones
No reviews yet. Be the first to review this recipe.
14-18 minutes
9 scones
Nuts
Vegetarian
About this recipe:
The lemon drizzle topping on these tasty scones compliments the light crunch of Seedhouse Bread Flour. For a real lemony treat, serve these seeded scones spread with lemon curd.
Equipment:
large baking tray and 2 x mixing bowls
Ingredients:
LEMON SCONES
50ml milk
1 egg
1 tsp lemon rind, grated
250g Doves Farm Organic Seedhouse Bread Flour
75g caster sugar
4 tsp Doves Farm Baking Powder
25g butter
oil, for tray
milk, for brushing
lemon curd, to serve
LEMON DRIZZLE TOPPING
3 tbsp icing sugar
1½ tsp lemon juice
Method:
220°C, Fan 200°C, 425°F, Gas 7.
Lemon Scones
Pre-heat the oven.
Rub some oil inside a large baking tray or insert a baking liner.
Measure the milk into a bowl, add the egg and beat well.
Finely grate the lemon rind, add it to the bowl and mix again.
Put the flour, sugar and baking powder into a mixing bowl and stir really well to combine.
Chop the butter into cubes and add them to the bowl.
Using a fork, blend everything together until the mixture resembles breadcrumbs.
Add the prepared milk and stir to form a soft mass of dough.
Divide the dough into 9 pieces, roll each into a ball and place it on the baking tray.
Brush the top of the scones with milk.
Bake for 14-18 minutes until golden brown.
Lemon Drizzle Topping and Serving
Measure the icing sugar into a bowl.
Add drops of lemon juice to make a thick, slightly runny paste.
Drizzle the paste over the scones.
Split the scones and serve them with lemon curd.
Leave a review?