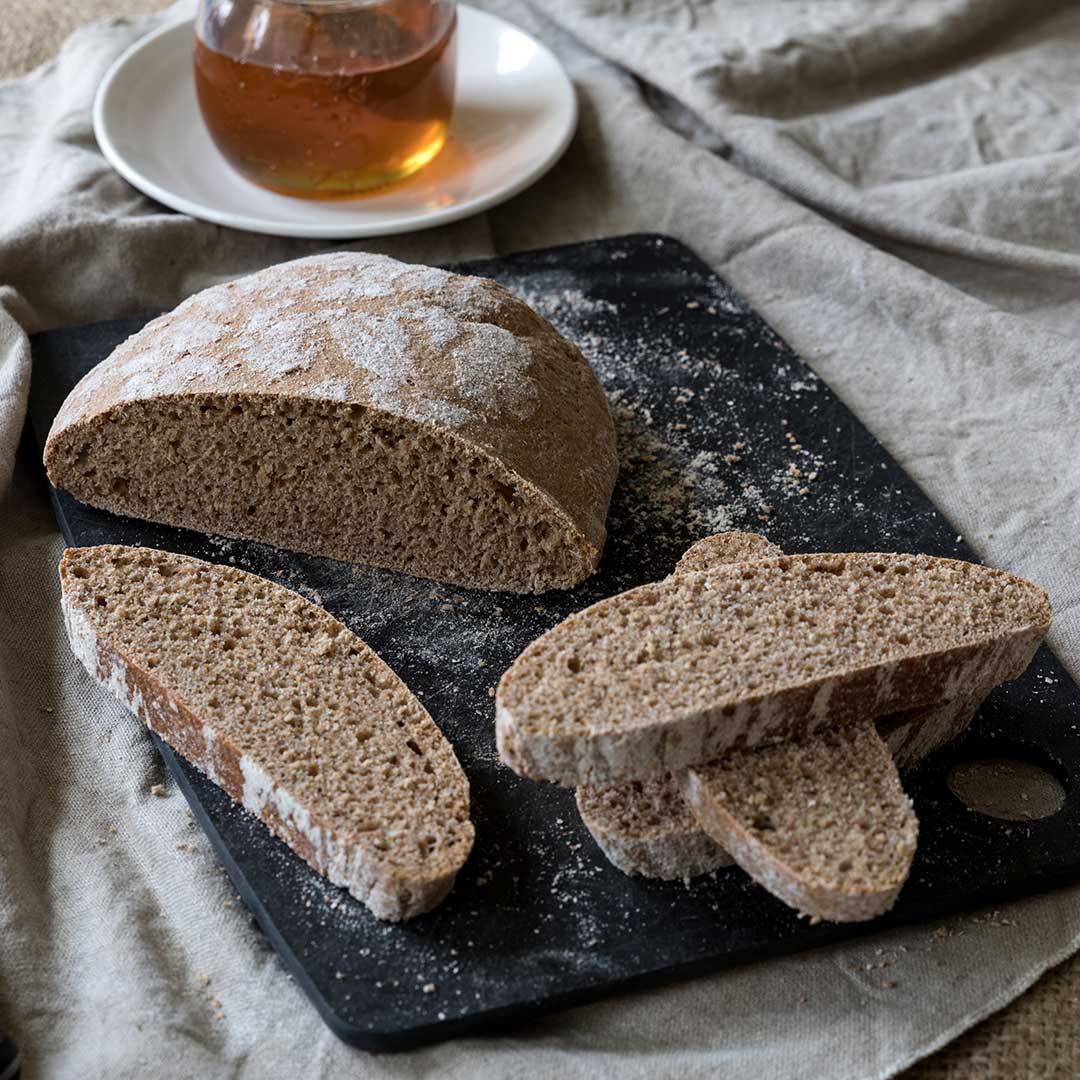 Wholemeal Spelt Slipper Bread Loaf
30-35 minutes
1 loaf
Dairy,Egg,Nuts
Vegetarian,Without crystal sugar
About this recipe:
A 'slipper' is a low-rise loaf. This is made with a stickier wetter dough than many bread recipes and the resulting loaf is quick to make, has an appealing wheaty flavour and an appealing open crumb structure. Roman Army Bread is our nickname for this recipe which is based on text from the Roman scholar Apicius.
Equipment:
large baking tray, measuring jug and 2 x large mixing bowls
Ingredients:
50ml boiling water
½ tbsp honey
150ml cold water
250g Doves Farm Organic Wholemeal Spelt Flour
½ tsp Doves Farm Quick Yeast
¼ tsp salt
½ tbsp olive oil
oil, for tray
flour, for dusting
Method:
200°C, Fan 180°C, 400°F, Gas 6
Measure the boiling water into a jug, add the honey and stir until dissolved.
Add the cold water to the jug.
Rub some oil around the inside of a large baking tray or insert a baking liner.
Put the flour and yeast into a large mixing bowl and blend them together.
Stir in the water, and when everything looks craggy and lumpy, stir in the salt.
Stir in the oil.
Using your hands gather everything together into a sticky doughy mass.
Dust very lightly with flour and knead the sticky dough in the bowl for 100 presses or pick it up and throw it back into the bowl 100 times to form a soft dough mass.
Tip the dough onto the prepared baking tray, gently forming it into an 23cm/9" oval.
Dust the top lightly with flour.
Invert a mixing bowl over the dough and leave it to rise in a warm place for 30 minutes.
Pre-heat the oven.
Bake for 30–35 minutes. You will know it's done when the bottom sounds hollow when tapped.
Leave to cool on a wire rack.