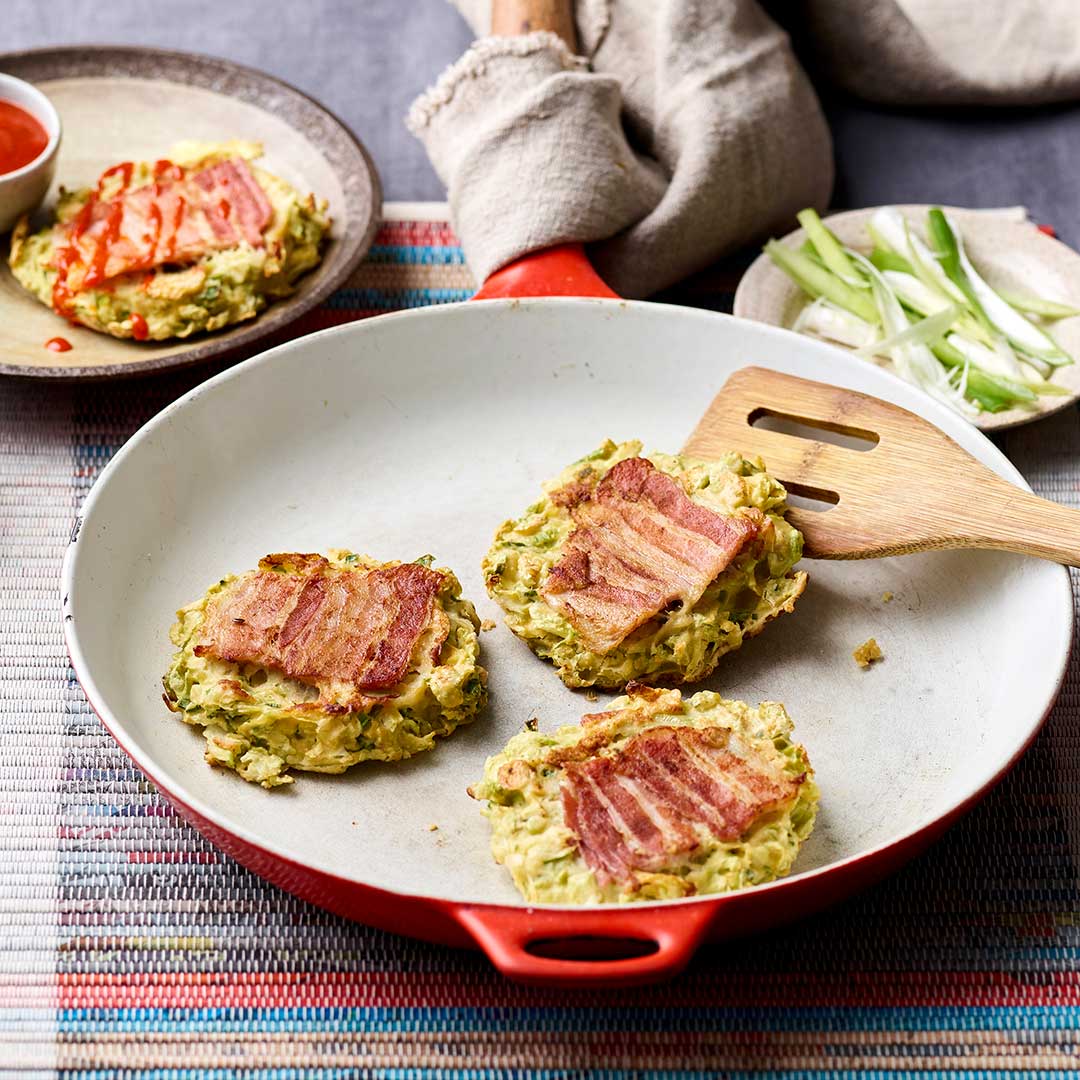 Brown Rice Flour Cabbage Fritters – Okonomiyaki Pancakes
No reviews yet. Be the first to review this recipe.
20 minutes
4 pancakes
Dairy,Gluten,Wheat
No added sugar
About this recipe:
A quick and easy lunch or supper dish, these iconic cabbage fritter pancakes are known as Okonomiyaki in Japan. They are typically topped with slices of tofu, bacon or a few prawns and served with squirts of mayonnaise or sweet chili sauce.
Equipment:
large frying pan and mixing bowl
Ingredients:
PANCAKE FRITTER
200g cabbage/Chinese leaves
3 spring onions
3cm ginger root
120g Doves Farm Organic Brown Rice Flour
¼ tsp salt
¼ tsp pepper
75ml water
2 eggs
4 bacon rashers
peanut oil, for frying
OPTIONAL TOPPINGS
mayonnaise, for serving
sweet chili sauce, for serving
Method:
Finely shred the cabbage, slice the spring onion, and grate the ginger.
Put the flour, salt, pepper, water and eggs into a bowl and beat into a smooth batter.
Add the prepared vegetables and mix together well.
Heat some oil in a large frying pan over a medium heat.
Spoon some of the mixture into four piles in the pan.
Cut each bacon rasher in half and lay it on top of each pile.
Cook over a gentle heat for 8–10 minutes or until the base is crispy and the top is set.
Carefully turn the pancakes over and cook for 6-8 minutes on the other side.
Serve warm with mayonnaise and sweet chili sauce.
Leave a review?