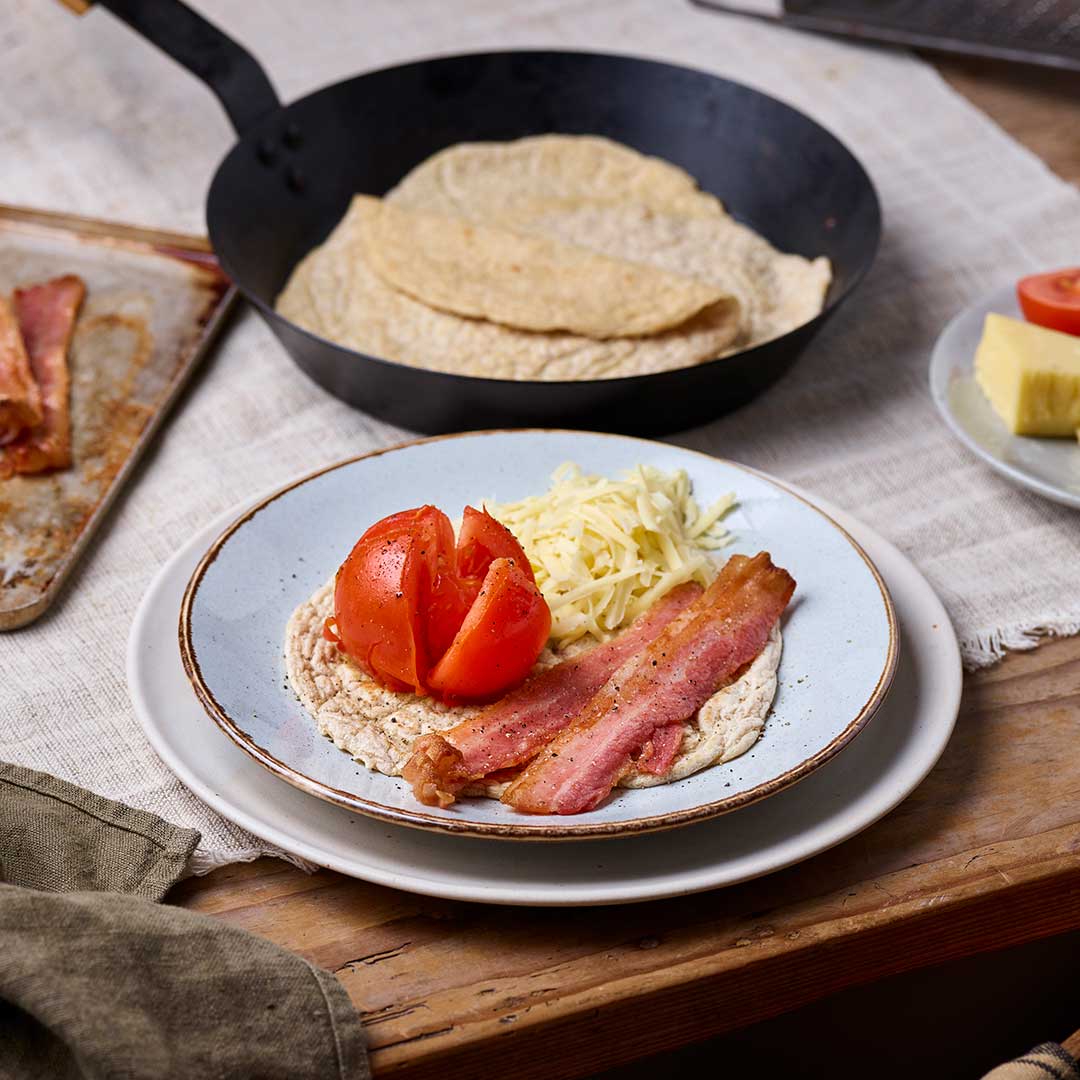 Oat Flour Staffordshire Oatcakes
No reviews yet. Be the first to review this recipe.
About this recipe:
Pancake in style and similar to a soft wrap, these would traditionally be served with cheese and bacon and enjoyed as a typical meal, served as a hearty breakfast or filled and rolled up as a portable snack. Historically most oat growing regions would have enjoyed their own version of yeasted oat pancake with the Staffordshire version being among the most well-known.
Equipment:
non-stick frying pan and mixing bowl
Ingredients:
STAFFORDSHIRE OATCAKES
100g Doves Farm Organic Oat Flour
¼ tsp Doves Farm Quick Yeast
300ml water
oil, for pan
FOR SERVING STAFFORDSHIRE OATCAKES
8 bacon rashers
2 large tomatoes
75g cheddar cheese
Method:
Staffordshire Oatcakes
Put the flour and yeast into a mixing bowl and stir to combine.
Add the water and beat to a smooth paste.
Cover and leave in a warm place for 4 hours or overnight.
Lightly oil a non-stick frying pan and get it nice and hot.
Stir the batter, pour a quarter into the pan, quickly spreading it out to make a 17-20cm/7-8" circle.
Cook the oatcake on a medium heat until the base is lightly golden, about 3 minutes.
Turn the oatcake over and cook the other side for about 3 minutes until golden.
Turn out the oatcake onto a plate.
Repeat until the batter is used.
The oatcakes can be served immediately or covered with an upturned plate and chilled for up to 12 hours.
For Serving Staffordshire Oatcakes
Lightly oil an oven pan or frying pan.
Put the bacon into the pan.
Slice the tomatoes in half and add them to the pan.
Bake, grill or fry the bacon and tomato until cooked.
Grate the cheese.
If necessary, re-heat the plate of oatcakes in the oven or microwave.
Divide the grated cheese between the oatcakes.
Top with the cooked bacon and tomato.
Leave a review?