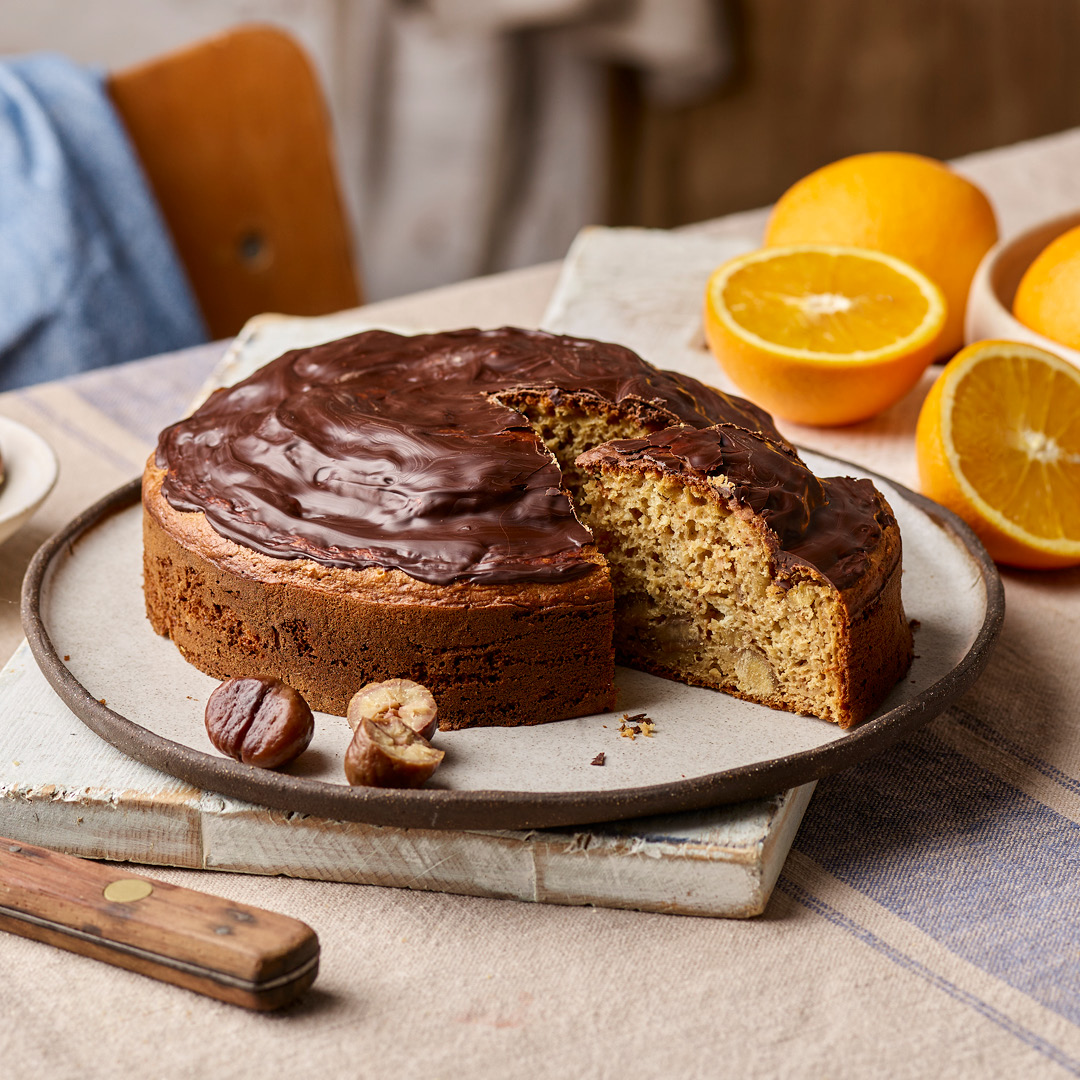 Oat Flour Chocolate and Chestnut Cake
No reviews yet. Be the first to review this recipe.
50-55 minutes
1 cake
Gluten,Nuts,Wheat
Vegetarian
About this recipe:
Chestnut combines with orange and vanilla in this pleasing cake which is made without sugar. Although not strictly sugar free, the optional addition of thin layer of 85% chocolate can be quite literally the icing on the cake. Serve slices with coffee or as a dessert with a spoonful of crème fraiche on the side.
Equipment:
15cm/6" deep, round, loose bottomed cake tin and 2 x mixing bowls
Ingredients:
75g Doves Farm Organic Oat Flour
½ tsp Doves Farm Bicarbonate of Soda
100g apples, grated
1 orange, grated and juice
2 eggs
75g natural yoghurt
2 tsp vanilla extract
100g chestnuts, chopped
50g 85% chocolate
oil, for tin
crème fraiche, to serve
Method:
180°C, Fan 160°C, 350°F, Gas 4
Pre-heat the oven.
Rub some oil around the inside of a 15cm/6" deep, round, loose bottom cake tin or insert a baking liner.
Measure the oat flour and bicarbonate of soda into a small bowl and stir to combine.
Grate the apple into a mixing bowl.
Finely grate the orange rind, squeeze the juice and add them to the apple.
Break the eggs into the bowl.
Add the yoghurt, and vanilla extract and beat everything together until smooth.
Add the prepared oat flour blend and stir to combine.
Finely chop the chestnuts, add these to the bowl and stir again.
Tip the mixture into the prepared tin and smooth the top.
Bake for 50-55 minutes.
Leave to cool in the tin before turning out onto a wire rack.
Break the chocolate into small pieces and melt gently. Spread over the cold cake and leave to set.
When cold store the cake in a tin.
Leave a review?