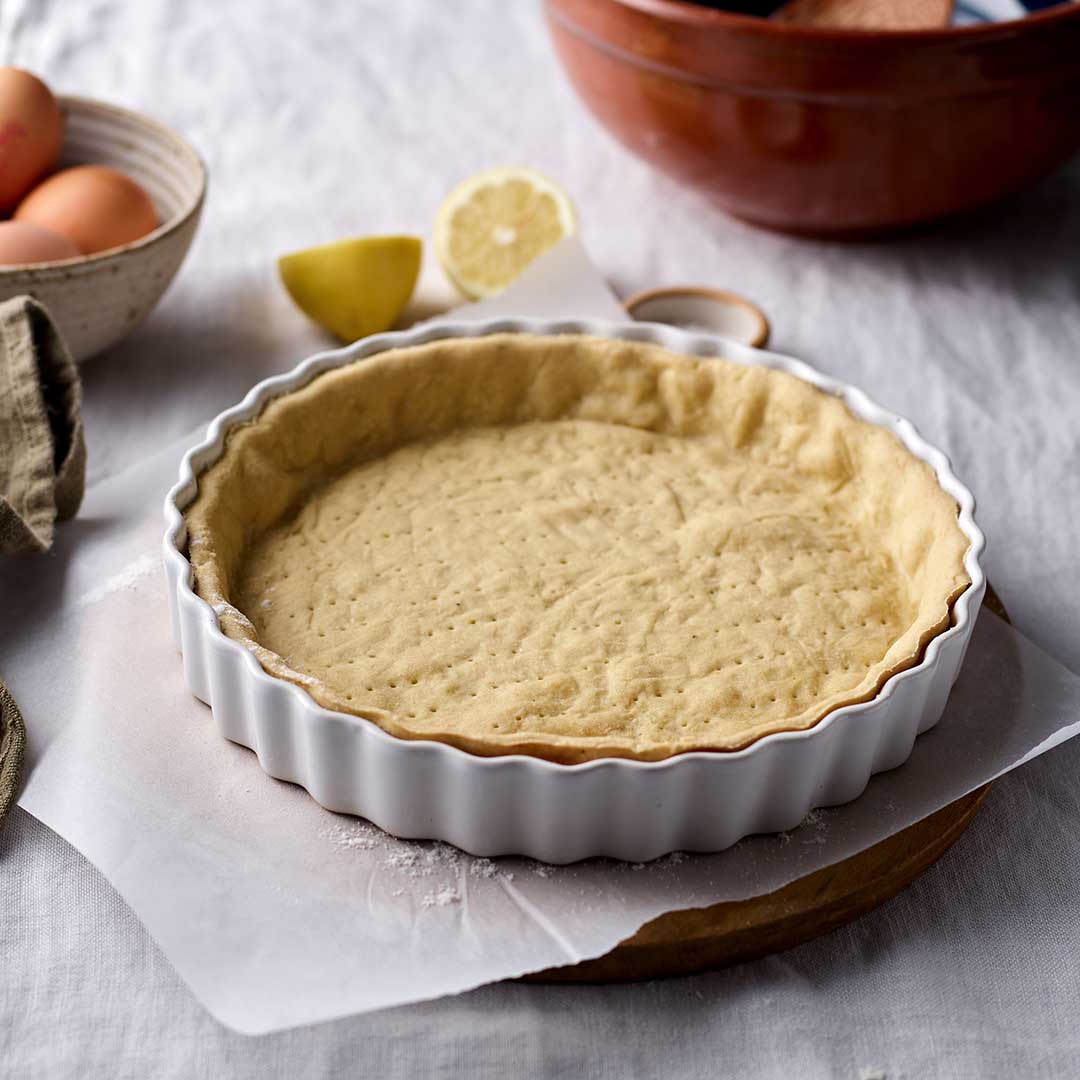 Coconut Flour Pastry
About this recipe:
Ring the changes with this tasty pastry, made using coconut flour and ground almonds. It's great for making sweet or savoury quiche, tarts and pies such as Mushroom Quiche or Coconut Congress Tart which are also gluten free and low carb.
Equipment:
20cm/8" round quiche or tart dish, 2 x mixing bowls and parchment paper
Ingredients:
50g Doves Farm Organic Coconut Flour
50g ground almonds
pinch of salt
50g butter
1 egg
1 tbsp lemon juice
butter, for dish
ground almonds, for dusting
Method:
180°C, Fan 160°C, 350°F, Gas 4
Pre-heat the oven.
Rub a little butter around the inside of a 20cm/8" round quiche or tart dish.
Put the flour, ground almonds and salt into a mixing bowl and stir to combine.
Chop the butter into cubes and add them to the bowl.
Using a fork or pastry blender, work the butter cubes and flour together until the mixture resembles fine breadcrumbs.
Break the egg into a small bowl, add the lemon juice and beat together.
Tip the egg into the mixing bowl and stir to bring together a soft dough.
Gather everything together pressing it into a ball of dough with your hands.
Dust a piece of parchment paper with ground almonds, put the dough in the middle and sprinkle it with more ground almonds.
Flatten the dough with the palm of your hand and leave for 5 minutes.
Roll out the pastry into a circle 5cm/2" larger than your dish and, using the parchment paper for support, transfer the pastry to the prepared tart dish and gently press it into place. OR simply press the pastry into the baking dish using your fingers.
Remove the parchment paper and pinch the pastry to seal any cracks or gaps that appear.
Cut away any pastry that hangs over the edge of your dish.
Continue as per your recipe.