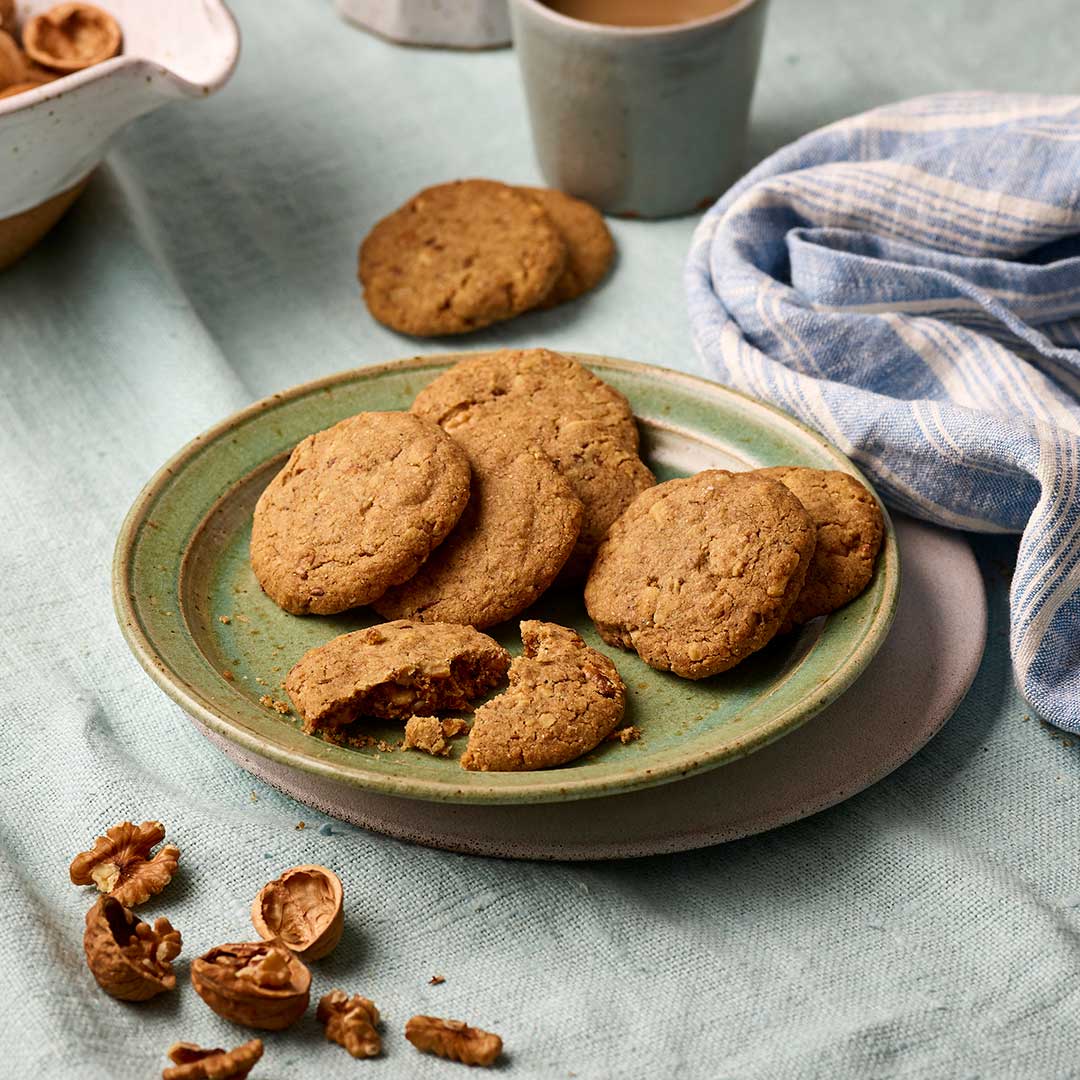 Heritage Seeded Flour Walnut Cookies
No reviews yet. Be the first to review this recipe.
15-18 minutes
15 cookies
Egg
Vegetarian
About this recipe:
The Heritage flavours of this Seeded Bread Flour combine perfectly with walnuts and brown sugar to create these pleasingly crunchy cookies.
Equipment:
2 x baking trays and 2 x mixing bowls
Ingredients:
100g walnuts
100g Doves Farm Organic Heritage Seeded Bread Flour
½ tsp Doves Farm Bicarbonate of Soda
75g butter
75g dark brown sugar
butter, for trays
Method:
190°C, Fan 170°C, 375°F, Gas 5
Pre-heat the oven.
Rub some butter around the inside of two baking trays or insert a baking liner.
Break the walnuts into small pieces.
Measure the flour and bicarbonate of soda into a mixing bowl and stir to combine.
Sieve the flour into another bowl.
Tip the seeds remaining in the sieve into the bowl and stir to re-combine.
Chop the butter into small cubes.
Put the butter cubes into a mixing bowl, add the sugar and beat together until light and fluffy.
Add the prepared walnuts and flour and stir to make a soft dough.
Divide the dough into 15 piles and roll each into a ball.
Place the dough balls onto the prepared baking trays.
Using your hand, gently flatten each dough ball into a 5cm/2" circle.
Bake for 15-18 minutes.
Remove from the oven and leave to cool on the trays for a few minutes.
Transfer the cookies to a wire rack to finish cooling.
When quite cold store the cookies in an airtight tin.
Leave a review?