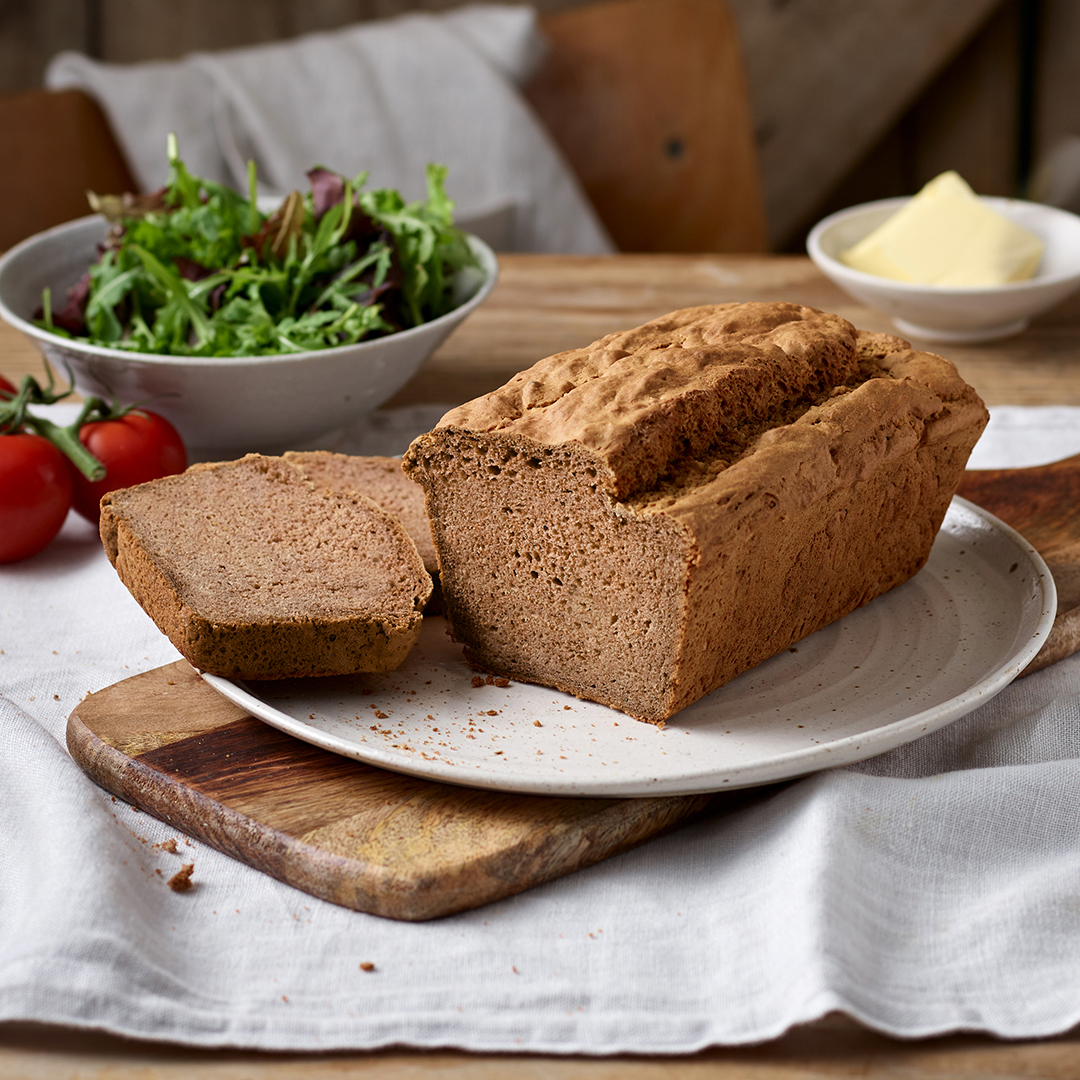 Buckwheat Soda Bread
55 minutes + 10 minutes
1 loaf
Egg,Nuts
Vegetarian,Wholemeal
About this recipe:
Thorough mixing of the dry ingredients is key to the success of this close textured yet very appealing soda bread which is made without yeast.
Equipment:
1kg/2lb loaf tin and mixing bowl
Ingredients:
500g Doves Farm Organic Wholemeal Buckwheat Flour
2 tsp Doves Farm Bicarbonate of Soda
¼ tsp Doves Farm Vitamin C (or 1tbsp lemon juice)
1 tbsp brown sugar
pinch of salt
50ml boiling water
150ml cold water
250ml natural yoghurt
1 tbsp oil
oil, for tin and brushing
Method:
200°C, Fan 180°C, 400°F, Gas 6
Pre-heat the oven.
Rub some oil around the inside of a 1kg/2lb loaf tin or insert a baking liner.
Put the flour, bicarbonate of soda, Vitamin C if used, sugar and salt into a bowl, stir to combine and sieve into a mixing bowl.
Measure the boiling water into a jug and add the cold water.
Add the yogurt and lemon juice, if used, and stir to combine.
Pour this into the mixing bowl and stir everything together to make a soft, sticky dough.
Drizzle the oil over the sticky dough and using a spatula, turn the mixture a couple of times in the bowl to encourage the formation of a doughy mass.
Tip the dough into the prepared tin and smooth the top.
Brush some oil over a piece of tin foil. With the oiled side down, cover the tin creating a dome so the bread can rise during cooking.
Bake for 55 minutes.
Carefully remove the tin foil and bake for a further 10 minutes.
Turn the loaf out onto a wire rack. The bottom should sound hollow when tapped.
Cool completely before slicing.
Delicious! I used soy milk plus an extra tablespoon of lemon juice in place of the yoghurt, and it worked beautifully.
Reviewing: Buckwheat Soda Bread
Lovely soft bread and also healthy. I love it.
Reviewing: Buckwheat Soda Bread
Super surprised how good this came out. Truly delicious. I added a bit of extra yoghurt for moistness. Now a staple.
Reviewing: Buckwheat Soda Bread
A perfect loaf, I love it ! I use a home made goat's milk kefir instead of yogurt
Reviewing: Buckwheat Soda Bread
Buckwheat Soda Bread: This is an excellent recipe. The bread turned out beautifully. Soft, almost cake-like texture inside of a traditional soda bread, with a rich deep brown color, with pleasing crust texture and nice form (it rose like it was supposed to do). Excellent instructions. I substituted 250 ml natural yogurt with 125 ml light coconut milk + water, and used the same amount of water as called for in the recipe. I skipped the salt and used white sugar instead of brown sugar. Will definitely be making this recipe again. Even those not seeking gluten free will love this bread.
Reviewing: Buckwheat Soda Bread
A lovely bread and I've made it many times since I last write (below) which lead to you kindly modifying the original recipe. It never fails and doesn't call for any awkward ingredients like xanthan gum which I've never bought before. Soda breads are so forgiving ....I'm no baker by any means but can easily cope with this. Thanks again for sharing.
Reviewing: Buckwheat Soda Bread
Awful! Possibly the worst recipe I've tried in a long time. Dense like a brick, tastes of cardboard. Literally, it tastes of cardboard! A friend and I had a bite of this, then picked up some cardboard and chewed it. Similar texture and taste. Don't bother!
Reviewing: Buckwheat Soda Bread
Your recipes are all worth trying what disapoint me is that it's so hard to find buckwheat flour.. On the pkt it printed that Dove flour contains gluten. So I can't use this flour as I'm gluten intolerant.
Reviewing: Buckwheat Soda Bread
Lovely bread! Dough very wet so next would sprinkle more flour on it than just tbsp! Slightly over cooked after 75 minutes at correct temperature and crust really crusty so next time I would shorten cooking time! I know every oven is different! So nice to be able to eat a gluten and yeast free bread as I can't find any in the shops other than some wraps which are like soft cardboard!! Thank you for lovely recipe!
Reviewing: Buckwheat Soda Bread
XANTHAN GUM: if anyone wants to avoid using this ingredient here are some alternatives: http://gluten-free-bread.org/5-alternatives-to-xanthan-gum-and-guar-gum-in-gluten-free-baking
Reviewing: Buckwheat Soda Bread
I'm eating a slice of this bread as I write this, and very nice it is too. It is pleasantly light and springy, despite the close texture you'd expect of a gluten free loaf. The crust is deliciously crunchy, even when cooled in a towel. I used buttermilk instead of vinegared-milk and shaped it in the traditional dome with a cross in it. Otherwise followed the recipe to the letter. I will be making this loaf again.
Reviewing: Buckwheat Soda Bread
I would like to bake your bread but I do not want to use xantham gum. Can I replace it with something else? Like chia seeds?Or could I leave it out completely? Thank you!
Reviewing: Buckwheat Soda Bread
Thank you for your response, and also for coming up with a very-vegan, free-from, lemonized-rice-milk buckwheat soda bread! It looks delightful and means I don't have to experiment myself. If this was on the site already then I missed it. If it wasn't and you did it specially then thank you even more.
Reviewing: Buckwheat Soda Bread
This looks lovely. I normally use baking soda for soda bread and acidify the milk with lemon juice. I'm vegan so use soya milk usually. Would it be possible here to replace the baking powder by baking soda and lemon juice (the latter added to the milk to make it curdle, buttermilk style? If so, how much baking soda and lemon juice would you suggest? I see various recommendations for replacing baking powder with baking soda, normally suggesting between 1/4 and 1/2 tsp baking soda to replace 1 tsp baking powder, and roughly twice as much lemon juice to baking soda to neutralise. I this case, that would still be quite a large amount of baking soda (far larger than I use for wheat or spelt flours) whichever ratio I go for. Any suggestions and recommendations for modifications to a more tradional-style soda bread (using 'lemonized ' milk and baking soda?) If you think it would wreck the taste then please say so and I'll go and get some cream of tartar insteaed.
Hi Helen. Thanks for your comment. We've created a recipe for this bread using the lemon method that we hope you will find useful. https://www.dovesfarm.co.uk/recipes/buckwheat-and-rice-milk-sandwich-soda-loaf/
Reviewing: Buckwheat Soda Bread
Just popped a batch of this in the oven and awaiting the outcome, smells delicious, hopefully the taste is worth the effort. Used some yellow cornmeal flour for the "2 tbsps any gluten free flour". The only thing I will comment upon is my disappointment a company so associated with gluten free flour not selling guaranteed cross contamination free coeliac/ gluten sensitive sufferer suitable buckwheat flour in decent pack sizes. Had to use one of your competitors to source of floor that met those requirements. Thanks for the recipe but please consider eliminating buckwheat growing condition gluten contaminants and going completely gluten free. The poultry pack sizes of gf bw flour you presently sell is far from ideal.
Reviewing: Buckwheat Soda Bread
Please advise, should the bread be left for any period of time to rise or just be put straight into oven? Thank You....
Hi Margaret. As a soda bread, this loaf doesn't need a period of rest to prove, and can be put straight into the oven.
Ms Margaret Buchanan Geddes

Reviewing: Buckwheat Soda Bread
Please tell me what I am doing wrong. I made this recipe using rice milk and it ended up looking exactly like the pictures but the Taste! All I could taste was baking soda! Is it really 1 2/3rds Tablespoons of baking soda? I thought it excessive at the time and the flavour proved it. Please let me know if it's right.
Dear Janet, we have not tried this recipe with rice milk, but this should not cause a problem. Baking Soda is another name for Bicarbonate of Soda and is not the same as Baking Powder which is a traditional raising agent made from an acid/alkali blend. We use a blend of Bicarbonate of Soda and Calcium Phosphate in Doves Farm Baking Powder. We suggest you try again using Baking Powder for best results. Many thanks, Doves Farm
Reviewing: Buckwheat Soda Bread
I just finished my 2nd slice of this break, and it's delicious. Oddly enough, the smell reminds me of peanut butter, but the taste reminds me a bit of sunflower seeds! I also have to say kudos for the excellent measurement calculator. I'm the only one in the house who eats wheatfree, and while I originally printed a half recipe, I ended up calculating for a 1/3 recipe because I only had 200g of flour. And even though my 1/3 teaspoon measurements were rough estimates, it still came out gorgeous. I can't wait to get more flour to make the half recipe - the measurements are much easier! Thanks so much!
Reviewing: Buckwheat Soda Bread
I love this bread, and have made it countless times. Not only is it crispy and has a real depth of flavour, but it can easily be modified by adding some tapioca flour (200g to 400g Buckwheat) I also omit milk, and use all water, which i think makes it lighter, thanks for allowing me to enjoy bread again!
Reviewing: Buckwheat Soda Bread
Sorry, this review belongs on the other Brown Soda Bread recipe! I did make this bread as well and it was delicious.... Unfortunately I discovered that I don't digest Buckwheat well...Even though it is Glluten free.
Reviewing: Buckwheat Soda Bread
Made this bread today and it is delicious. I accidentally added Xanthan gum and the texture is really light and easy to cut.Also used half buttermilk. Thank you for this great recipe.
Reviewing: Buckwheat Soda Bread
Leave a review?