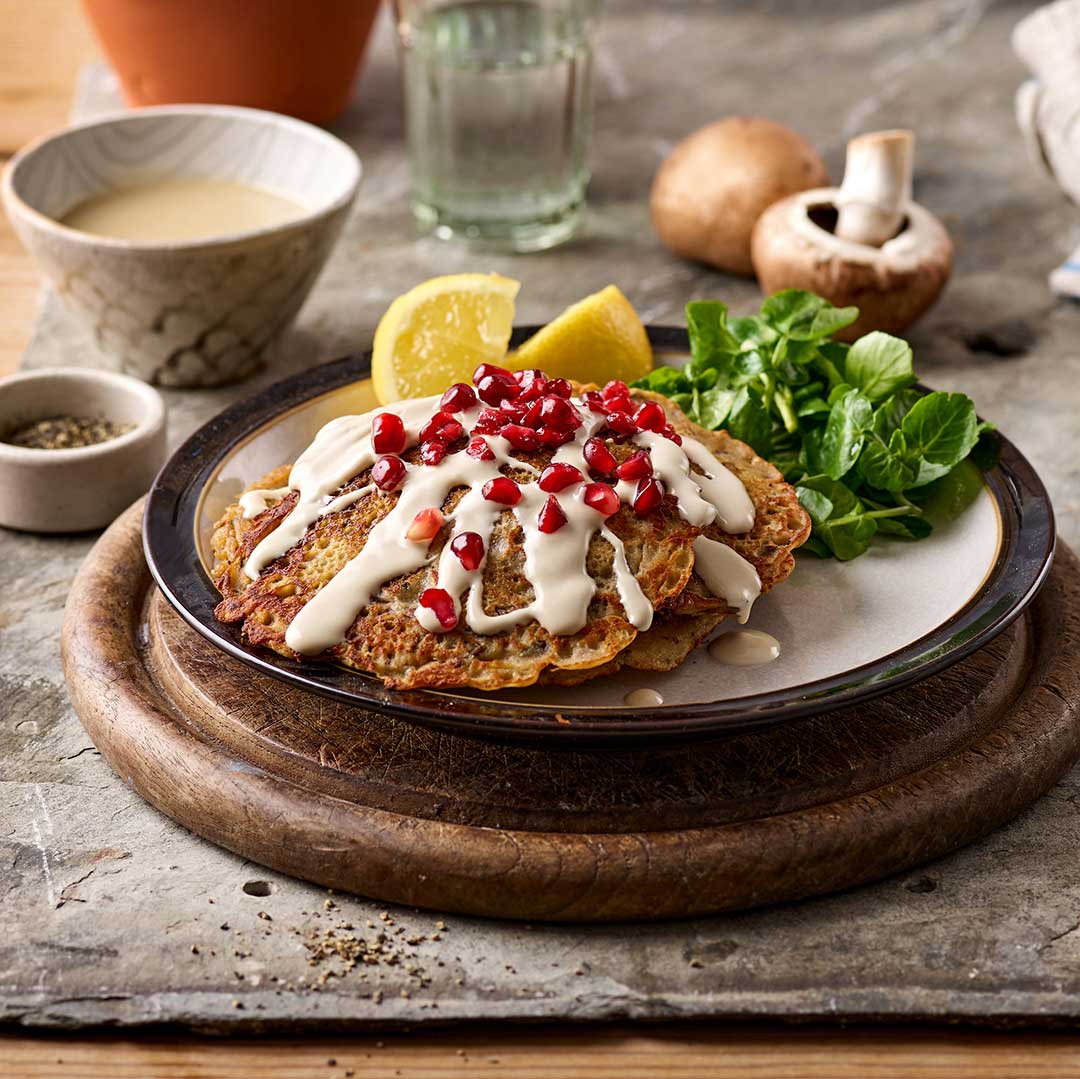 Buckwheat Mushroom Pancakes with Tahini Sauce
No reviews yet. Be the first to review this recipe.
6 pancakes
Dairy,Egg,Nuts
Vegan,Vegetarian
About this recipe:
Spread these tasty savoury pancakes with tahini sauce, stack them up and sprinkle crunchy pomegranate seeds over the top for a colorful vegan lunch or supper. A handful of freshly washed watercress or rocket will make the perfect addition.
Equipment:
frying pan, 2 x mixing bowls or jug
Ingredients:
BUCKWHEAT MUSHROOM PANCAKES
200g mushrooms
2 tbsp oil
50g Doves Farm Organic Wholemeal Buckwheat Flour
1 tbsp Doves Farm Organic Chickpea Flour
150ml vegan milk
1 tbsp soy sauce
pinch of salt and pepper
oil, for pan
pomegranate seeds, to serve
watercress or rocket, to serve
TAHINI SAUCE
50g tahini
2 tbsp lemon juice
2 tbsp water
pinch of caster sugar
salt and pepper
Method:
Buckwheat Mushroom Pancakes
Finely dice the mushrooms into a large frying pan, add the oil and cook over a medium heat.
When the mushrooms have collapsed and any liquid has evaporated, tip them onto a plate.
Put the buckwheat flour, chickpea flour, vegan milk, soy sauce, salt and pepper into a mixing bowl or jug and beat to make a smooth batter.
Add the prepared mushrooms and stir to combine.
Put a little oil into a frying pan, roll it around to cover the surface and heat until the pan is nice and hot.
Pour some mixture into the hot pan to make 10cm/4" pancake circles and cook over a medium heat.
When bubbles appear on the pancake and the base is golden, turn the pancakes over and cook the other side.
Transfer the cooked pancakes onto a plate and keep them warm while cooking the remainder.
Tahini Sauce
Stir the tahini and measure 50g into a mixing bowl.
Add the lemon juice, water, caster sugar, salt and pepper and stir to make a smooth paste.
To Serve Buckwheat Mushroom Pancakes with Tahini sauce
Lay out the pancakes on a clean work surface.
Put a spoon of tahini sauce in the middle of each pancake.
Drizzle the remaining tahini sauce over the top of the pancakes.
Scatter the pomegranate seeds over the top.
Serve immediately garnished with fresh watercress or rocket.
Leave a review?