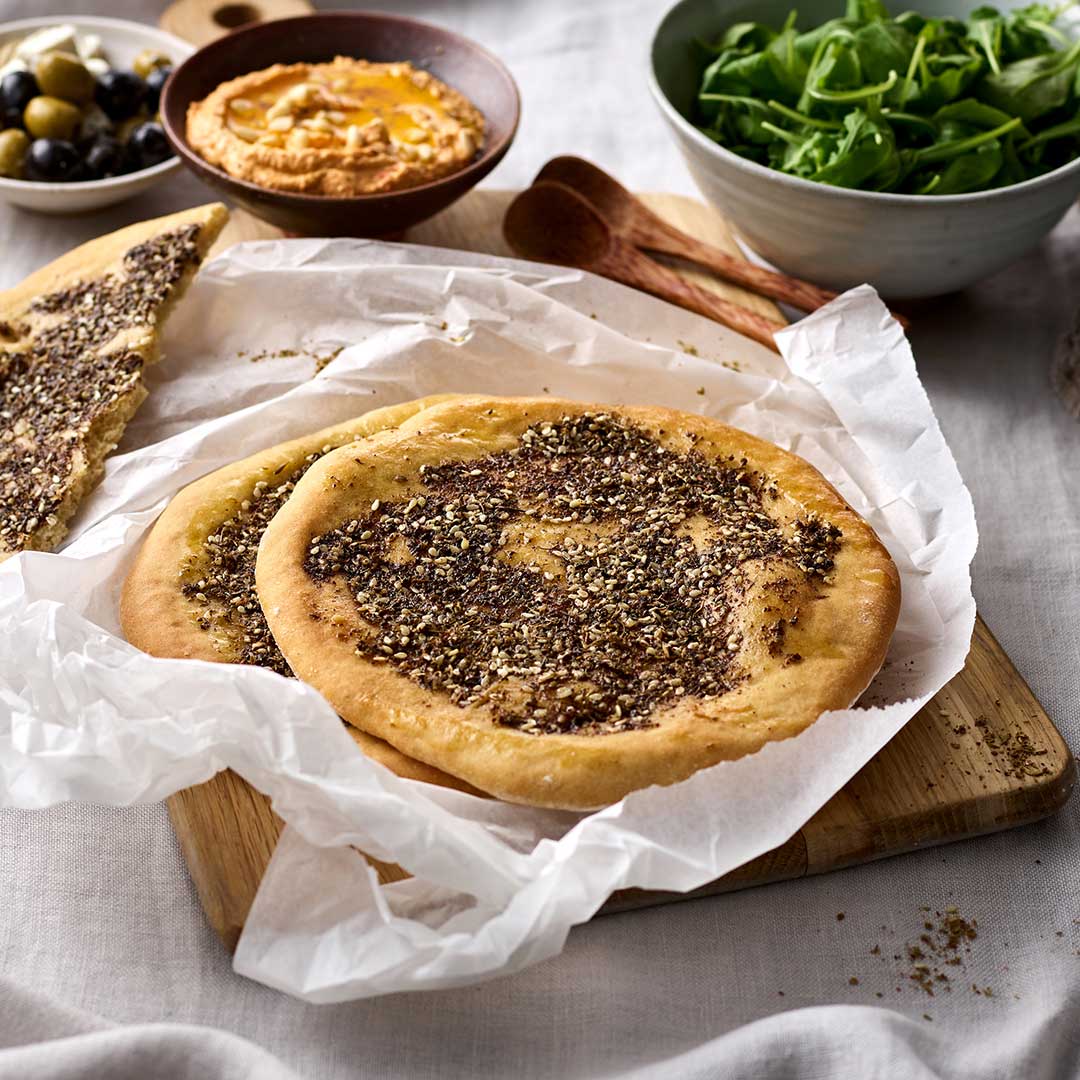 Wholemeal Khorasan Za'atar Flatbread
10-12 minutes
3-4 flatbreads
Egg,Nuts
Vegetarian,Without crystal sugar
About this recipe:
The zesty za'atar topping adds an interesting flavour to these middle Eastern style flatbreads. Serve them with a hummus dip, a hearty soup or simply cut into chunks with a bowl of black olives and chopped tomatoes.
Equipment:
2 x 25cm x 30cm / 10×12" baking trays, 2 x large mixing bowls and clean tea towel
Ingredients:
WHOLEMEAL KHORASAN FLATBREAD
250g Doves Farm Organic Wholemeal Khorasan Flour
1 tsp Doves Farm Quick Yeast
175ml tepid water
3 tbsp olive oil
½ tsp salt
oil, for hands
flour, for tin
TOPPING
4 tbsp za'atar
4 tbsp olive oil
Method:
220°C, Fan 200°C, 425°F, Gas 7
Wholemeal Khorasan Flatbread
Sprinkle flour on 2 x 25 x 30cm/10 x 12" baking trays.
Put the Khorasan flour and yeast into a large bowl and blend them together.
Pour in the water and stir until craggy and lumpy.
Add the oil and salt and stir into a soft doughy mass.
Put a little oil on your hands and knead the dough, in the bowl, for 100 presses.
Invert another bowl over the mixing bowl and leave it to double in size, about 1-2 hours.
Knead the dough with oiled hands for another 100 presses.
Cut the dough into 2 equal pieces, roll each into a ball and put them on the prepared baking trays.
Flatten the dough with the palm of your hand and your fingers to make a 20cm/8" circle.
Cover with a clean tea towel and leave in a warm place to rise for 30 minutes.
Pre-heat the oven.
Topping
To make the topping, put the za'atar into a small mixing bowl, add the oil and stir to make a paste.
Gently spread the za'atar topping over the risen dough.
Bake for 10-12 minutes.