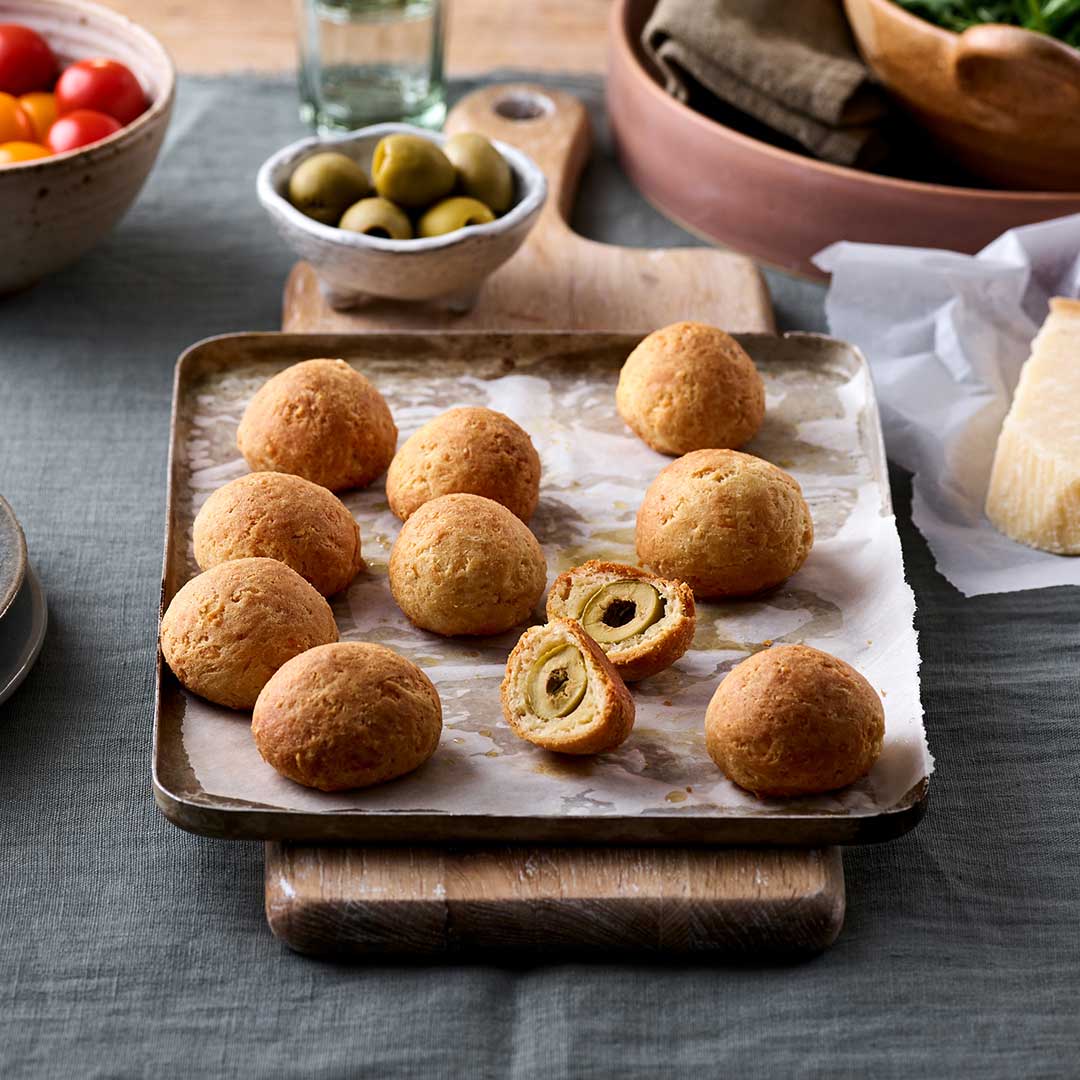 Olive and Parmesan Bites
No reviews yet. Be the first to review this recipe.
12-15 minutes
20-25 bites
Nuts
Vegetarian,Without crystal sugar
About this recipe:
These succulent savoury nibbles are ideal for serving with drinks. They can be made in advance and stored in a tin or frozen. You need to use olives without stones while olives stuffed with anchovy, pepper can add another delicious dimension.
Equipment:
large baking tray and 2 x mixing bowls
Ingredients:
100g Doves Farm Organic Plain White Flour
pinch of salt
pinch of pepper
50g butter
125g parmesan cheese, grated
1 egg
3 tbsp water
oil, for tray
Method:
220°C, Fan 200°C, 425°F, Gas 7
Pre-heat the oven.
Rub some oil around the inside of a large baking tray or insert a baking liner.
Put the flour, salt and pepper into a mixing bowl and stir to combine.
Chop the butter into small cubes and add them to the bowl.
Using a fork or pastry blender mix the flour and butter cubes together until they resemble breadcrumbs.
Stir in the grated parmesan cheese.
Break the egg into another bowl, add the water and beat well.
Tip the egg mixture to the main bowl and mix everything together to form a soft dough.
Divide the dough into the same number of pieces as the number of olives and roll each into a ball.
Flatten each dough ball into a 6-7cm circle, put an olive in the middle and draw the dough up around the olive.
Put the balls on the prepared baking tray with the dough seal at the bottom.
Bake for 12-15 minutes until golden.
Store the cold bites in an airtight tin for up to 2 days or freeze for up to a month.
Serve cold or gently warmed.
Leave a review?