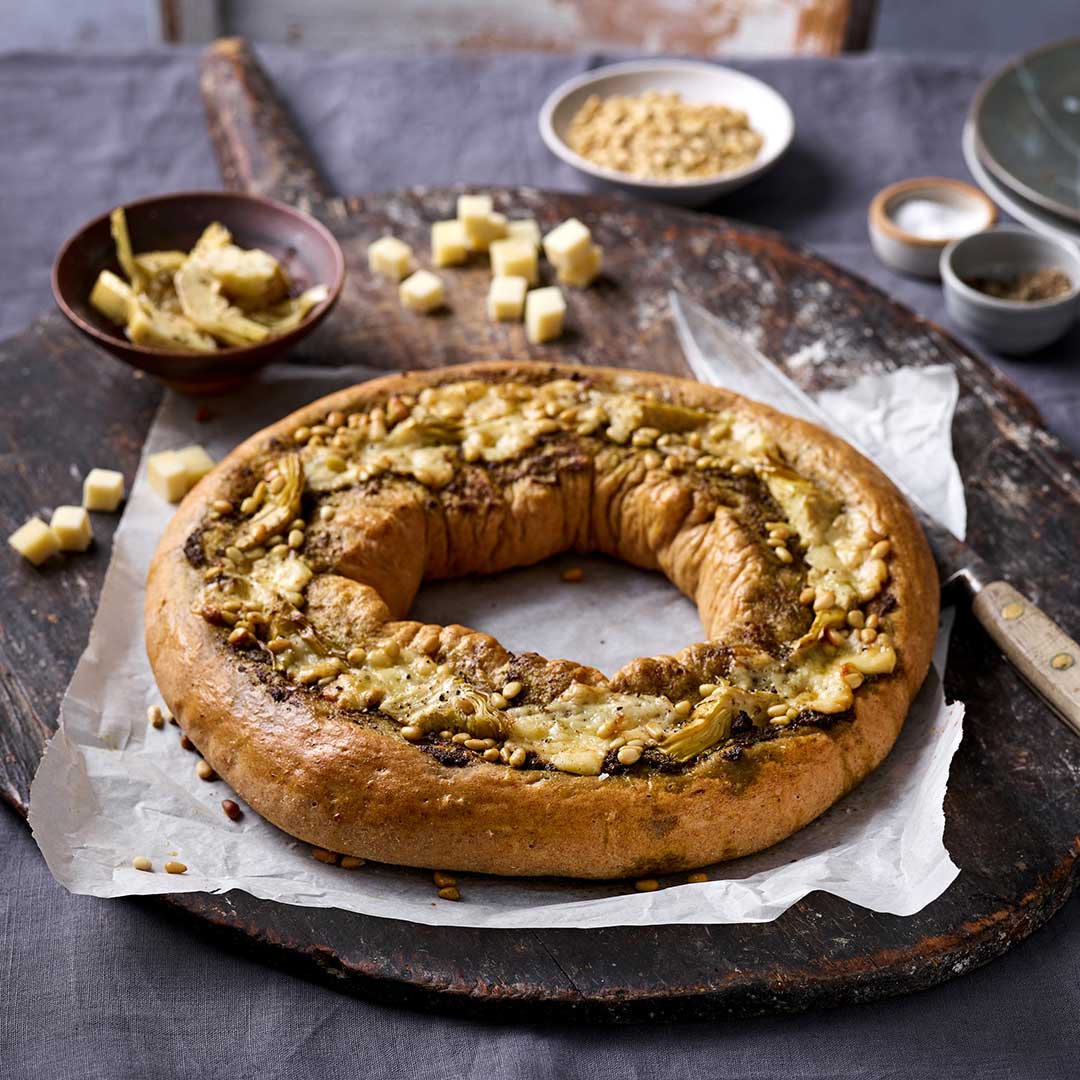 Wholemeal Emmer Artichoke and Gruyère Pizza Crown
No reviews yet. Be the first to review this recipe.
35-40 minutes
1 pizza crown
Egg
Vegetarian,Wholemeal
About this recipe:
With the oozing cheese and tasty chunks of artichoke, this tasty pizza crown is a meal in itself, or a fabulous addition to salad or soup.
Equipment:
large baking tray and 2 x large mixing bowls
Ingredients:
250g Doves Farm Organic Wholemeal Emmer Flour
1 tsp Doves Farm Quick Yeast
1 tsp sugar
175ml tepid water
½ tsp salt
1 tbsp oil from the artichokes
150g grilled artichokes, preserved in oil
125g gruyère cheese
100g pesto
25g pine nuts
salt and pepper
flour, for dusting
water, for moistening
oil, for tray
Method:
200°C, Fan 180°C, 400°F, Gas 6
Emmer Pizza Dough
Put the flour, yeast and sugar into a large mixing bowl and blend them together.
Stir in the tepid water, and when everything looks craggy and lumpy, stir in the salt.
Add a tablespoon of oil from the artichokes and mix well.
Using your hands, gather everything together into a doughy mass.
Knead the dough in its bowl for 100 presses.
Invert a large bowl over the dough bowl and leave it in a warm place for the dough to double in size, which will take about an hour.
Emmer Wholemeal Artichoke and Gruyère Pizza Crown
Roughly chop the artichokes, cut the cheese into cubes and reserve these for later.
Rub some oil around the inside of a large baking tray or insert a baking liner.
Knead the dough for another 100 presses.
Sprinkle flour on the work surface, put the dough in the middle and lightly dust it with flour.
Shape the dough into a 50cm/20" cylinder and brush the ends with water.
Transfer the dough onto the prepared tray pressing the ends together to form a circle.
Flatten the dough so the circle is at least 10cm/4" wide all round.
Spread the pesto over the dough.
Arrange the artichokes and cheese cubes in the middle of the pesto.
Season with salt and pepper and scatter the pine nuts over the top.
Draw up the edges of the dough to roughly enclose the filling, pinching the dough together between the artichokes.
Cover the dough with a large upturned bowl and leave it to rise in a warm place for 30 minutes.
Pre-heat the oven.
Remove the bowl and bake for 35-40 minutes until golden brown and the cheese is oozing.
Serve warm or cold.
Leave a review?