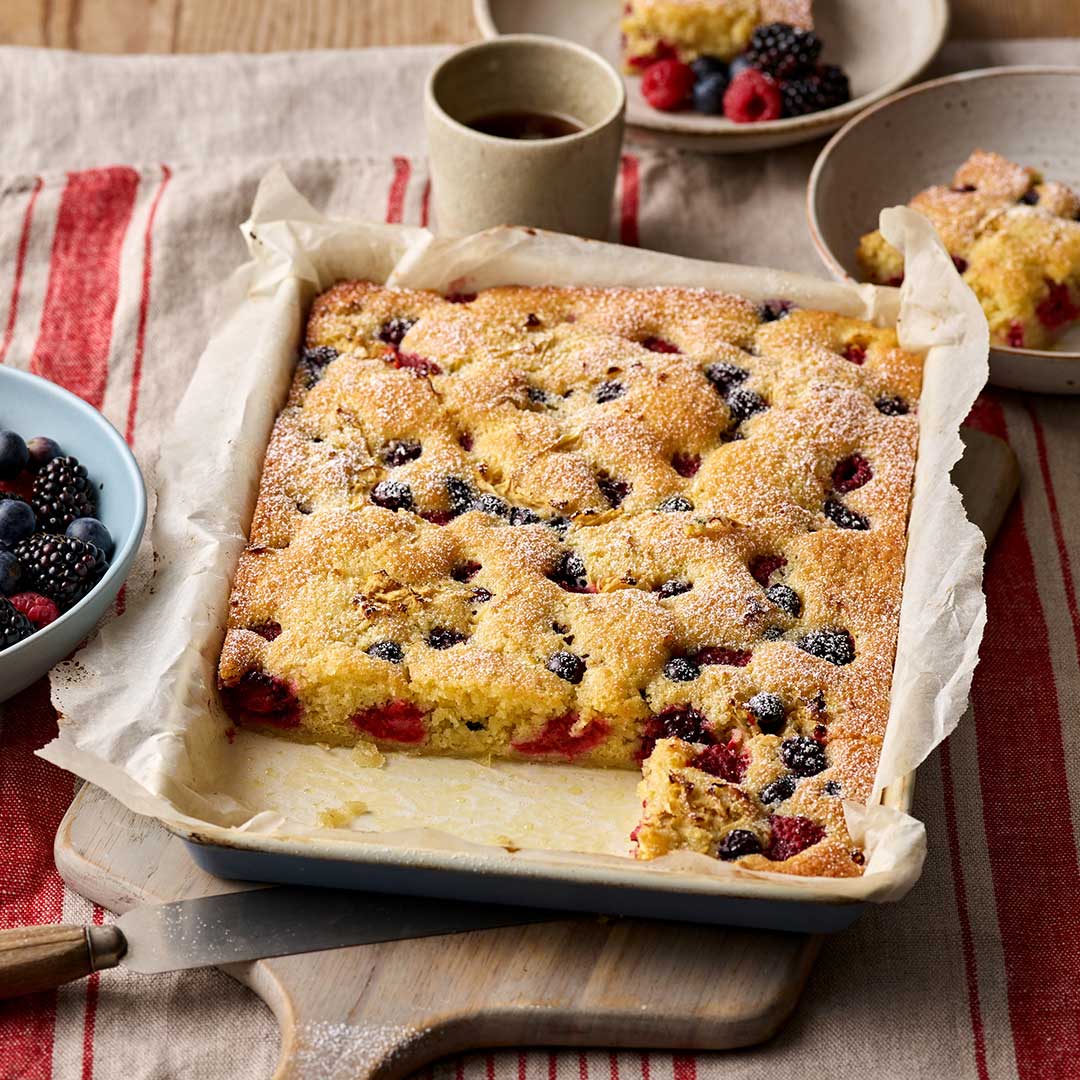 White Spelt and Berry Fruit Traybake
50-55 minutes
12 squares or 16 slices
Nuts
Vegetarian
About this recipe:
Packed with a mixture of raspberries, blackberries and blueberries this traybake makes a tempting addition to a cup of tea or coffee or a tasty treat in a lunch or picnic box. It is also delicious served warm with cream or custard.
Equipment:
23 x 33cm/9 x 13" baking tray, 2 x mixing bowls and pastry blender
Ingredients:
WHITE SPELT BASE
125g Doves Farm Organic White Spelt Flour
50g icing sugar
75g butter
1 egg
flour, for dusting
butter, for tray
BERRY FRUIT TOPPING
75g Doves Farm Organic White Spelt Flour
2 tsp Doves Farm Baking Powder
125g caster sugar
3 eggs
1 apple
150g raspberries
150g blackberries
150g blueberries
1 tbsp icing sugar
Method:
180°C, Fan 160°C, 350°F, Gas 4
White Spelt Base
Pre-heat the oven.
Rub a little butter around the inside of a 23 x 33cm/9 x 13" baking tray.
Put the flour and icing sugar into a bowl, and stir to combine.
Chop the butter into small cubes and add them to the bowl.
Using a fork or pastry blender, work the butter cubes into the flour until the mixture resembles breadcrumbs.
Break the egg into a small bowl and beat well.
Add the egg to the mixing bowl and stir to make a slightly sticky ball of dough.
Cover and rest for 30 minutes.
Dust the work surface with flour, put the dough in the middle and sprinkle with flour.
Dust a rolling pin with flour and roll it into a 23 x 33cm/9 x 13" rectangle and gently transfer the pastry into the prepared tray.
OR put the pastry into the baking tray and press it out evenly over the tray.
Using a fork, prick all over the surface of the pastry.
Berry Fruit Topping
Measure the flour and baking powder into a bowl and mix well.
Put the caster sugar and eggs into another mixing bowl and beat until light and fluffy.
Sieve the flour mix into the bowl and stir to combine.
Spread the mixture over the pastry base.
Peel, core and coarsely grate the apple, scattering it over the mixture.
Scatter over the raspberries, blackberries and blueberries.
Bake for 50–55 minutes.
Before serving, sieve the icing sugar over the top and cut into 12 squares or 16 slices.
Wrap and store in a tin for a couple of days or wrap and freeze.