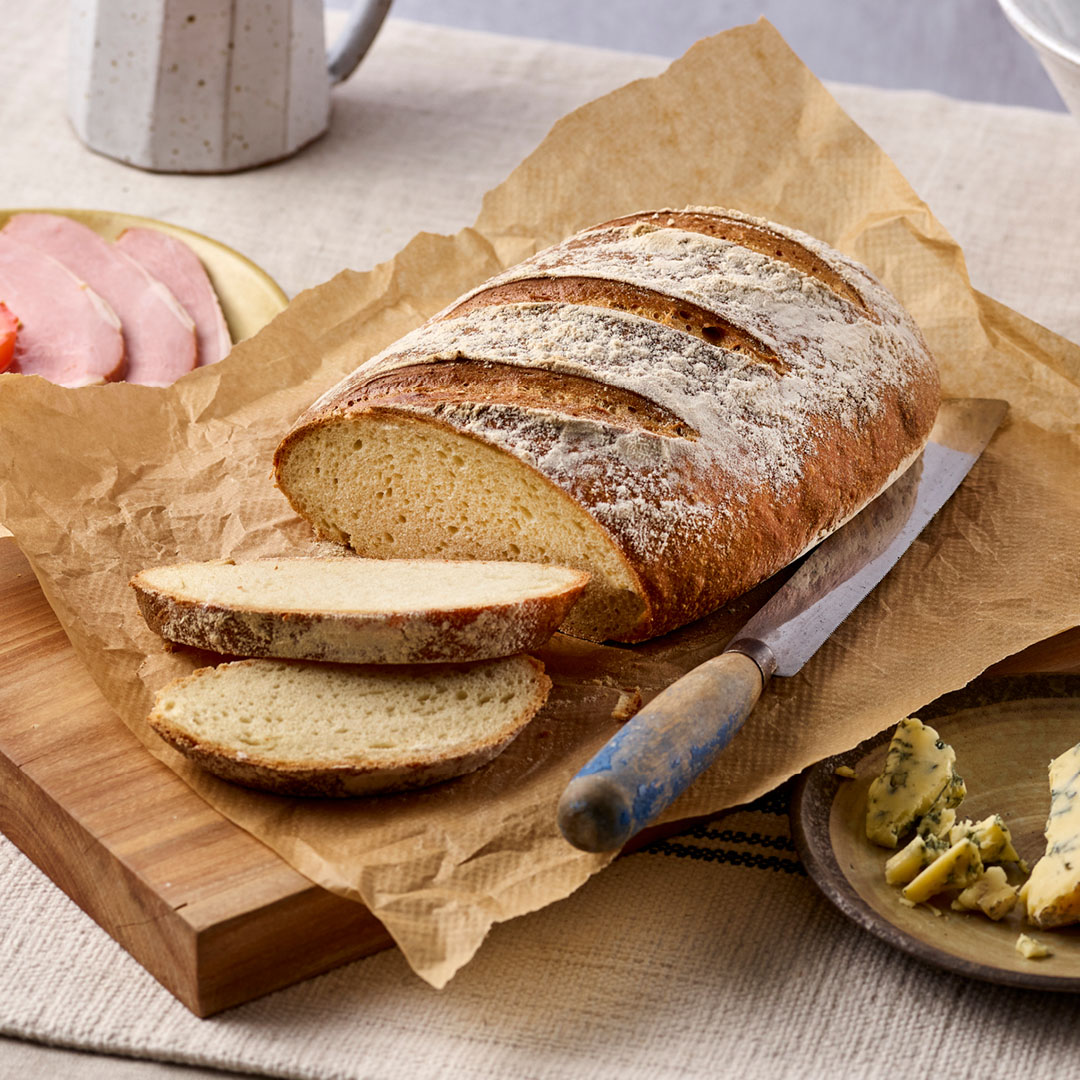 White Bread Bloomer Loaf
40-45 minutes
1 bloomer
Dairy,Egg,Nuts
Vegan,Vegetarian
About this recipe:
Traditionally baked on the oven floor or a large baking tray the dough for this loaf is folded and shaped into a long oval. Distinctive cuts are then made across the top of the dough that open up during baking to make this impressive looking loaf.
Equipment:
large oven tray and 2 x mixing bowls
Ingredients:
500g Doves Farm Organic Strong White Bread Flour
1 tsp Doves Farm Quick Yeast
1 tsp sugar
325ml tepid water
1 tsp salt
1 tbsp oil
flour, for dusting
Method:
220°C, Fan 200°C, 425°F, Gas 7
Put the flour, yeast and sugar into a large bowl and blend them together.
Pour in the water and stir until everything looks craggy and lumpy then stir in the salt.
Stir in the oil.
Using your hands, gather everything together into a doughy mass.
Knead the dough in the bowl, or on a work surface, for 100 presses. Avoid adding flour if possible.
Cover the dough bowl with an upturned bowl and leave in a warm place for the dough to double in size, which will take about an hour.
Dust a large oven tray with flour.
Knead the dough for another 100 presses.
Flatten the dough, stretching it into an oblong about 25cm/10" long, the short end facing you.
Fold one shorter end onto the middle of the oblong pressing it down with the heel of your hand.
Lift that thick piece of dough over onto the remaining dough, to form an oval and press that down with the heel of your hand.
Repeat the stretching and folding twice more to create an oval about 25cm/10" long.
Put the dough on the prepared tray with the seam underneath.
Dust lightly with flour.
Using a sharp knife make a few diagonal 2cm deep slashes across the top of the dough.
Cover the dough with an upturned bowl and leave to prove for 35–40 minutes.
Pre-heat the oven.
Remove the bowl and bake for 40–45 minutes. You will know it's done if the bottom sounds hollow when tapped.
Transfer the bloomer to a wire rack to cool.