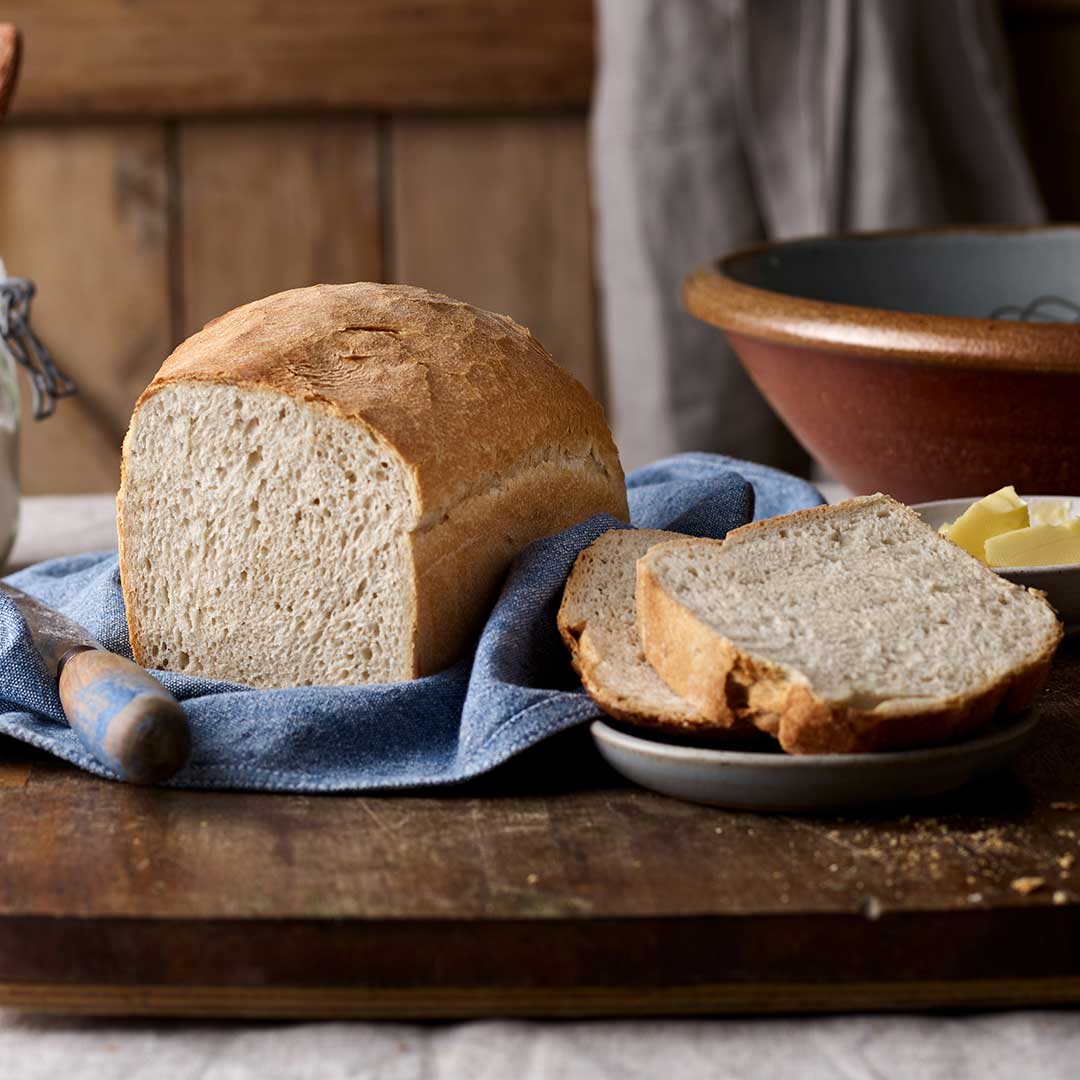 White No Knead Overnight Bread
40-45 minutes
1 loaf
Dairy,Egg,Nuts
Vegan,Vegetarian
About this recipe:
If you love homemade bread but think your life is too busy then this overnight, no knead recipe could be the answer. Mixing up your bread dough and leaving it overnight allows the dough to develop and mature without having to spend time kneading. The next morning the dough is risen again in its tin and baked. The same method can be used for Wholemeal No knead Overnight Bread.
Equipment:
1kg/2lb bread tin and 2 x mixing bowls
Ingredients:
500g Doves Farm Organic Strong White Bread Flour
1 tsp Doves Farm Quick Yeast
1 tsp salt
375ml tepid water
2 tbsp oil
oil, for tin
Method:
220°C, Fan 200°C, 425°F, Gas 7
Put the flour, yeast, and salt into a large bowl and blend them together well.
Pour in the water and stir until everything is incorporated into a slightly sticky dough.
Invert a large bowl or large saucepan over the dough bowl and leave overnight (12-18 hours).
Rub some oil around the inside of a 1kg/2lb bread tin.
Sprinkle two spoons of oil over the dough.
Run a spatula or your hand around the edge of the dough and bring it together into a ball of dough.
Tip the dough onto the work surface and gently knead the dough as the oil is absorbed and the dough becomes pliable.
Flatten out the dough then pull the far side up stretching it as high as possible.
Fold the dough over onto itself and turn the dough mass a little to the right.
Once again pull up and stretch the far side of the dough and fold it back onto itself.
Repeat the stretching and folding of the dough four or five times, turning it to the right each time it has been folded over.
Shape the dough and transfer it to the tin.
Invert a bowl over the tin and leave it to rise in a warm place to roughly double in size, about 1-3 hours depending on the room temperature.
Pre-heat the oven twenty minutes before you are going to bake.
Remove the upturned bowl and bake for 40-45 minutes. You will know it's done when the bottom sounds hollow when tapped.
Leave the bread to cool on a wire rack.