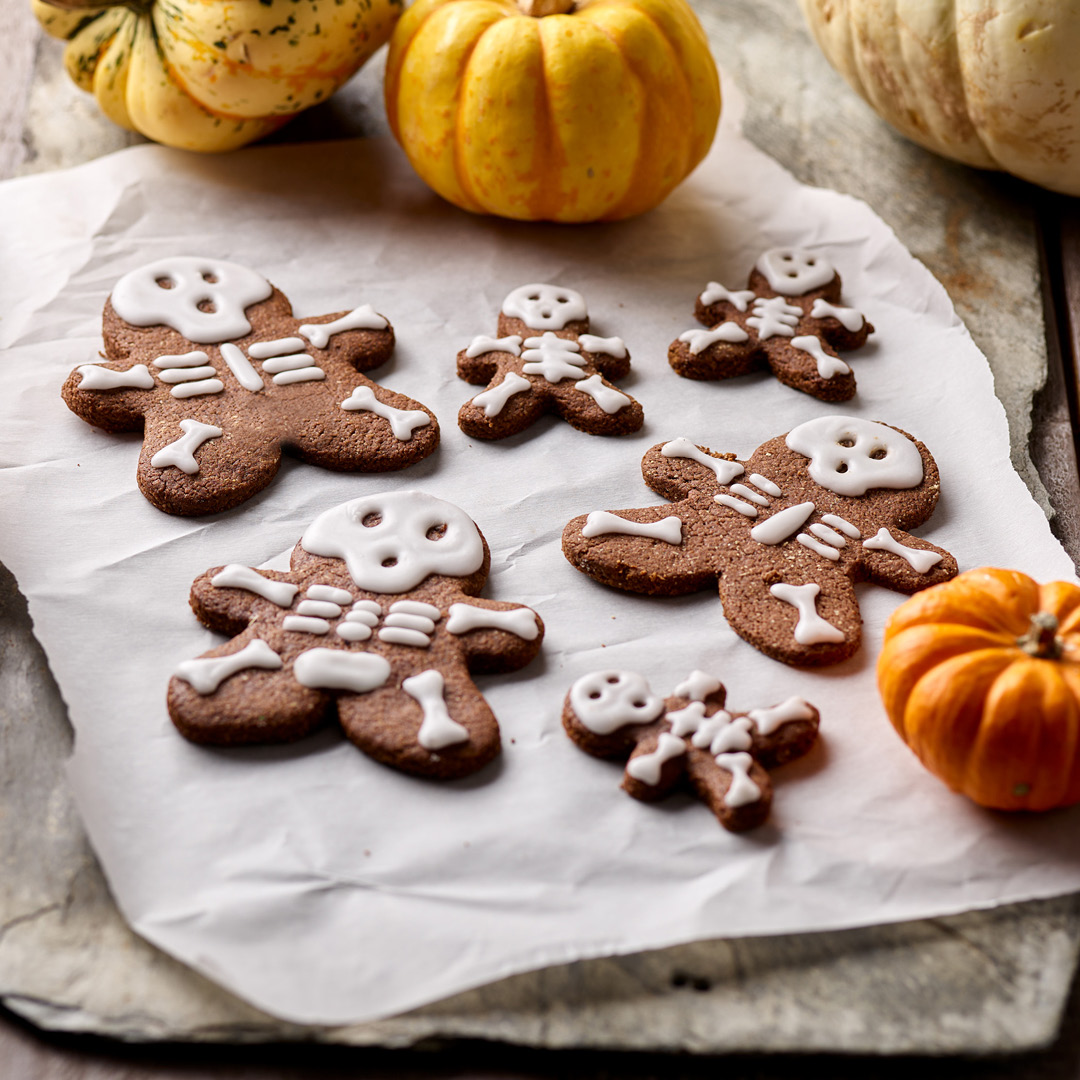 Oat Flour Skeleton Biscuits
No reviews yet. Be the first to review this recipe.
9-12 minutes
8 large skeleton biscuits or more smaller ones
Vegetarian
About this recipe:
Lightly spiced Halloween skeleton Oat Flour biscuits are made using a gingerbread person cutter and decorated with white writing icing.  Making these biscuits can be a fun family activity for Halloween and are ideal for offering to seasonal trick or treat visitors whatever their age.
Equipment:
gingerbread person biscuit cutter, 2 x large baking trays, 2 x mixing bowls and saucepan
Ingredients:
175g Doves Farm Organic Oat Flour
25g cocoa
2 tsp mixed spice
¼ tsp Doves Farm Bicarbonate of Soda
pinch of salt
75g butter
75g soft brown sugar
50g molasses
oil, for trays and for rolling out
white writing icing
Method:
190°C, Fan 170°C, 375°F, Gas 5
Measure the flour, cocoa, mixed spice, bicarbonate of soda and salt into a bowl and stir to combine.
Sieve the flour blend into another bowl, adding the bran left in the sieve to the bowl.
Stir to re-combine the bran.
Put the butter, sugar and molasses into a saucepan and heat gently, swirling the pan occasionally until dissolved.
Remove the pan from the heat, add the flour blend and stir into a slightly sticky ball of dough
Leave the dough to cool.
Pre-heat the oven 20 minutes before you are going to bake.
Rub some oil around the inside of two large baking trays or insert a baking liner.
Lightly oil the work surface and a rolling pin.
Put the dough in the middle and sprinkle it with a little more oil.
Roll out the dough until 7mm/¼" thick.
Press a gingerbread person biscuit cutter into the dough to cut out the shapes.
Gently transfer the shapes to the prepared baking trays.
Gather left over dough into a ball, roll it out again and cut more shapes.
Bake for 9-12 minutes.
Leave to harden and cool on the trays.
When quite cold, use writing icing to create a face and bone shapes on the biscuits.
Leave until all the icing has set firmly.
Store gingerbread people in a tin.
Leave a review?