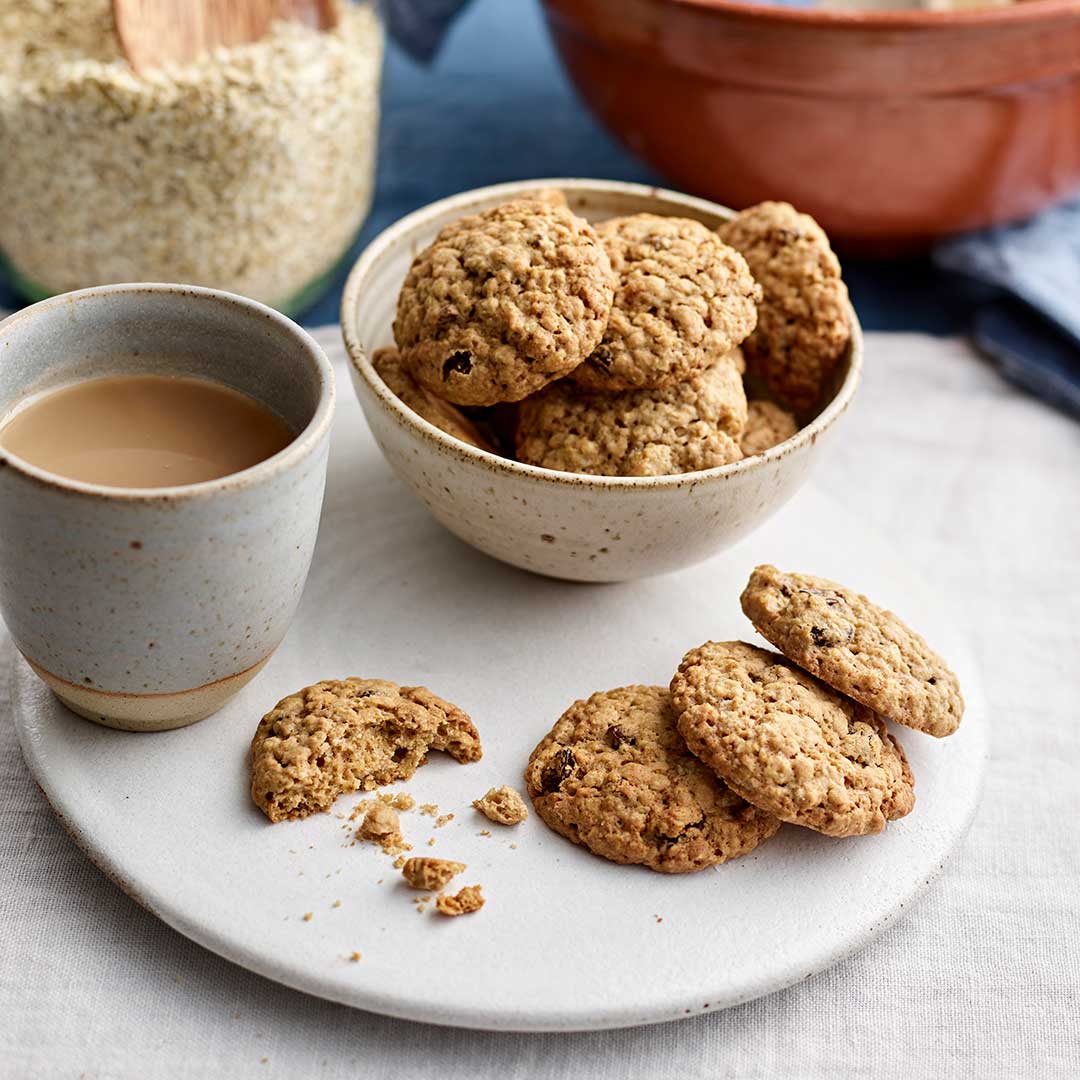 Oat and Raisin Icebox Cookies
18-20 minutes
12-15 cookies
Nuts
Vegetarian
About this recipe:
Packed with oats and studded with raisins, these icebox cookies are so named because the soft dough hardens in the icebox or freezer before baking. You can keep this cookie dough in the icebox for up to a month, just ready to quickly bake fresh oat cookies whenever you wish.
Equipment:
2 x baking trays, 2 x mixing bowls and parchment or greaseproof paper
Ingredients:
100g Doves Farm Organic Self Raising White Flour
1 tsp cinnamon
100g butter
100g muscovado sugar
1 egg
100g oats
50g raisins
oil, for baking trays
Method:
180°C, Fan 160°C, 350°F, Gas 4
Pre-heat the oven.
Rub some oil around the inside of two baking trays or insert a baking liner.
Measure the flour and cinnamon into a bowl and stir to combine,
Chop the butter into cubes and put them into a mixing bowl.
Add the sugar and beat until creamy.
Break the egg into the mixing bowl and beat until smooth.
Add the oats and raisins to the bowl and stir to mix.
Sieve the prepared flour into the bowl and stir into a slightly sticky dough.
Put the dough onto a piece of parchment or greaseproof paper, shape, roll and wrap it into a 20cm/8" cylinder.
Put the dough cylinder into the icebox or freezer for 5-10 minutes until firm or until required.
When ready to bake, remove the cookie dough from the icebox and unwrap it.
Cut the dough into 7mm/¼" thick slices, rolling the dough cylinder after each slice.
Transfer the slices to the prepared baking trays, making sure they keep their round shape.
Bake for 18-20 minutes.
Cool the cookies on the baking trays for 3 minutes before lifting them onto a wire rack to finish cooling.
Store cold cookies in an airtight tin.