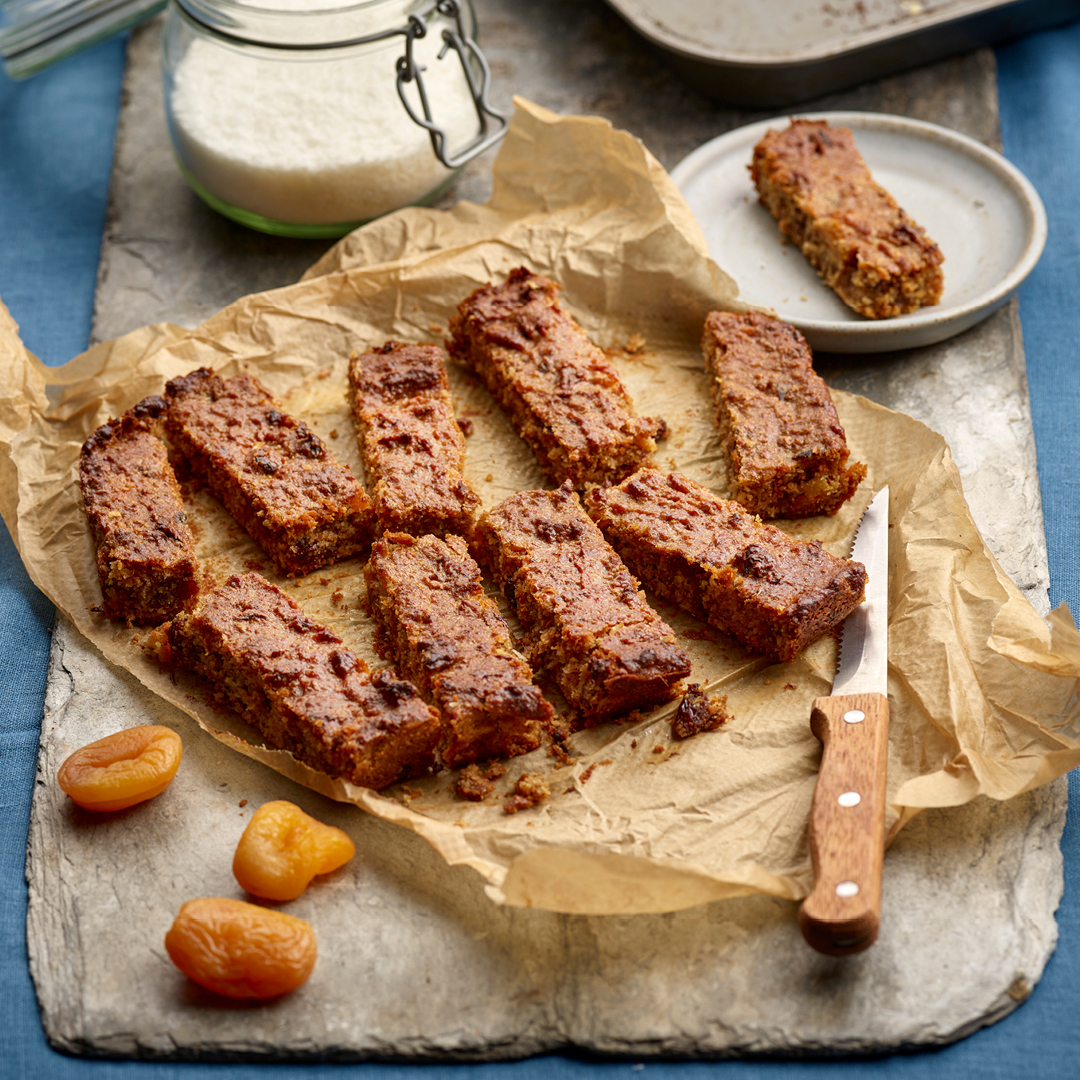 Oat Flour, Fruit and Nut Energy Bars
No reviews yet. Be the first to review this recipe.
50-55 minutes
Egg,Gluten
Vegan,Vegetarian
About this recipe:
Packed with dried fruits, no sugar is needed in these energy bars which make a great snack, anytime treat or packed lunch addition. You can use smooth or crunchy peanut butter in these bars although cashew butter and almond butter are also very good.
Equipment:
20 x 20cm/8 x 8" baking tray, mixing bowl and kitchen blender
Ingredients:
100g dates, de-stoned
50g dried apricots
¼ tsp Doves Farm Bicarbonate of Soda
150ml boiling water
100g peanut butter
4 tbsp oil
50g Doves Farm Organic Oat Flour
2 tsp cinnamon
50g raisins
25g desiccated coconut
Method:
180°C, Fan 160°C, 350°F, Gas 4
Pre heat the oven.
Rub oil around the inside of a 20x20cm/8×8" baking tray or insert a baking liner.
Roughly chop the dates and apricots into a bowl.
Sprinkle bicarbonate of soda over the top, add the boiling water, roughly mash the fruit, and leave for 30 minutes.
Measure the peanut butter, oil, oat flour and cinnamon into a kitchen blender.
Pulse to mix well.
Tip the soaking fruit and any remaining liquid into the blender and add the raisins and coconut.
Pulse to combine leaving small pieces of fruit.
Tip into the prepared tray and smooth the top.
Bake for 50-55 minutes.
Remove from the oven, cut into slices, and leave to cool in the tray.
Leave a review?