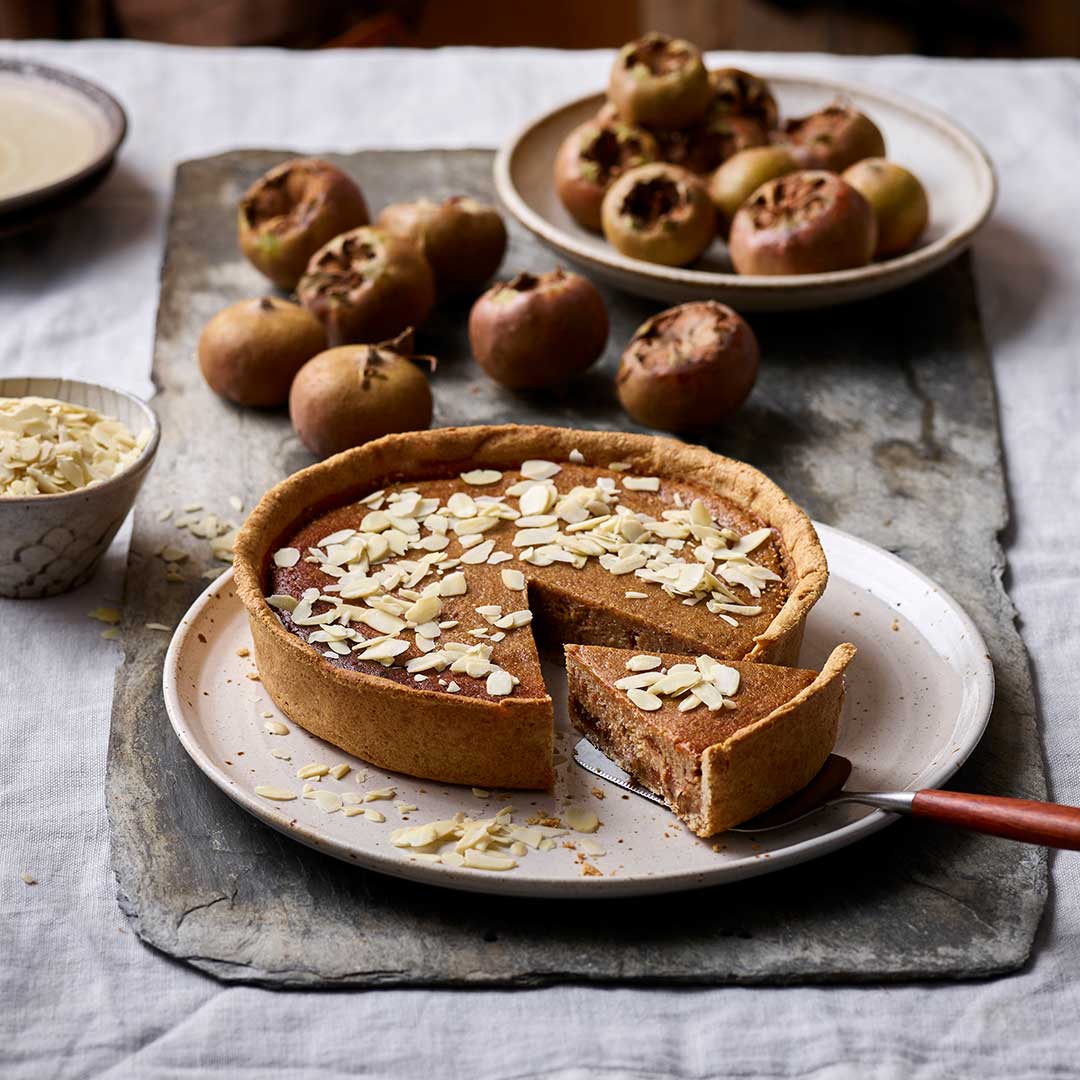 Medlar Tart
14-17 minutes for the pastry case + 30-40 minutes for the medlar tart
1 tart
Nuts
Vegetarian,Wholemeal
About this recipe:
Resembling large rosehips, medlar fruit was very popular in medieval times. Before eating, medlars should be stored until they are soft and sweet or 'bletted' when they develop a lemonade butterscotch flavour.
Equipment:
20cm/8" tart or flan dish, 2 x mixing bowls, pastry blender, parchment paper and ceramic baking beans
Ingredients:
SWEET PASTRY
100g Doves Farm Organic Fine Plain Wholemeal Flour
100g Doves Farm Organic Plain White Flour
100g butter
50g icing sugar
1 egg
2 tbsp orange juice
butter, for dish
flour, for dusting
MEDLAR FILLING
400g soft medlars
1 egg
3 tbsp cream
75g honey
1 orange, grated rind and juice
½ tsp mixed spice
flaked almonds, for decoration
Method:
180°C, Fan 160°C, 350°F, Gas 4
Sweet Pastry
Pre-heat the oven.
Rub some butter around the inside of a 20cm/8" tart or flan dish.
Put the flours into a mixing bowl, chop the butter into small cubes and add these to the bowl.
Using a fork or pastry blender work the flour and butter cubes together until the mixture resembles fine breadcrumbs.
Sieve the icing sugar into the mixing bowl and stir to combine.
Break the egg into a bowl, add the orange juice and beat together
Pour into the mixing bowl and stir to bring together a ball of dough. If it does not do this easily, add a few more drops of orange juice.
Cover the dough and leave it to stand for 15 minutes.
Dust the work surface with flour, put the dough in the middle and sprinkle it with flour.
Roll out the pastry into a circle 5cm/2" larger than your dish and lift it into the dish, OR simply press the pastry into the baking dish using your fingers.
Cut away any pastry that hangs over the edge of your dish.
Prick the pastry all over with a fork.
Lay a large piece of parchment paper over the raw pastry, making sure all the edges are covered.
Scatter ceramic baking beans (or rice or flour) over the parchment, spreading them all over the surface.
Bake for 10-12 minutes then remove from the oven, carefully lift the parchment paper and contents off the pastry and return it to the oven and cook for a further 4-5 minutes without browning too much.
Medlar Tart
Peel the medlars and remove the stones.
Roughly chop the medlar pulp into a bowl.
Break the egg into a mixing bowl, add the cream and beat well.
Add the honey, grated orange rind and juice and mixed spice and beat to combine.
Tip the mixture into the prepared pastry case and bake for 30-40 minutes.
Sprinkle with flaked almonds for decoration.
Serve warm or cold.