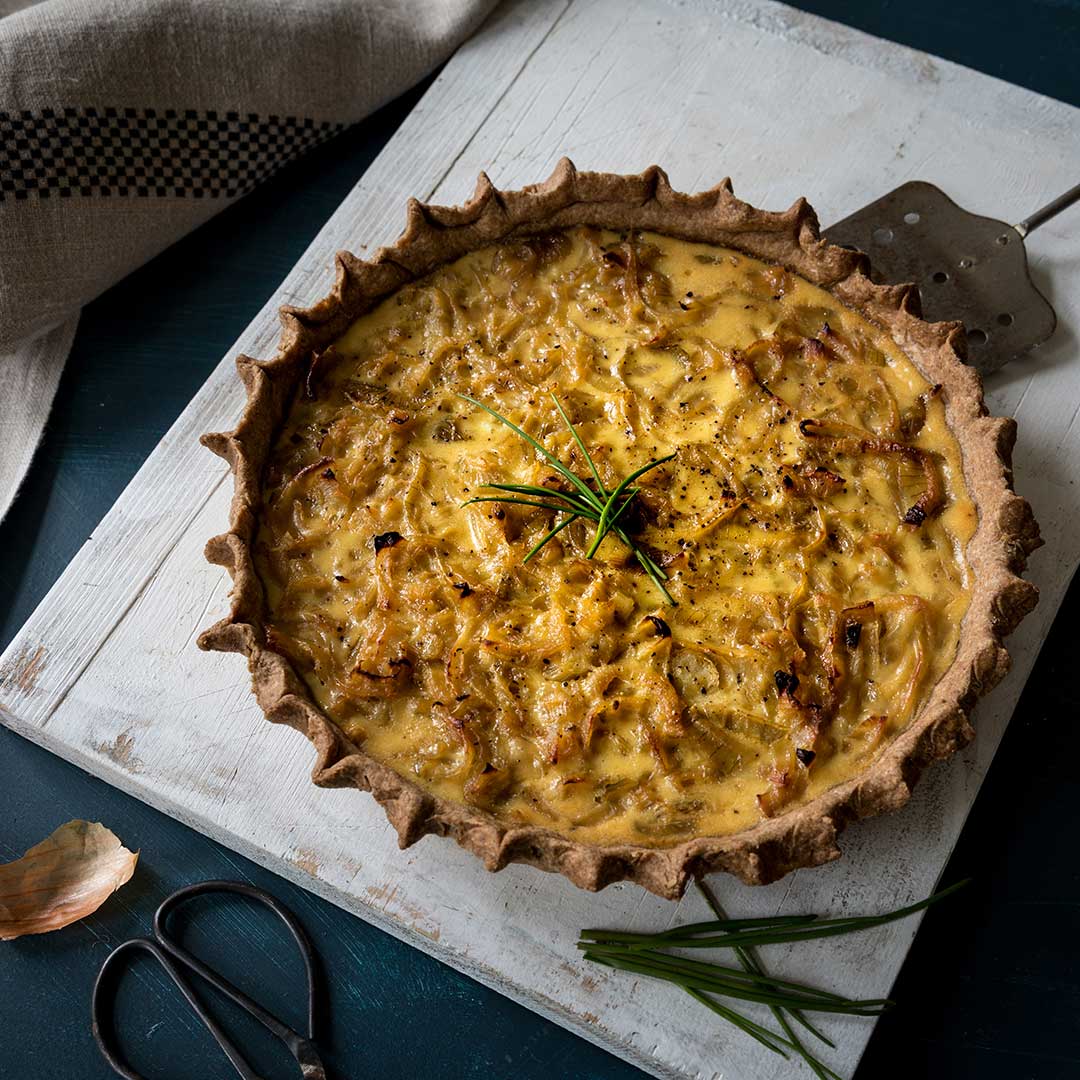 Wholemeal Caramelized Onion Tart
45-50 minutes
1 tart
Nuts
Vegetarian,Wholemeal
About this recipe:
Cooking and caramelizing the onions in advance of making the pastry adds depth of flavour to this delicious onion quiche.
Equipment:
23cm/9" quiche or tart dish, pastry blender, 2 x mixing bowls and frying pan
Ingredients:
CARAMELIZED ONIONS
1kg onions
2 tbsp olive oil
25g butter
1 tbsp brown sugar
WHOLEMEAL PASTRY
200g Doves Farm Organic Fine Plain Wholemeal Flour
100g butter
6-8 tbsp cold water
butter, for dish
flour, for dusting
FILLING
2 eggs
100ml single cream
salt and pepper
Method:
180°C, Fan 160°C, 350°F, Gas 4
Caramelized Onions
Peel and slice the onions.
Put the oil and butter into a frying pan, add the onions, cover and cook over a medium high heat, stirring occasionally, for 25–35 minutes. The onions will collapse and become brown.
Remove the lid, stir in the brown sugar and cook for a further 2 minutes then remove from the heat, cover and set aside.
Wholemeal Pastry
Pre-heat the oven.
Put the flour into a mixing bowl.
Chop the butter into small cubes and add them to the bowl.
Using a pastry blender or fork, mash the butter cubes into the flour until it resembles breadcrumbs.
Stir in enough water to bring together a soft ball of dough.
Cover the dough and leave it to stand for 15 minutes.
Rub a little oil around the inside of a 23cm/9" quiche or tart dish.
Dust the work surface with flour, put the dough in the middle and sprinkle it with more flour.
Roll out the pastry into a circle 5cm/2" larger than your dish and lift it into the dish, OR simply press it into the baking dish using your fingers.
Cut away any pastry hanging over the edge of your dish.
Caramelized Onion Tart
Break the eggs into a mixing bowl, add the cream, salt and pepper and beat together well.
Add the caramelized onions to the bowl, stir to combine then tip the mixture into the prepared pastry base.
Bake for 45-50 minutes.