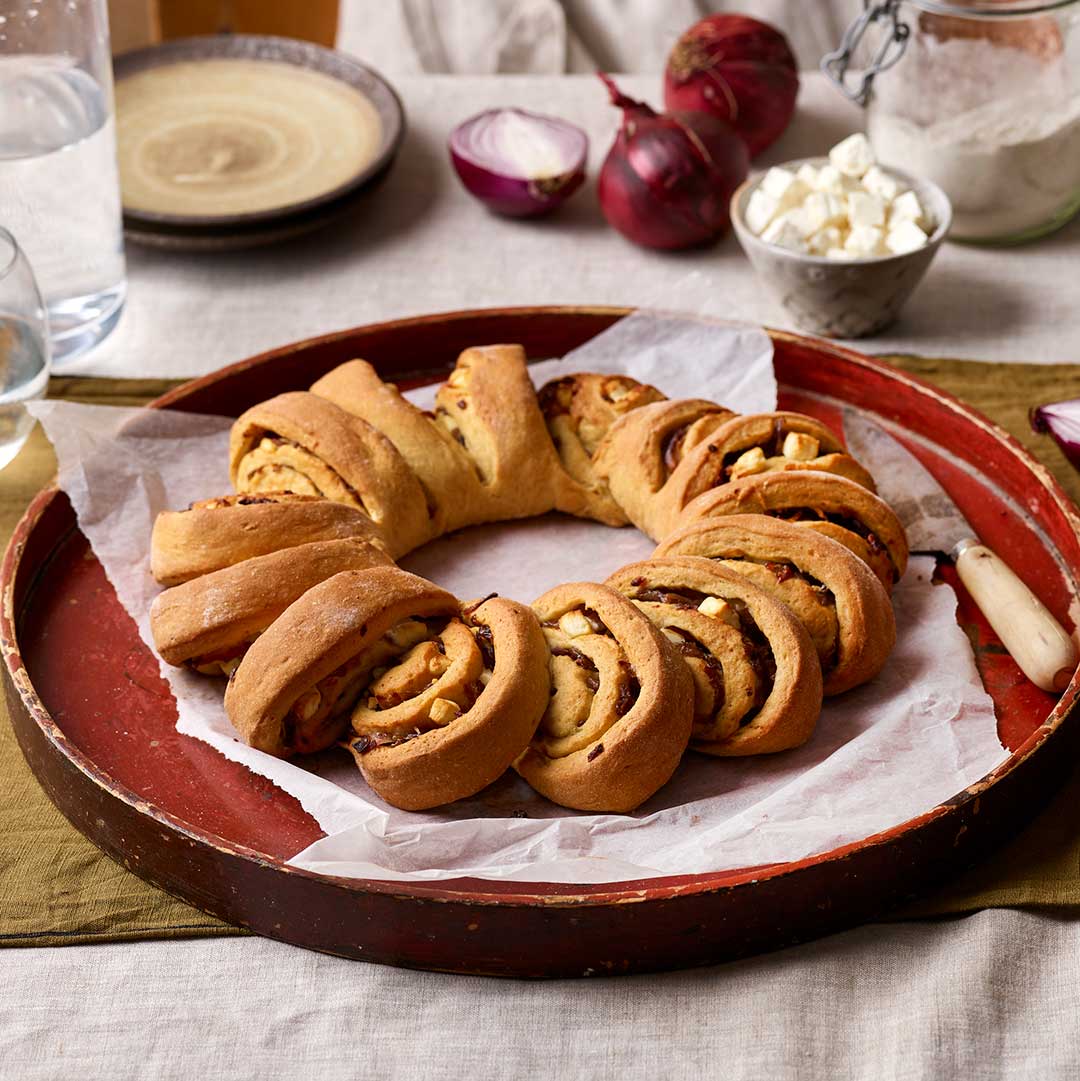 Wholemeal Khorasan Cheese and Onion Tear and Share Bread
No reviews yet. Be the first to review this recipe.
35-40 minutes
1 loaf
Egg,Nuts
Vegetarian,Wholemeal
About this recipe:
This spectacular sharing bread could make a great centre piece for a celebration or a picnic. Serve cold or gently reheat before serving.
Equipment:
frying pan, large mixing bowls and baking tray
Ingredients:
500g Doves Farm Organic Wholemeal Khorasan Flour
1 tsp Doves Farm Quick Yeast
1 tsp sugar
250ml cider or apple juice
½ tsp salt
2 tbsp sunflower oil
300g red onion
100g feta
flour, for dusting
Method:
200°C, Fan 180°C, 400°F, Gas 6
Put the flour, yeast and sugar into a large bowl and blend them together.
Stir in the cider, and when everything looks craggy and lumpy, stir in the salt.
Stir in the oil.
Using your hands gather everything together into a doughy mass.
Knead dough in the bowl, or on a work surface, for 100 presses.
Invert a large bowl over the dough bowl and leave it in a warm place for the dough to double in size, which will take about an hour.
Gently fry the onions in the remaining oil until they appear translucent then turn down the heat and cook until golden, about 40 minutes.
Knead the dough for another 100 presses.
Put the dough on a lightly floured surface and roll it into a 25x35cm/10×14" rectangle.
Spread the cooked onions evenly over the dough.
Cut the feta into cubes and scatter it over the onions.
Moisten the edges of the dough with water and roll into a cylinder, from the widest side, pinching the edges to ensure the filling is contained.
Rub some oil around the inside of a baking tray or insert a baking liner.
Gently transfer the dough cylinder to the baking tray.
Make cuts three quarters of the way into the dough cylinder at 2cm/¾" intervals.
Gently pull the dough cylinder into a circle allowing the cuts to open out as slices.
Tease out the slices, still joined at the base, to create a fan effect.
Cover the dough with an inverted bowl and leave to rise in a warm place for 30 minutes.
Pre heat the oven.
Remove the bowl and bake for 35-40 minutes.
Leave a review?