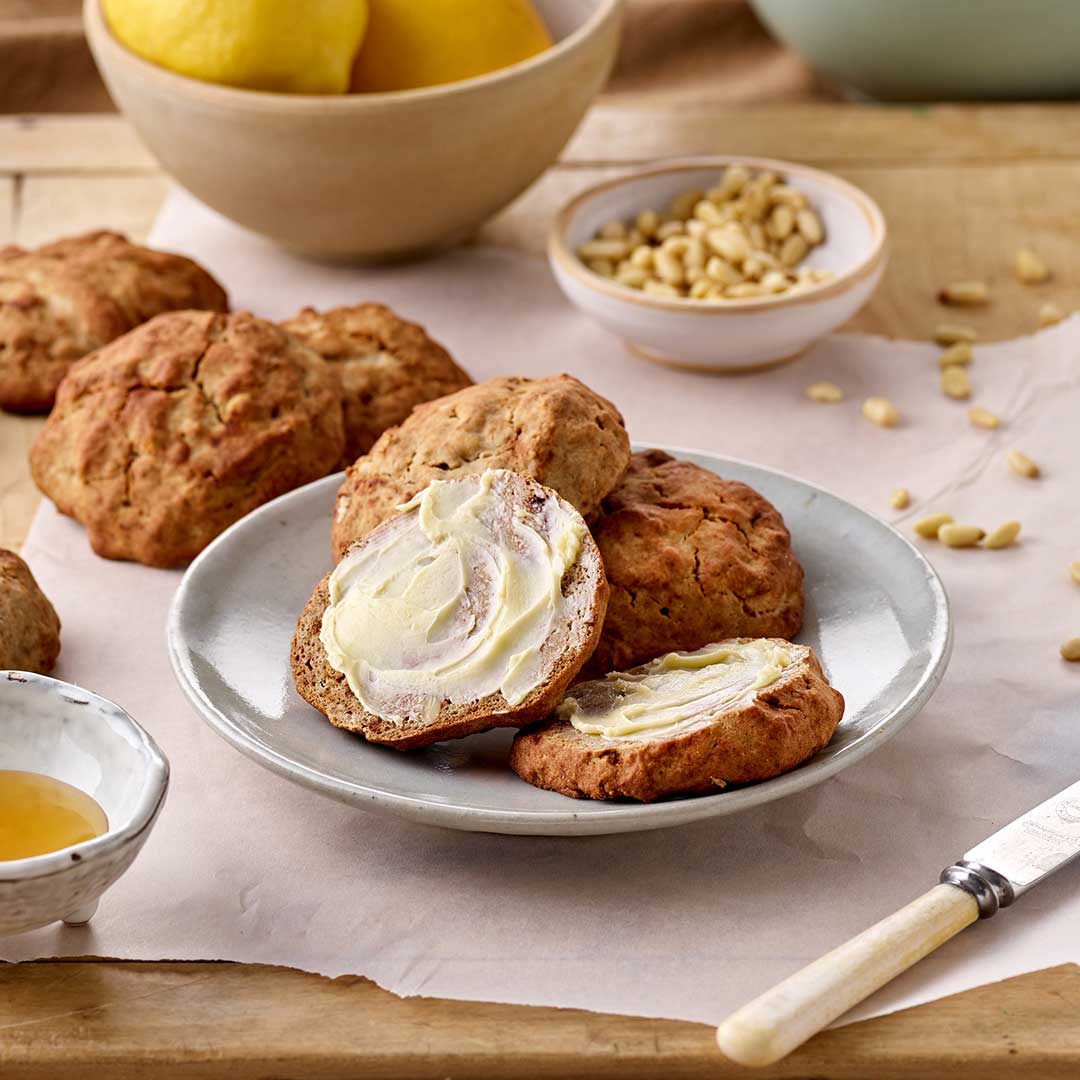 Buckwheat Honey Scones
15-20 minutes
9 scones
Dairy,Egg,Nuts
Vegetarian,Wholemeal,Without crystal sugar
About this recipe:
Made with tasty buckwheat flour these wholegrain scones, made without crystal sugar, are great to serve at breakfast, lunch or tea.
Equipment:
large baking tray, 2 x mixing bowls and jug
Ingredients:
200g Doves Farm Organic Wholemeal Buckwheat Flour
1 tsp Doves Farm Bicarbonate of Soda
4 tbsp honey
1 tbsp olive oil
1 lemon, grated rind and juice
2 tbsp pine nuts
tepid water
oil, for tray
Method:
200°C, Fan 180°C, 400°F, Gas 6
Pre-heat the oven.
Rub some oil around the inside of a large baking tray or insert a baking liner.
Measure the flour and bicarbonate of soda into a bowl, stir to combine and sieve into another bowl.
Add the honey and oil to the flour and, using a fork, blend everything together until the mixture resembles breadcrumbs.
Grate the lemon rind into the bowl, add the pine nuts and stir to combine.
Squeeze the lemon into a jug and add water to make a total of 150ml of liquid.
Pour the liquid into the bowl and gently stir to make a soft mass of dough. Avoid overmixing.
Quickly spoon the dough into 9 round piles on the prepared baking tray.
Gently tease the piles of dough into circles and brush the tops with water.
Bake for 15-20 minutes.