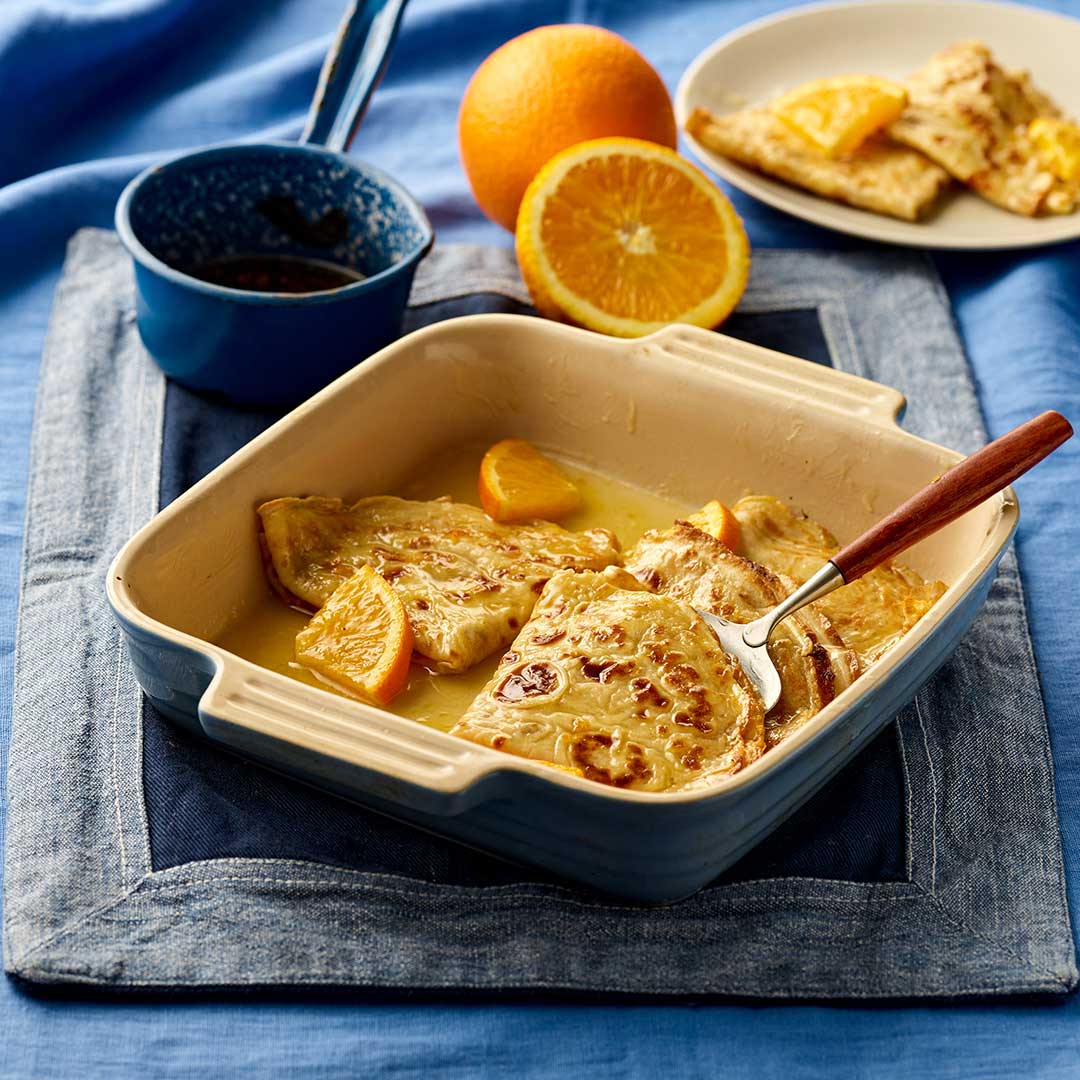 Pancake Crêpes Suzettes
No reviews yet. Be the first to review this recipe.
10 minutes
6
Nuts
Vegetarian
About this recipe:
This classic orange themed French pancake dessert is prepared in advance, then doused in warm orange liqueur that is ignited at the table for a show stopping flambé finale.
Equipment:
large frying pan, ovenproof dish, 2 x mixing bowls and saucepan
Ingredients:
PANCAKE CREPES
100g Doves Farm Organic Plain White Flour
2 eggs
300ml milk
1 tbsp brandy
butter, for cooking
SUZETTE FILLING AND FLAMBE
1 orange, grated rind and juice
75g butter
75g icing sugar
8 tbsp orange liqueur
butter, for dish
Method:
180°C, Fan 160°C, 350°F, Gas 4
Pancake Crêpes
Put the flour into a large bowl.
Break the eggs into the bowl, add 150ml of milk and beat to a smooth paste.
Stir in the remaining 150ml of milk and the brandy to make a thin batter. You can use the batter immediately or refrigerate for up to 12 hours if you wish.
Put a little butter into a frying pan and get the pan nice and hot so the butter lightly covers the surface.
Stir the batter then spoon or pour some into the hot pan, rolling it out to the edges.
Cook the pancake crêpe, loosening the edges, until the base is golden.
Turn it over and cook the other side.
Transfer the crêpes to a plate.
Repeat until the batter is used.
The pancakes can be left to cool, covered and chilled for up to a day before proceeding.
Suzette Filling and Flambé
Pre- heat the oven.
Rub some butter around the inside of an oven proof dish.
Finely grate the orange rind and squeeze the juice.
Measure the butter and icing sugar into a mixing bowl, add the grated orange rind and juice and mix together.
Lay the pancakes out on a clean work surface.
Divide the orange mixture between the pancakes, spreading it over one side of each pancake.
Fold the pancakes in half then into quarters and arrange them in the prepared dish.
Bake for 10 minutes.
Meanwhile warm the orange liqueur in a saucepan but do not allow it to boil.
Remove the pancake crêpes from the oven and take them to the table with the hot liqueur.
Immediately pour the hot spirit over the hot pancake crêpes.
Quickly and carefully ignite the liqueur with a lighter.
Tilt the dish to one side and carefully spoon any spare liqueur back over the pudding.
The crêpes suzettes are ready to serve when the flame has disappeared.
Leave a review?