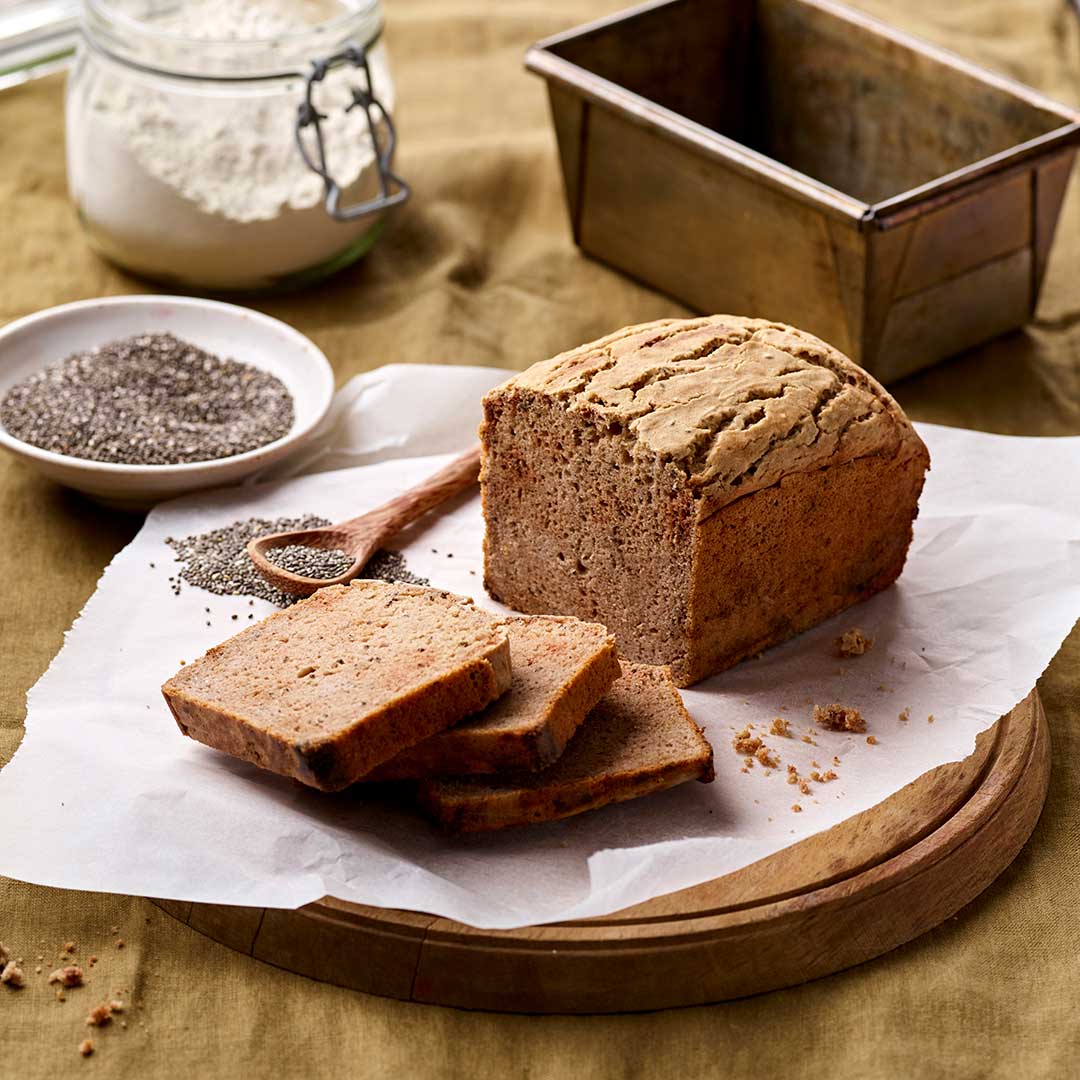 Buckwheat Flour and Chia Seed Soda Bread
45 + 10 minutes
1 loaf
Dairy,Egg,Nuts
Vegetarian
About this recipe:
Wholemeal buckwheat flour gives this vegan and yeast free loaf a close crumb and rich earthy flavour. It can also be made with your favourite type of milk, including plant milk.
Equipment:
500g/1lb bread tin, jug or bowl, mixing bowl and kitchen foil
Ingredients:
250ml milk
½ tbsp lemon juice
250g Doves Farm Organic Wholemeal Buckwheat Flour
1 tbsp soft brown sugar
1 tsp chia seeds
½ tsp Doves Farm Bicarbonate of Soda
½ tsp salt
1 tbsp oil
oil, for tin
oil, for brushing
Method:
200°C, Fan 180°C, 400°F, Gas 6
Pre-heat the oven.
Measure the milk into a jug or bowl and add the lemon juice, cover and leave to curdle for 5 minutes.
Rub some oil around the inside of a 500g/1lb bread tin.
Measure the flour, soft brown sugar, chia seeds, bicarbonate of soda and salt into a bowl and stir to combine.
Pour the milk into the bowl and stir into a smooth paste.
Sprinkle the oil over the paste.
Using a spatula, turn the paste a few times until it forms a doughy mass.
Tip the doughy mass into the prepared tin and smooth the surface.
Brush some oil over a piece of kitchen foil.
With the oiled side down, cover the tin creating a dome so that the bread can rise during cooking.
Bake for 45 minutes.
Carefully remove the kitchen foil and bake for a further 10 minutes.
Remove from the oven, tip the bread out of the tin and leave to cool on a wire rack.
Cool completely before slicing.