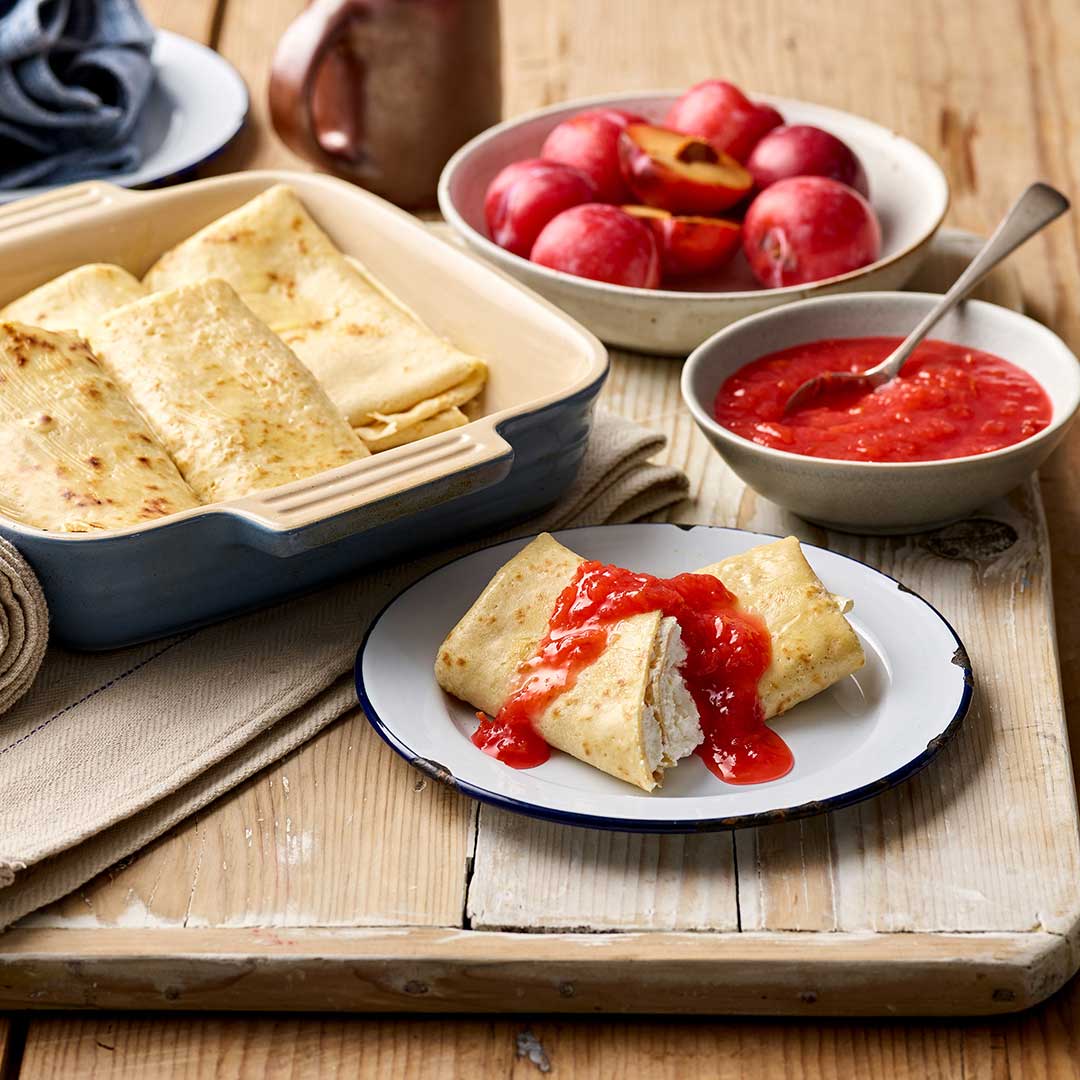 Pancake Blintze with Plum Sauce
No reviews yet. Be the first to review this recipe.
20 minutes + 20-25 minutes
6
Nuts
Vegetarian,Wholemeal
About this recipe:
These thin pancakes are filled with sweetened cheese and served with plum sauce. Pancake Blintze are a traditional dessert in Jewish, Russia and Eastern European cuisines.
Equipment:
frying pan, ovenproof dish, 2 x large bowls and saucepan
Ingredients:
BLINTZE PANCAKES
100g Doves Farm Organic Plain White Flour
½ tsp Doves Farm Baking Powder
2 eggs
300ml milk
butter, for cooking
crème fraiche, for serving
SWEET CHEESE FILLING
200g ricotta
100g crème fraiche
50g soft brown sugar
butter, for dish
PLUM SAUCE
300g plums
3 tbsp water
2 tbsp granulated sugar
Method:
180°C, Fan 160°C, 350°F, Gas 4
Blintze Pancakes
Put the flour and baking powder into a large bowl and stir to combine.
Break the eggs into the bowl, add 150ml of milk, beat to a smooth paste.
Stir in the remaining 150ml of milk to make a thin batter. You can use the batter immediately or refrigerate for up to 12 hours if you wish.
Put a little butter into a frying pan and get the pan nice and hot so the butter lightly covers the surface.
Stir the batter then spoon or pour some into the hot pan, rolling it out to the edges.
Cook the pancake blintze, loosening the edges, until the base is golden.
Turn it over and cook the other side.
Turn out the pancakes onto a plate.
Repeat until the batter is used.
Sweet Cheese Filling
Pre-heat the oven.
Rub some butter liberally around the inside of an ovenproof dish.
Measure the ricotta, crème fraiche and sugar into a mixing bowl.
Using a fork, stir into a lumpy mix.
Lay the pancakes out on a clean work surface.
Divide the cheese mixture between the pancakes, putting it in the middle of each pancake.
Fold the right and left side of the pancake towards the middle then make 3-4 folds away from yourself to enclose the cheese mixture in a pocket.
Transfer the blintze to the prepared dish.
Bake for 10-15 minutes.
Serve the pancake blintzes warm with plum sauce and crème fraiche.
Plum Sauce
Chop and destone the plums.
Put them into a saucepan with the water and sugar.
Cook over a medium heat until the plums start to collapse.
Puree the plums to make a sauce.
Leave a review?