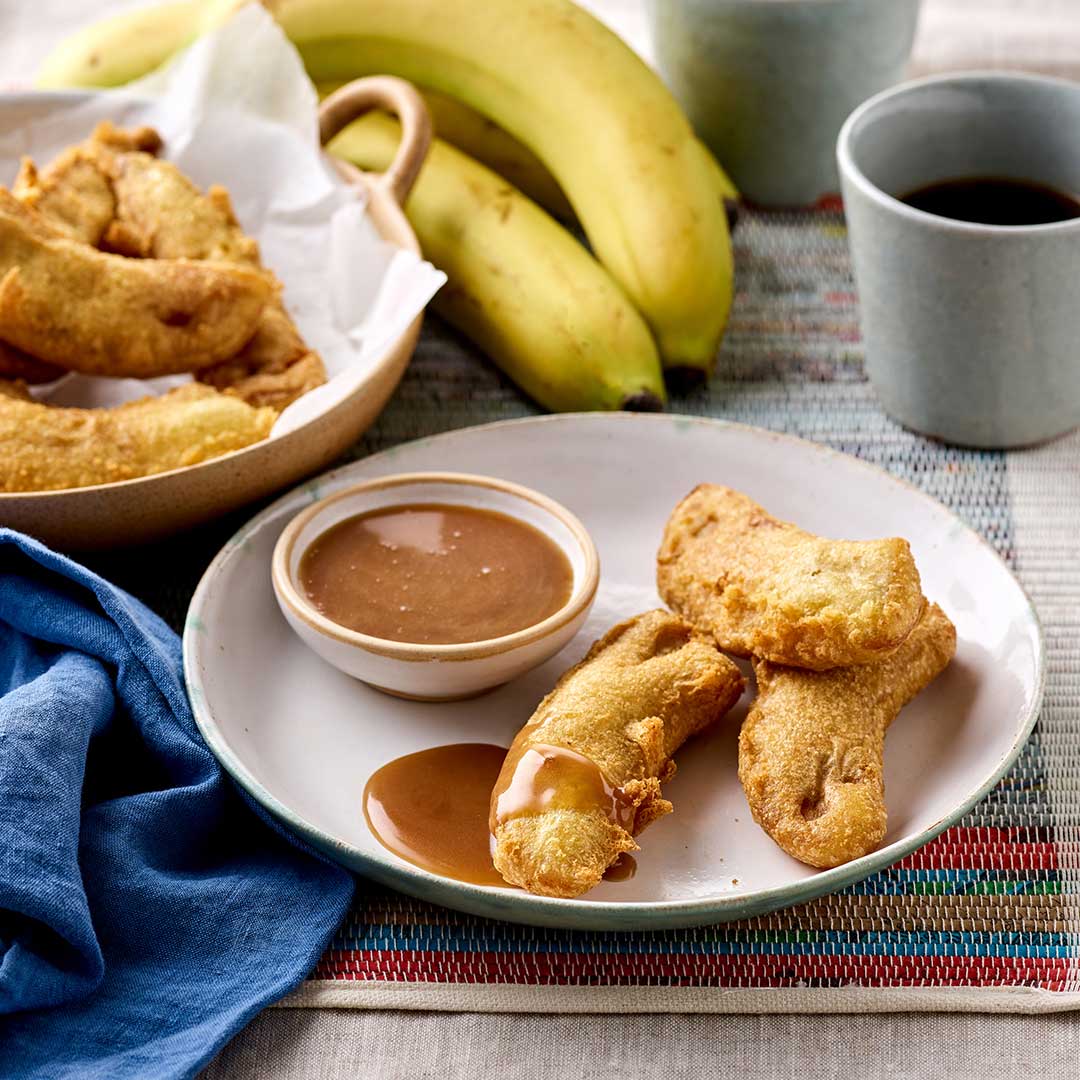 Chickpea Flour Battered Banana Fritters with Toffee Sauce
No reviews yet. Be the first to review this recipe.
16-32 minutes
16 fritters
Dairy,Egg,Gluten,Nuts,Wheat
Vegan,Vegetarian
About this recipe:
Made using chickpea flour batter, these fritters are ideal for a special breakfast or tea time treat and would also please your vegan friends. Serve this wonderful comfort food warm on its own or with our coconut milk and palm sugar toffee sauce.
Equipment:
saucepan, frying pan, baking tray, kitchen paper and 2 x mixing bowls
Ingredients:
VEGAN TOFFE SAUCE
200ml tinned coconut milk
100ml palm sugar
VEGAN CHICKPEA FLOUR BATTER
75g Doves Farm Organic Chickpea Flour
½ tsp Doves Farm Bicarbonate of Soda
125ml water
BANANA FRITTERS
4 bananas
oil, for frying
Method:
Vegan Toffee Sauce
Put the coconut milk and palm sugar into a saucepan over a medium heat.
When it comes to the boil, lower the heat and simmer gently while stirring for 10–20 minutes until the sauce thickens.
Remove from the heat and pour into a warm serving jug.
Vegan Chickpea Flour Batter
Measure the chickpea flour and bicarbonate of soda into a bowl, stir to combine and sieve them into a mixing bowl.
Add half the water and stir to make a smooth thick paste.
Stir in the remaining water to make a batter.
Banana Fritters
Line a baking tray with a few pieces of kitchen paper and set aside.
Peel the bananas, slice them lengthways then cut each length in half.
Put some oil in a frying pan over a medium heat.
Dip a piece of banana in the batter, shake off any excess and slide it slowly and carefully into the hot oil.
Cook over a medium heat until the base is golden, about 3-6 minutes.
Turn the banana fritter over and cook until the other side is also golden.
OR cook the batter covered banana in a deep fat fryer according to the manufacturer's instructions.
Remove banana fritters to the prepared baking tray, cover and keep warm.
Repeat with the remaining bananas.
Serve the fritters warm with warm toffee sauce.
Leave a review?