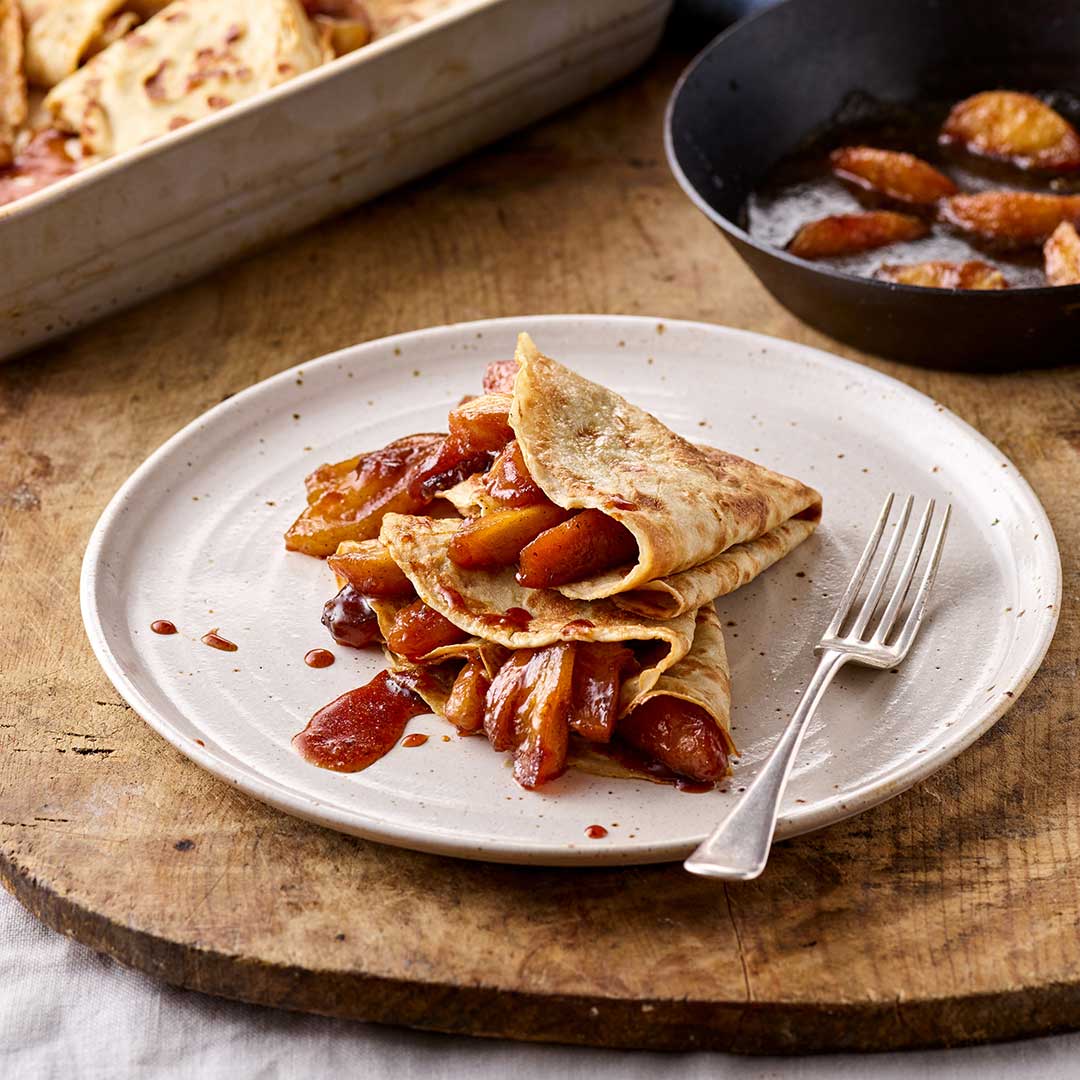 White Spelt and Buckwheat Caramelized Apple Pancakes
No reviews yet. Be the first to review this recipe.
50 minutes
9 pancakes
Nuts
Vegetarian
About this recipe:
When you are ready to go beyond pancakes with lemon or butter and sugar why not try these beauties filled with tasty caramelized apples. The pancakes can be made in advance then filled and re-heated before serving.
Equipment:
frying pan, mixing bowl and oven dish
Ingredients:
WHITE SPELT AND BUCKWHEAT GALETTE PANCAKES
150g Doves Farm Organic White Spelt Flour
50g Doves Farm Organic Wholemeal Buckwheat Flour
25g icing sugar
3 eggs
400ml milk
1 tsp vanilla extract
butter, for cooking
CARAMALISED APPLE
6 eating apples
1 lemon, juice
2 tsp ground cinnamon
100g butter
100g sugar
Method:
180°C, Fan 160°C, 350°F, Gas 4
White Spelt and Buckwheat Pancakes
Sieve the spelt flour, buckwheat flour and icing sugar into a large bowl and stir to combine.
Break the eggs into the bowl, add half the milk and beat to a smooth paste.
Stir in the remaining milk and vanilla extract to make a thin batter. You can use the batter immediately or refrigerate for up to 12 hours if you wish.
Put a little butter into a frying pan over a medium heat, as it melts tip the pan so that the melted butter covers its surface.
Stir the batter then spoon or pour some into the hot pan, rolling it out to the edges.
Cook the pancake on a medium heat for 2-3 minutes, loosening the edges, until the base is golden.
Turn it over and cook the other side.
Transfer the pancake onto a plate.
Repeat the cooking process until the batter is used.
If making these ahead of time, cover and chill the pancakes for up to 24 hours.
Caramelized Apple
Peel, quarter and core the apples. Slice each quarter thinly into a bowl.
Squeeze the lemon juice over the apples, add the cinnamon and turn until they are well covered.
Tip the apples into a frying pan with the butter and cook over a medium heat, turning occasionally, until the apples soften slightly and brown at the edges.
Scatter the sugar over the apples and continue cooking as it dissolves and caramelizes around the apples, stirring once or twice.
Remove from the heat.
Caramelized Apple Pancakes
Pre-heat the oven.
Rub some butter around the inside of an oven dish.
Lay out the pancakes on a clean work surface.
Divide the caramelized apple between the pancakes arranging it over one quarter of each pancake or across the diameter.
Fold up the pancakes into quarters, or roll them up.
Transfer the filled pancakes to the prepared oven dish.
Dot with a little butter.
Bake for 8-10 minutes or until heated through.
Serve immediately.
Leave a review?