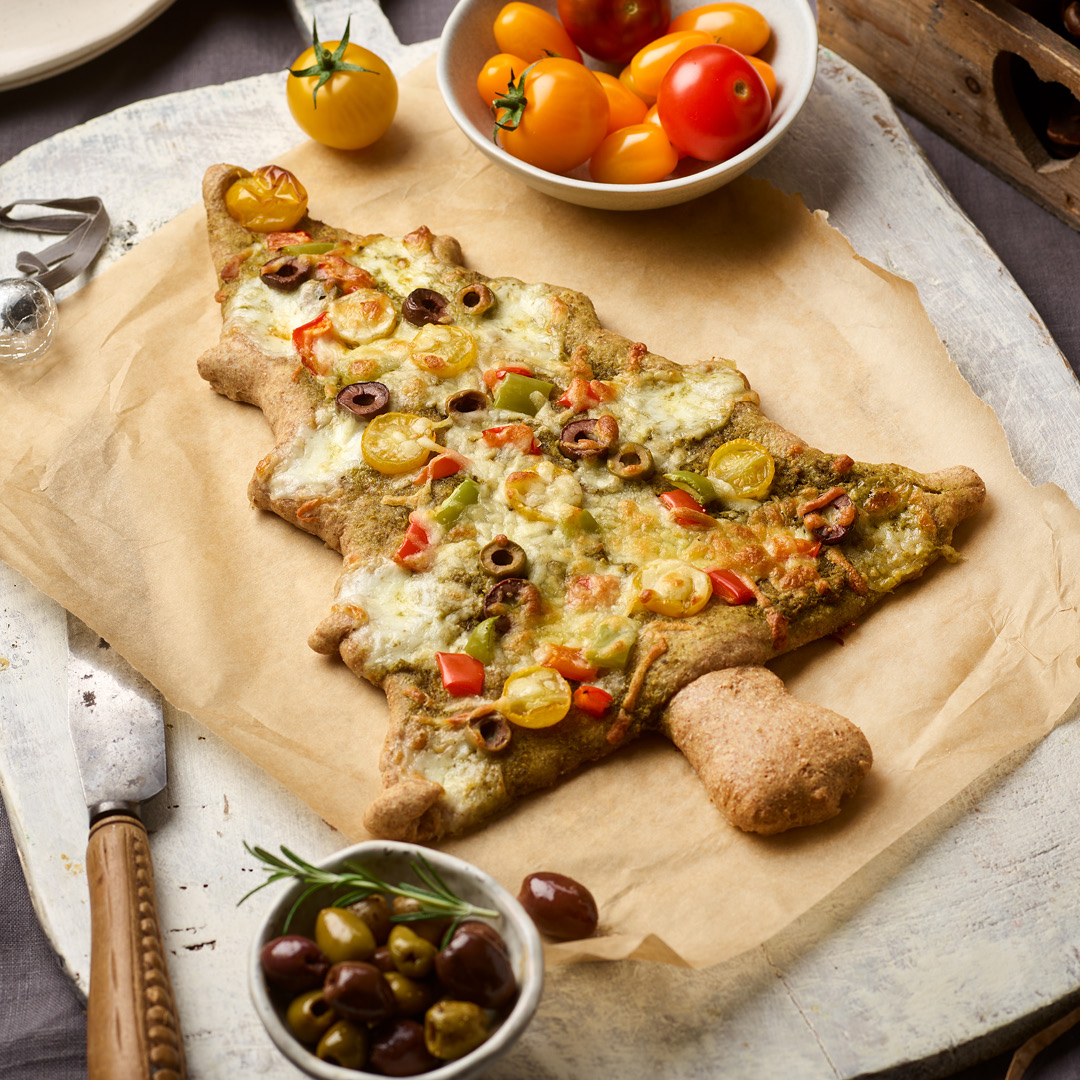 Wholemeal Christmas Tree Pizza
No reviews yet. Be the first to review this recipe.
15-20 minutes
2 Christmas trees
Dairy,Egg,Nuts
Vegetarian
About this recipe:
These fun, tree shaped pizzas use Strong Wholemeal Flour for the dough and pesto sauce as a base for the decorative elements. Children of all ages will love adding the toppings which can be swapped around according to personal preference.
Equipment:
2 x large baking trays, 2 x mixing bowls and clean tea towel
Ingredients:
WHOLEMEAL PIZZA DOUGH
250g Doves Farm Organic Strong Wholemeal Bread Flour
1 tsp Doves Farm Quick Yeast
175ml tepid water
½tsp salt
2 tbsp oil
CHRISTMAS TREE TOPPING
150g pesto
100g mini red or yellow tomatoes
100g mini mozzarella
10 olives, stoned
100g red, yellow or green pepper
100g cheese, grated
1 tsp dried oregano
salt and pepper
oil for tin
Method:
200°C, Fan 180°C, 400°F, Gas 6

Wholemeal Pizza Dough
Put the flour and yeast into a large bowl and blend them together.
Pour in the water and stir until everything looks craggy and lumpy.
Sprinkle the salt over the top and mix to combine.
Add the oil and stir into a doughy mass.
Using your hands, gather the dough and knead it in the bowl for 100 presses.
Invert another bowl over the top and leave it in a warm place, for the dough to double in size, which will take about an hour. The dough can rest longer for a couple of hours if needed.
Wholemeal Christmas Tree Pizza
Rub some oil around the inside of two large baking trays or insert a baking liner.
Knead the dough in the bowl for another 100 presses.
Divide the dough in half and put half on each tray.
Cut a golf ball size piece of dough from each and set this aside.
Flatten the doughs into tall triangles.
Pinch the top of each triangle to form the top of the tree.
Working down either side of the dough's, pinch the sides to create the branch tips.
Brush the pesto all over the dough trees.
Position a golf ball of dough at the bottom of each triangle, shaping them to form the tree trunks.
Slice the tomatoes, mozzarella and olives in half.
Cut the pepper into 1cm/⅜" cubes.
Grate the cheese.
Scatter the tomato, mozzarella, olives, pepper and cheese over the pizza.
Scatter the cheese and oregano over the top.
Cover loosely with a clean tea towel and leave in a warm place for 20 minutes.
Remove the tea towel and bake for 15-20 minutes.
Serve warm.
Leave a review?