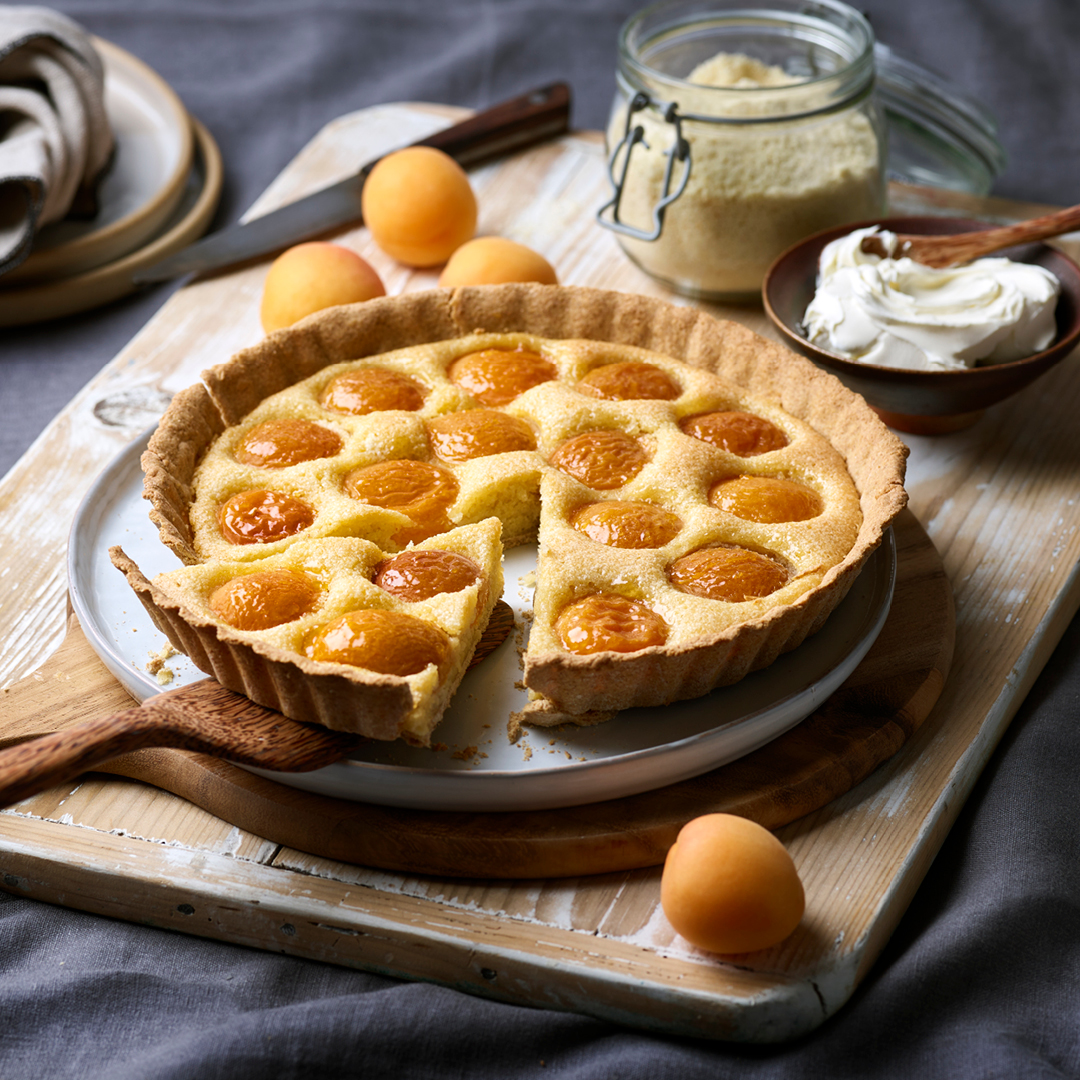 Wholemeal Apricot Frangipane Tart
No reviews yet. Be the first to review this recipe.
20 + 45 minutes
1 tart
Vegetarian
About this recipe:
This special occasion fruit tart is baked in a 25cm/10" dish or tin although you could make two smaller tarts with these ingredients. It is a lovely treat when apricots are in season. Serve slices of the Apricot Frangipane Tart either warm or cold, as they come. For an extra treat, a little custard, cream or mascarpone will complement the flavours of the wholemeal flour and apricots.
Equipment:
25cm/10" round tart dish or springform tin, parchment paper and 2 x mixing bowls
Ingredients:
WHOLEMEAL SWEET PASTRY BASE
75g Doves Farm Organic Fine Plain Wholemeal Flour
35g caster sugar
35g butter
1 egg
flour, for dusting
APRICOT FRANGIPANE
50g ground almonds
75g caster sugar
2 eggs
8 apricots
butter, for dish
Method:
170°C, Fan 150°C, 325°F, Gas 3
Wholemeal Sweet Pastry
Rub some butter around the inside of a 25cm/10" round tart dish or springform tin.
Put the flour and sugar into a mixing bowl and stir to combine.
Chop the butter into small cubes and add them to the bowl.
Using a fork or pastry blender work them together until the mixture resembles fine breadcrumbs.
Break the egg into a small bowl and beat well.
Add the egg to the mixing bowl and bring together a dough.
Using your hands, gather everything together to form a ball of pastry dough.
Dust the work surface with flour, put the pastry in the middle and sprinkle it with flour.
Roll the pastry out into a circle 5cm/2" larger than your dish and transfer it to the dish.
OR simply press the dough into the dish using your fingers.
Lay a large piece of parchment paper over the raw pastry, making sure all the edges are covered.
Scatter ceramic baking beans (or rice or flour) over the parchment paper, spreading them all over the surface.
Bake for 15 minutes.
Remove from the oven and carefully lift the parchment paper and contents off the pastry.
Return the pastry to the oven and cook for a further 5-6 minutes.
Apricot Frangipane Tart
Measure the almonds and sugar into a mixing bowl.
Add the eggs and beat together really well.
Tip the mixture onto the pastry base and spread it out.
Slice the apricots in half and remove the stones.
Arrange the apricots over the frangipane mixture with the cut side down.
Bake for 45 minutes.
Leave a review?