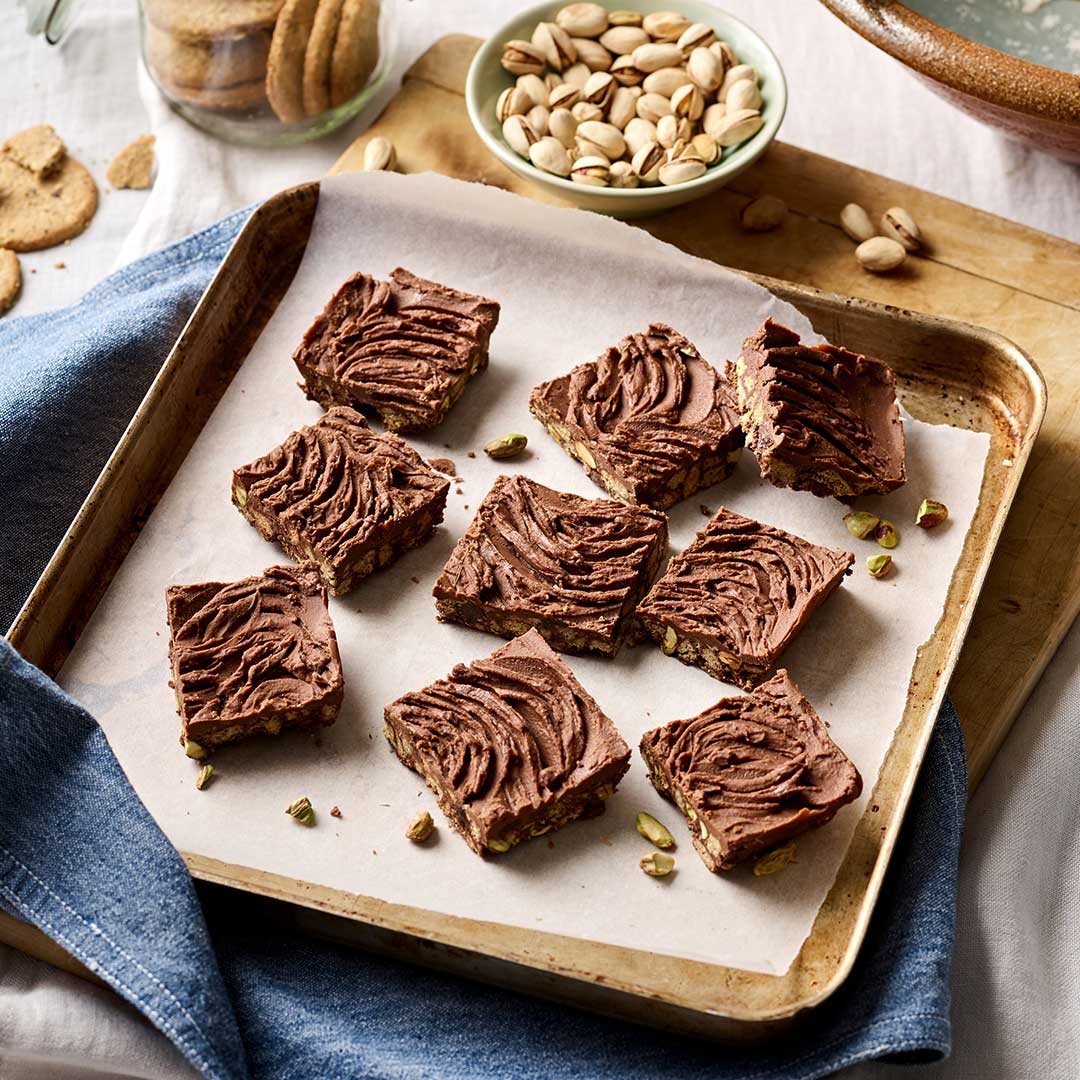 Fruity Oat Biscuit Tiffin
About this recipe:
Tiffin is an English Indian name for a sweet snack often served at tea time. This great no bake tiffin is a refrigerator cake based on our fruity oat biscuits. You could swap the nuts and dried fruit to whatever you have in the cupboard.
Equipment:
large mixing bowl, saucepan and 15x20cm/6×8" dish
Ingredients:
FRUITY OAT BISCUIT TIFFIN
150g Doves Farm Organic Fruity Oat Biscuits
100g plain chocolate
50g butter, unsalted
1 tsp golden syrup
25g pistachio nuts
25g currants
butter, for dish
CHOCOLATE TOPPING
100g milk chocolate
15g butter
Method:
Fruity Oat Biscuit Tiffin
Rub some butter around the inside of a 15x20cm/6×8" dish or insert a baking liner.
Crush the biscuits into a bowl making sure the pieces are not larger than 7mm/¼" in any direction.
Gently melt together the plain chocolate and butter.
Remove from the heat when smooth and runny and stir in the syrup.
Add the pistachio nuts, currants and crushed biscuits and stir to combine.
Tip the mixture into the prepared dish, spreading and pressing firmly and evenly to the edges.
Chill until set.
Chocolate Topping
Gently melt together the chocolate and butter until just runny.
Stir to combine and spread the chocolate topping over the tiffin.
When the chocolate has cooled a little, run the back of a fork across the chocolate to make lines.
Leave to set then cut into small squares or slices.
Store fruity oat biscuit tiffin in an airtight container.