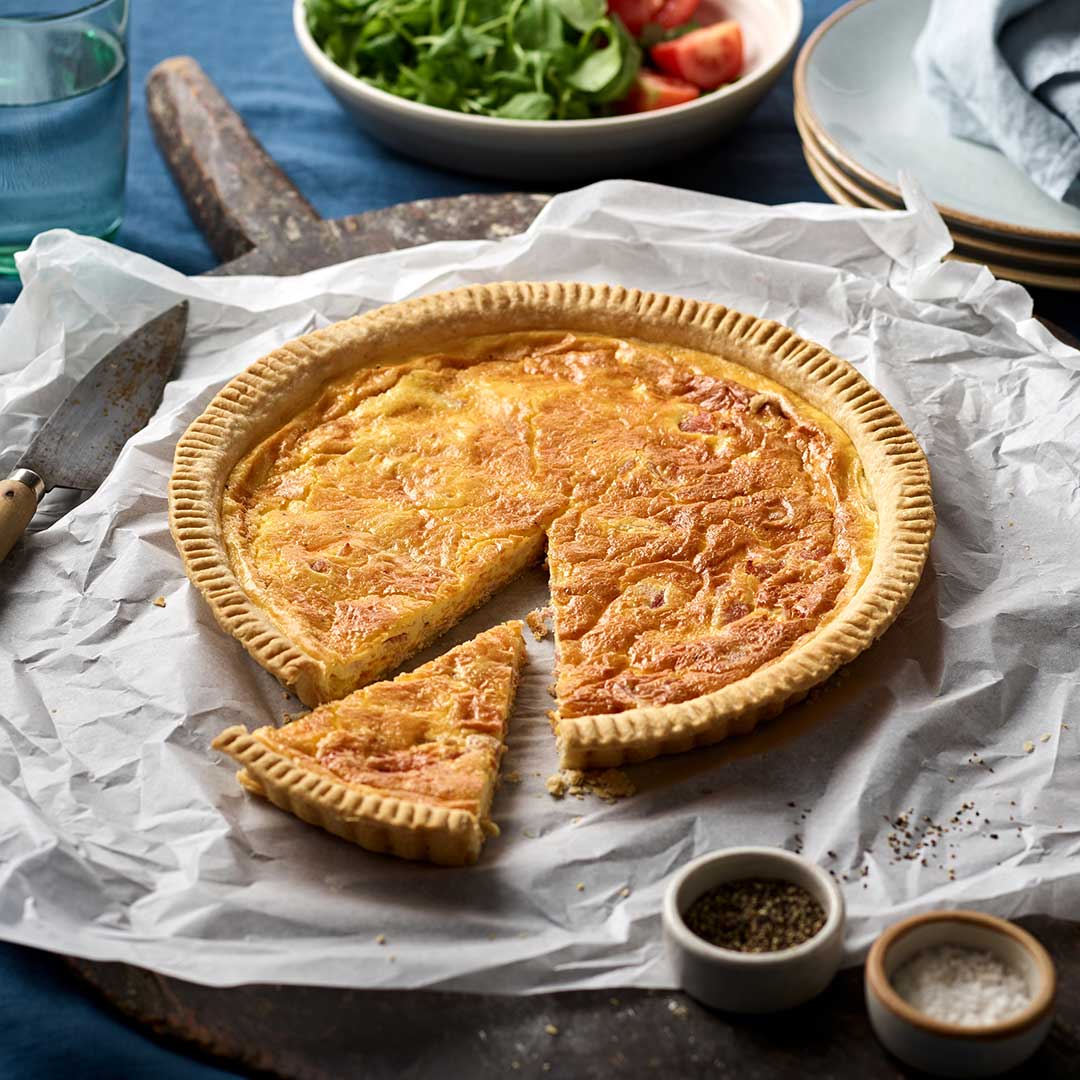 Quiche Lorraine
40-45 minutes
1 quiche
Nuts
Without crystal sugar
About this recipe:
Known almost universally by its French name, Quiche Lorraine, this classic tart is made with eggs and bacon cooked in a pastry case. It is equally delicious served warm or cold.
Equipment:
22cm/9" round baking dish or tin, frying pan, pastry blender and 2 x mixing bowls
Ingredients:
PASTRY
200g Doves Farm Organic Plain White Flour
pinch of salt
100g butter
7-8 tbsp cold water
flour, for dusting
butter, for dish
FILLING
150g bacon
3 eggs
3 tbsp crème fraîche
75g cheese, grated
salt and pepper
Method:
180°C, Fan 160°C, 350°F, Gas 4
Pastry
Rub some butter around a 23cm/9" round baking dish or tin and pre-heat the oven.
Put the flour and salt into a mixing bowl.
Chop the butter into small cubes and add them to the bowl.
Using a fork or pastry blender, work the butter cubes into the flour until the mixture resembles breadcrumbs.
Stir in enough water to bring together a soft ball of dough.
Dust the work surface with flour, put the dough in the middle and sprinkle it with more flour.
Roll the pastry out into a circle 5cm/2" larger than your dish and lift it into the dish OR simply press the dough into the dish using your fingers.
Cut away any pastry that hangs over the edge of your dish.
Filling
Chop the bacon into a frying pan, cook until it changes colour without browning, then remove from the heat.
Break the eggs into a bowl, add the crème fraiche and beat well.
Grate the cheese into the bowl, add the cooked bacon, salt and pepper and mix well.
Pour the mixture into the pastry case.
Bake for 40-45 minutes.