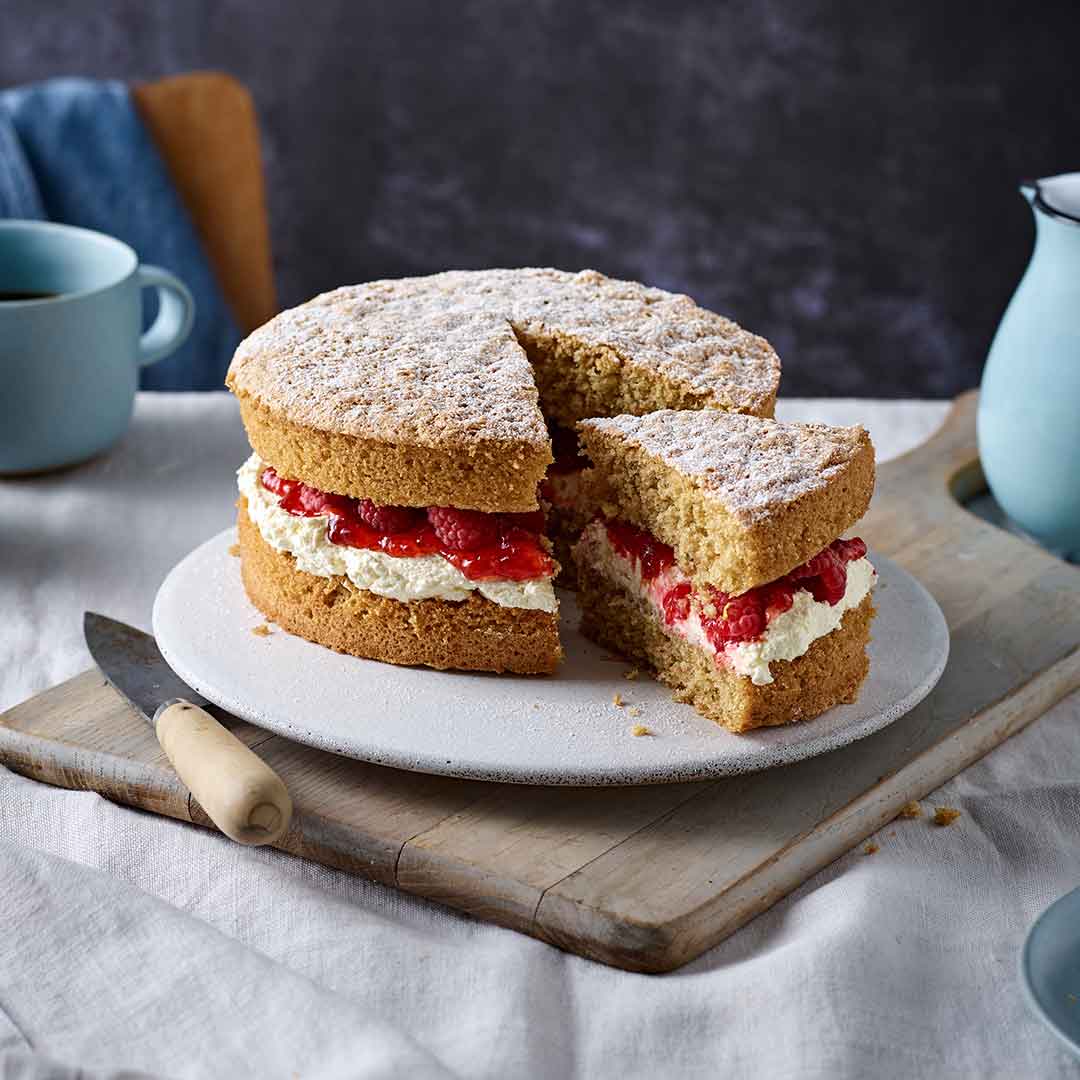 Wholemeal Sponge Layer Cake with Cream and Berries
25-30 minutes
1 layer cake
Nuts
Vegetarian,Wholemeal
About this recipe:
This delicious, super fruity wholemeal berry cake can be made with one or more type of fresh berries such as strawberries, raspberries, blueberries or wild gathered blackberries.
Equipment:
2 x 15cm/6" round cake tins and mixing bowl
Ingredients:
WHOLEMEAL SPONGE LAYERS
3 eggs
125g caster sugar
75g oil
125g Doves Farm Organic Self Raising Wholemeal Flour
oil, for tins
icing sugar, to dust
CREAM AND BERRY FILLING
125ml double cream
100g raspberries or other berries
3 tbsp raspberry or strawberry jam
Method:
180°C, Fan 160°C, 350°F, Gas 4
Wholemeal Sponge Layers
Pre-heat the oven.
Rub some oil around the inside of two 15cm/6" round cake tins or insert a baking liner.
Break the eggs into a bowl, add the sugar and beat until thickened.
Mix in the oil.
Sieve the flour into the bowl adding any bran left in the sieve and gently mix with a metal spoon.
Divide the mixture between the prepared tins and smooth the tops.
Bake for 25-30 minutes.
Leave to cool in the tin for 5 minutes then turn the cakes out onto a rack and leave to cool.
Cream and Berry Filling
Measure the cream into a bowl and beat until thickened.
Stir in the berries, allowing them to crush slightly.
Spread the filling over one cold sponge.
Spread the jam over the base of the second sponge and place it jam side down on the cream.
Before serving, dust a little icing sugar over the top.