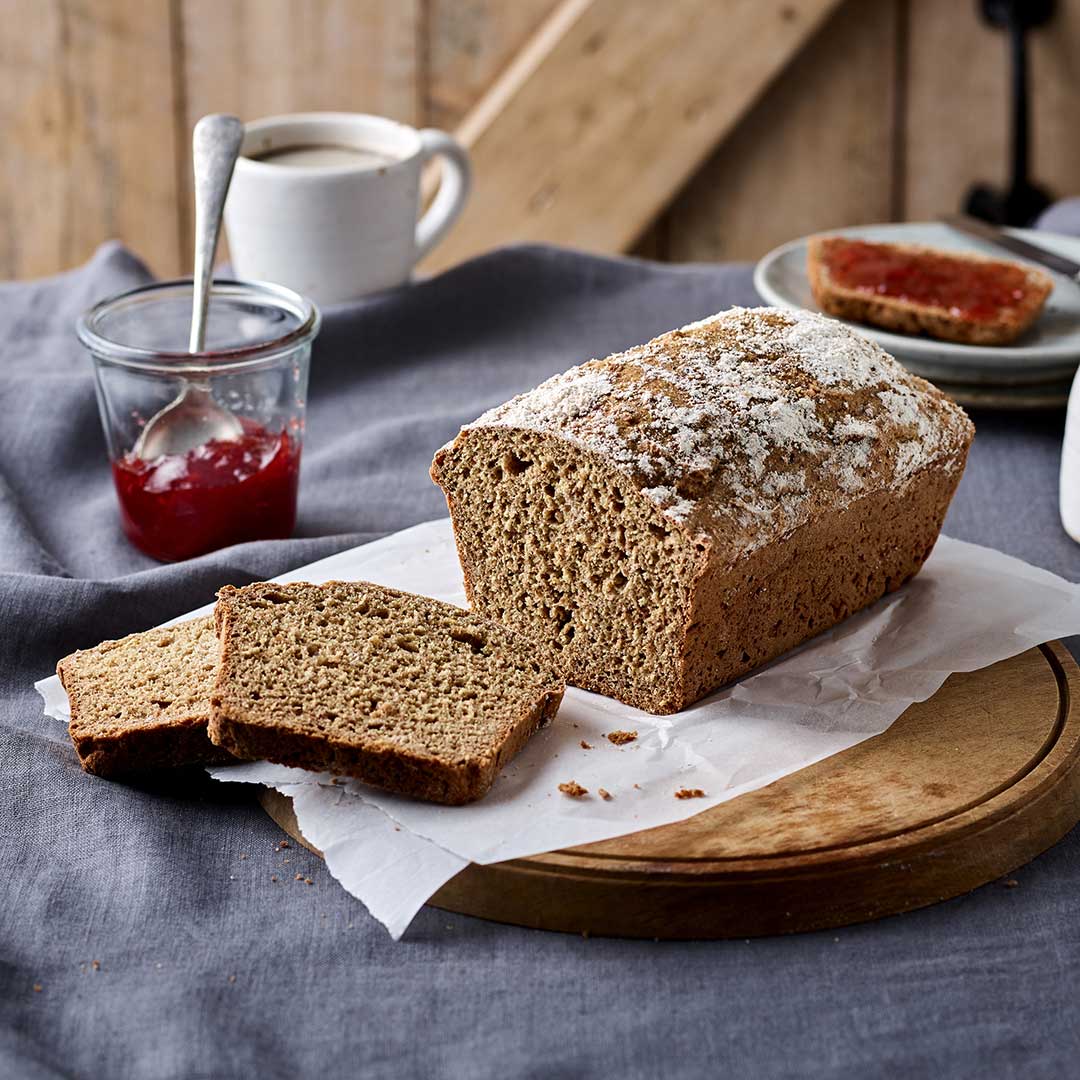 Wholemeal Spelt Soda Bread
55 minutes covered + 10 minutes uncovered
1 loaf
Egg,Nuts
No added sugar,Vegetarian,Wholemeal
About this recipe:
A rustic, yeast free, whole grain loaf baked with spelt flour. As with all soda breads it is important to mix the dry ingredients thoroughly.
Equipment:
1kg/2lb loaf tin and mixing bowl
Ingredients:
450g Doves Farm Organic Wholemeal Spelt Flour
2 tsp Doves Farm Bicarbonate of Soda
pinch of salt
50ml boiling water
150ml cold water
250g natural yoghurt
oil, for tin and brushing
Method:
200°C, Fan 180°C, 400°F, Gas 6
Pre-heat the oven.
Rub some oil around the inside of a 1kg/2lb loaf tin or insert a baking liner.
Put the flour, bicarbonate of soda and salt into a bowl, stir to combine and sieve into a mixing bowl. Tip any bran left in the sieve into the bowl.
Measure the boiling water into a jug and add the cold water.
Add the yoghurt and stir to combine.
Pour this into the mixing bowl and stir everything together to make a soft, sticky dough mass.
Tip the dough into the prepared tin, smooth the top and dust lightly with flour.
Brush some oil over a piece of tin foil. With the oiled side down, cover the tin, creating a dome so the bread can rise during cooking.
Bake for 55 minutes.
Carefully remove the tin foil and bake for a further 10 minutes.
Turn the loaf out of the tin, tap the base and if it sounds hollow the bread is cooked.
Leave to cool on a wire rack.
Cool completely before slicing.