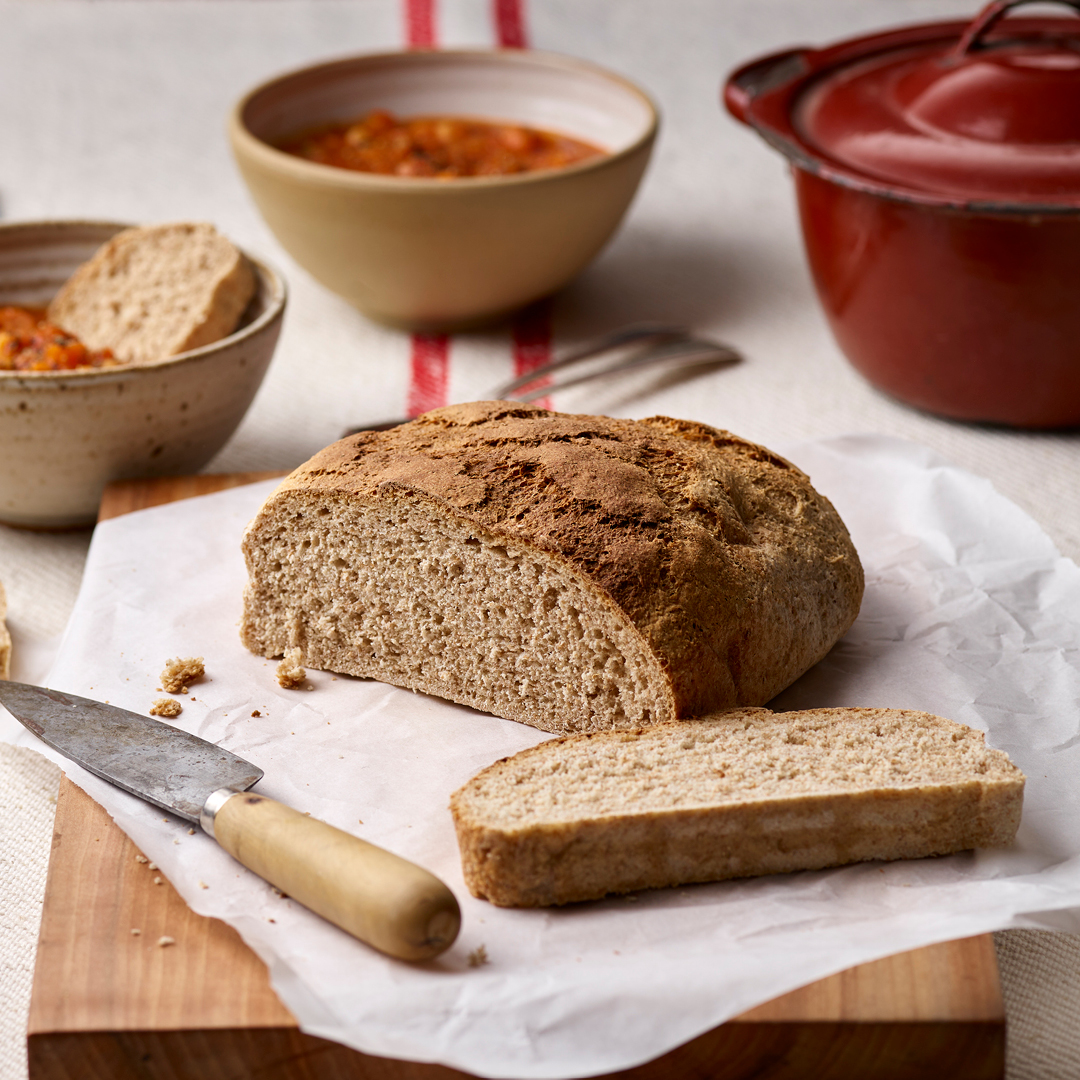 Wholemeal Air Fryer Bread Loaf
30 minutes
1 loaf
Egg,Nuts
Vegan,Vegetarian
About this recipe:
Quicker to make than many types of bread, this loaf that is cooked in an air fryer rather than a conventional oven. Using a single rise method and strong wholemeal flour, this bread baked without a tin in a boule or cob loaf shape.
Equipment:
air fryer, parchment paper and mixing bowl
Ingredients:
300g Doves Farm Organic Strong Wholemeal Bread Flour
½ tsp Doves Farm Quick Yeast
½ tsp sugar
200ml tepid water
½ tsp salt
1 tbsp oil
Method:
air fryer 200°C
Cut a 30cm/12" square of parchment paper to fit the base of your air fryer and leave it on the work top.
Set the air fryer to 200°C and run for 5 minutes.
Put the flour, yeast, sugar into a mixing bowl and blend them together well.
Pour in the water and mix together until craggy.
Scatter the salt over the top and stir to make a dough.
Sprinkle the oil over the top.
Using your hands bring together a doughy mass.
Knead the dough in the bowl for 100 presses. Avoid adding flour as the dough becomes firm.
Shape the dough into a ball and place it on the middle of the parchment paper.
Pick up the corner tips of the parchment paper, quickly open the warm air fryer and lift the dough into the machine. Leave the paper flappy at the sides and close the door.
Leave the dough to rise in the machine for 40 minutes.
Without opening the door, set the air fryer to 200°C again and run for 30 minutes.
Carefully lift the bread out of the machine and leave to cool on a wire rack.