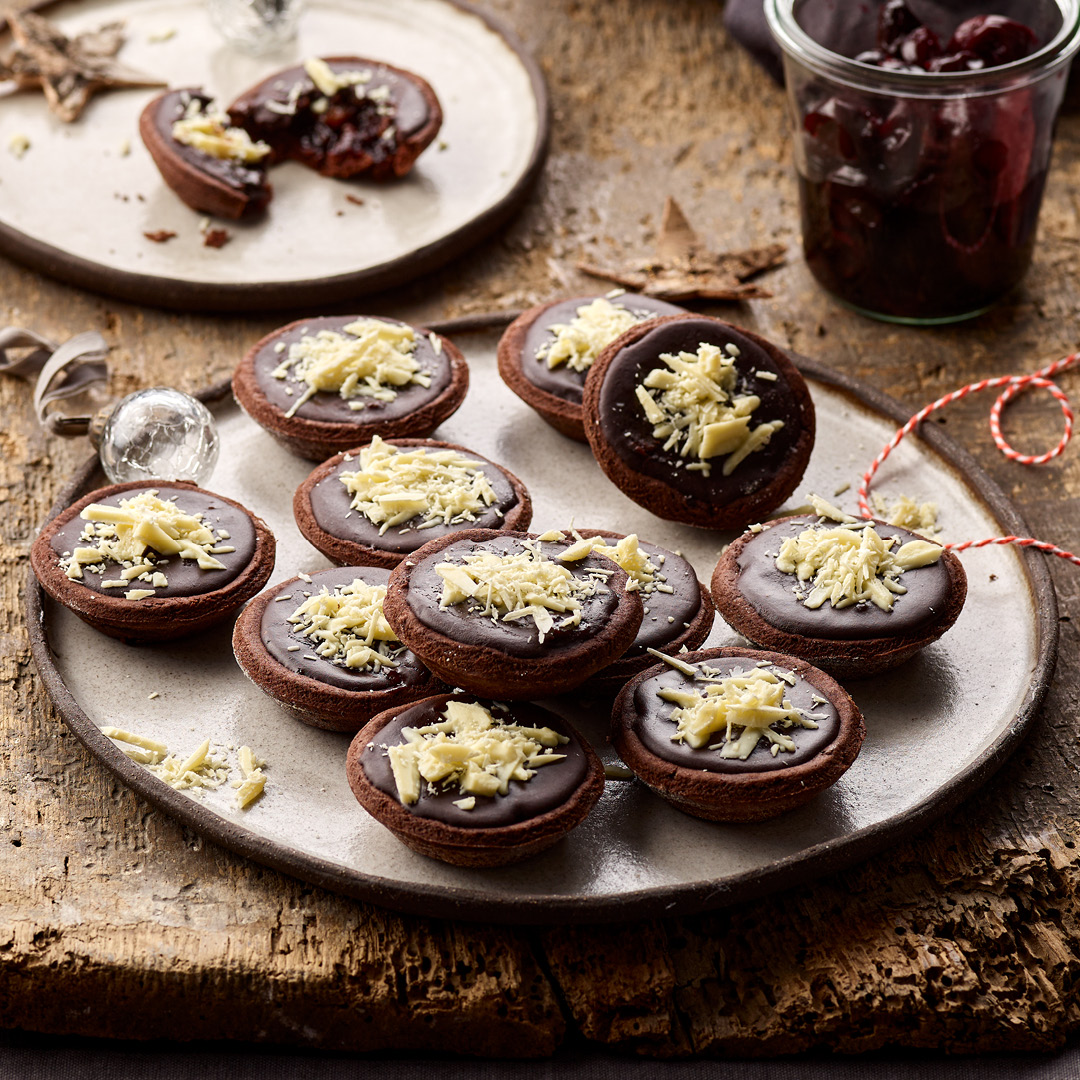 Black Forest Mince Pies
No reviews yet. Be the first to review this recipe.
18-20 minutes
24 mince pies
Nuts
Vegetarian
About this recipe:
For a modern take on a seasonal classic, these delicious black forest mince pies are packed full of chocolate and cherry flavour, with the addition of kirsch. For best results use cherries in syrup and kirsch although glacé cherries and any spirit also work well.
Equipment:
2 x 12-hole tart tins, 2 x mixing bowls, rolling pin, saucepan and 75mm/3" inch round cookie cutter
Ingredients:
PASTRY
150g Doves Farm Organic Plain White Flour
75g icing sugar
1 tbsp cocoa
⅛ tsp Doves Farm Bicarbonate of soda
50g butter
4 tbsp milk
2 tbsp kirsch
butter, for tins
flour, for dusting
FILLING
24 morello cherries
175g mincemeat
TOPPING
25g white chocolate, grated
50g butter
1 tbsp milk
1 tsp vanilla extract
2 tbsp cocoa
225g caster sugar
2 tbsp kirsch
Method:
180°C, Fan 160°C, 350°F, Gas 4

Pastry
Measure the flour, icing sugar, cocoa, and bicarbonate of soda into a mixing bowl, stir and sift into another bowl.
Chop the butter into small cubes, add them to the bowl and using a fork or pastry blender mix everything together until it looks like breadcrumbs.
Add the milk and kirsch and stir until a dough comes together.
Preheat the oven and rub some butter around the inside of 2 x 12-hole tart tins.
Dust the work surface and rolling pin with flour to prevent the dough from sticking.
Put the dough on the work surface, dust it with flour and roll out until 3mm/⅛ inch thick.
Press a 75mm/3" inch round cookie cutter into the dough and transfer the circles to the holes of the tart tin. Mend any smaller breakages in the pastry by pinching it together.
Gather left over pastry into a ball, roll it out again and cut more circles.
Filling
Cut each morello cherry into quarters and put them into the pastry cases.
Put a teaspoon of mincemeat on top of the cherries.
Bake for 18-20 minutes.
Topping
Coarsely grate the white chocolate and set aside.
Chop the butter into cubes and put them into a saucepan over a gentle heat.
Add the milk and vanilla extract.
Sift the cocoa into the saucepan, add the sugar and stir until it is dissolved.
Continue stirring until it starts to boil, remove from the heat and stir in the kirsch.
Put a spoon of the topping over each tart.
Sprinkle some grated chocolate onto the top of each tart.
Allow to cool completely until storing in a tin or freezer.
Leave a review?