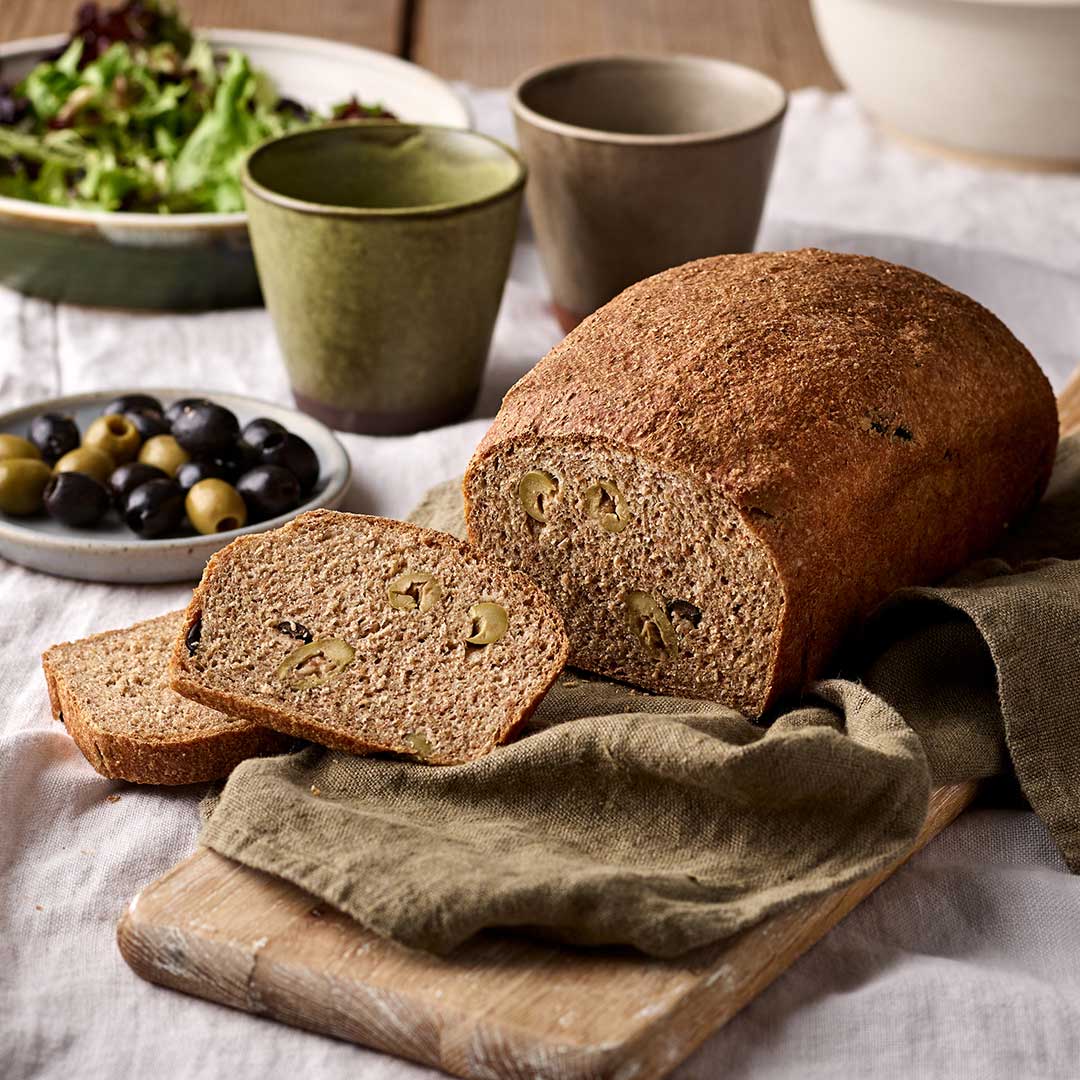 Wholemeal Olive Bread
No reviews yet. Be the first to review this recipe.
40-45 minutes
1 loaf
Dairy,Egg,Nuts
Vegan,Vegetarian,Wholemeal
About this recipe:
The pitted black or green olives in this tasty loaf make it an ideal accompaniment to many lunch and supper dishes. Delicious served with cheese or cold cuts, olive bread could also be a good option for a picnic.
Equipment:
1kg/2lb bread tin and mixing bowls
Ingredients:
500g Doves Farm Organic Strong Wholemeal Bread Flour
1 tsp Doves Farm Quick Yeast
1 tsp sugar
350ml tepid water
1 tsp salt
3 tbsp olive oil
150g olives, pitted
Method:
220°C, Fan 200°C, 425°F, Gas 7
Put the flour, yeast and sugar into a large bowl and blend them together.
Stir in tepid water, and when everything looks craggy and lumpy, stir in the salt.
Mix in the oil.
Using your hands, gather everything together into a ball of dough.
Knead the dough in its bowl, or on a work surface, for 100 presses without adding flour.
Cover the dough with a large upturned bowl and leave it in a warm place for the dough to double in size, which will take about an hour.
Rub some oil around the inside of a 1kg/2lb bread tin.
Press down the dough and knead it for 50 presses.
Add the olives, kneading until they are combined with the dough.
Shape the dough, pushing any exposed olives back into the dough, and put it into the prepared tin.
Invert an upturned bowl over the tin and leave it to rise in a warm place for 40 minutes.
Pre-heat the oven.
Remove the upturned bowl and bake for 40-45 minutes. You will know it's done when the bottom sounds hollow when tapped.
Leave the bread to cool on a wire rack.
Leave a review?