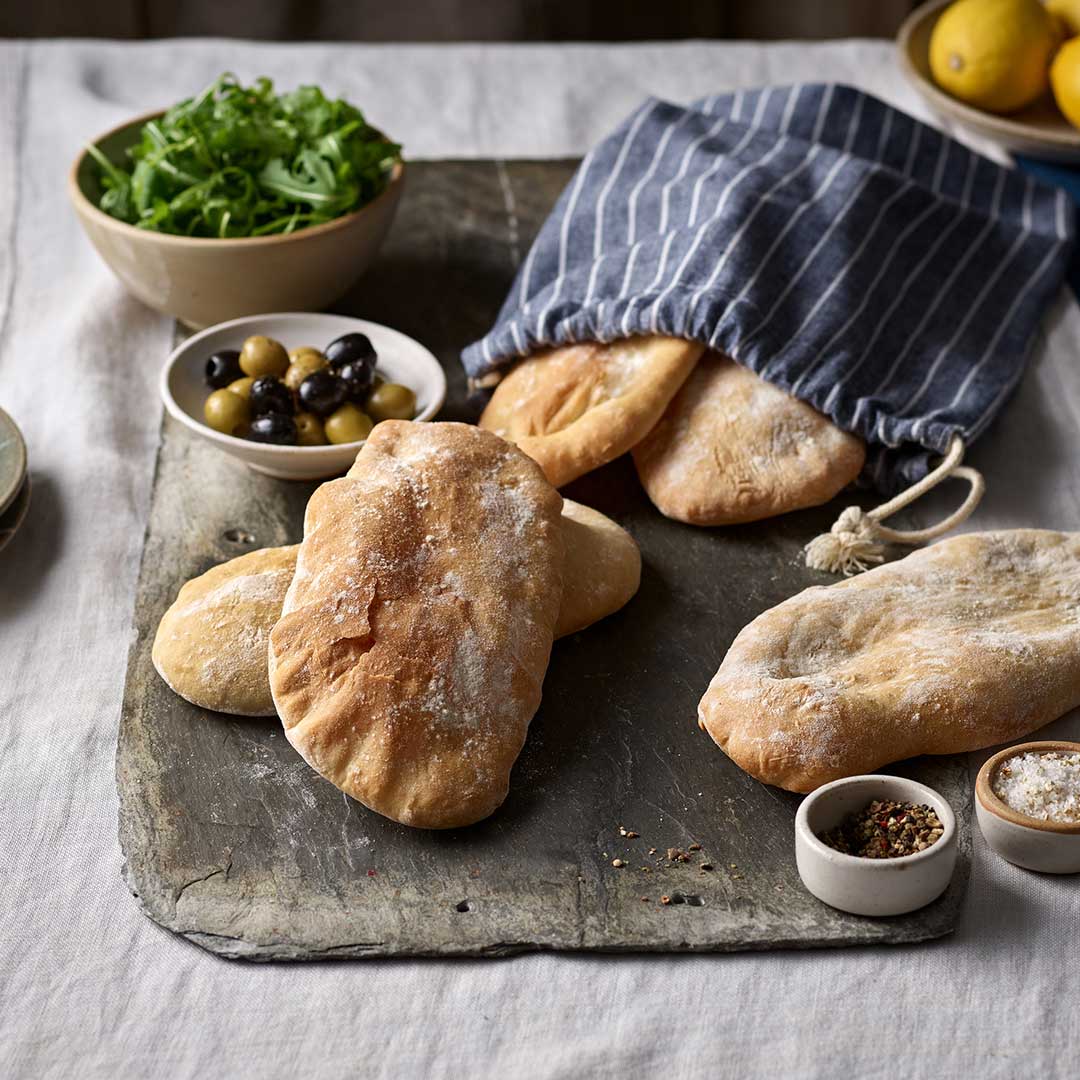 Wholemeal Spelt Pitta Flatbreads
12-15 minutes
5 pitta flatbreads
Egg,Nuts
No added sugar,Vegetarian,Wholemeal
About this recipe:
These wholemeal flatbreads can be filled to make a great alternative to sandwiches, they can provide a meal in themselves and are ideal to serve warm with soups and dips.
Equipment:
2 x baking trays, clean tea towel and mixing bowl
Ingredients:
250g Doves Farm Organic Wholemeal Spelt Flour
1 tsp Doves Farm Quick Yeast
pinch of salt
25ml boiling water
150ml cold water
2 tbsp olive oil
flour, for dusting
Method:
220°C, Fan 200°C, 425°F, Gas 7
Put the flour, yeast and salt into a large bowl and blend them together.
Measure the boiling water into a jug, add the cold water and stir to combine.
Pour the mixture into the bowl and stir until lumpy.
Add the oil and mix well.
Using your hands gather everything together into a doughy mass.
Knead the dough in the bowl, or on a work surface, for 50 presses.
Cover the bowl with a clean tea towel and leave to rise for at least 40 minutes.
Knead the dough for another 50 presses.
Dust a large chopping board or tray with flour, put the dough in the middle and dust it with flour.
Cut it into 5 equal pieces and roll each into a ball.
Cover the dough balls and rest for 15 minutes.
Pre-heat the oven and put the baking trays in to heat up.
Dust the dough balls with flour and using floured hands, flatten each piece of dough teasing it into a 10x23cm/4×9″ oval.
Lay the ovals out on the flour dusted board or tray and dust lightly with flour.
Cover with a clean tea towel and rest for 15 minutes.
Working quickly and carefully, open the oven door and remove the hot trays.
Take the pitta one at a time, turn them over and lay them on the hot baking trays.
Immediately return the trays to the oven and bake for 12-15 minutes.
Remove the pitta, wrap them in a clean towel and leave to cool.