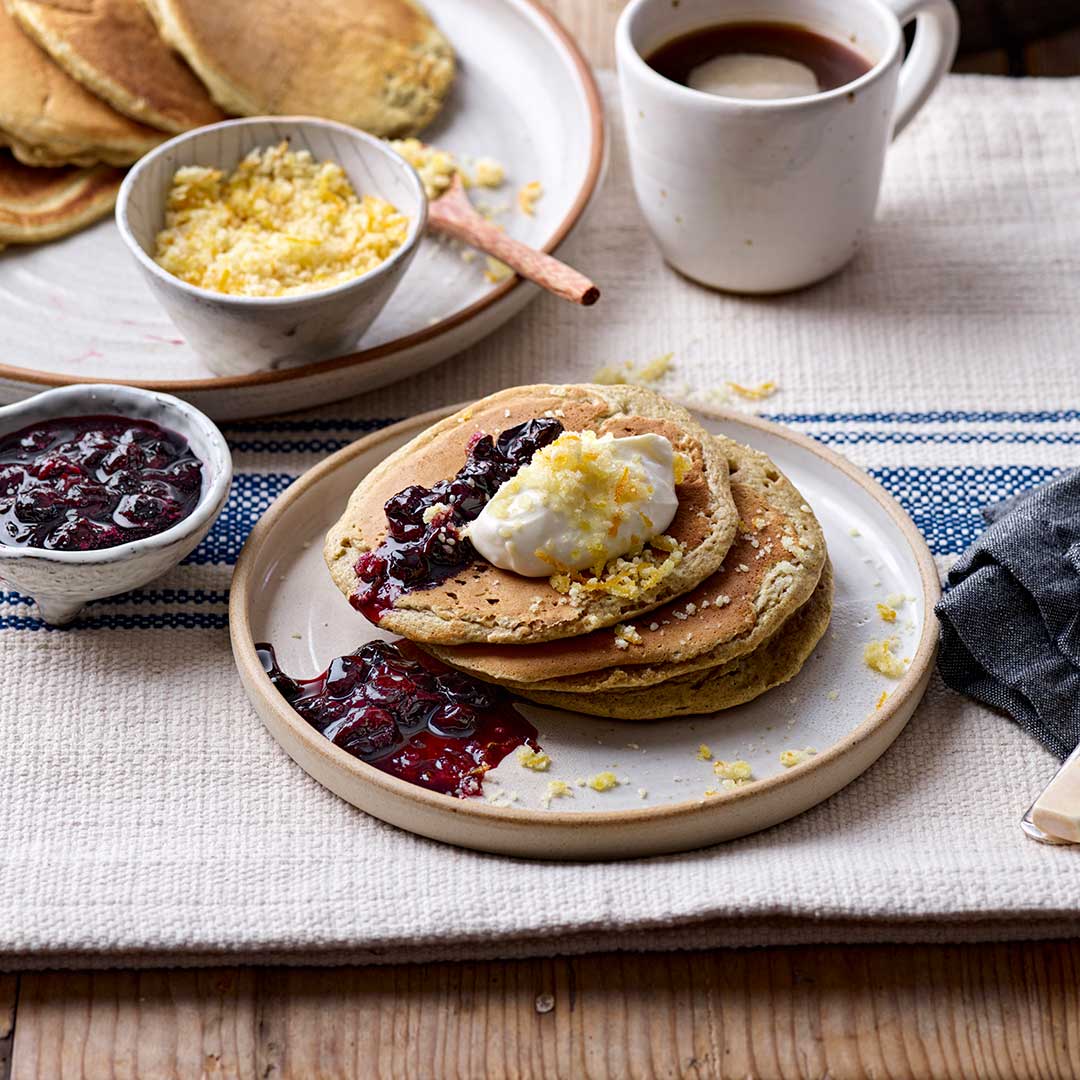 Wholemeal Rye Pancakes
8-9 pancakes
Nuts
Vegetarian
About this recipe:
Deliciously light, airy and moreish, these wholegrain rye flour drop scones are cooked in butter for extra flavour. Serve them with blueberry compote, sesame orange zest (both of which can be made in advance) and a dollop of crème fraîche.
Equipment:
2 x saucepans, frying pan and 2 x mixing bowls
Ingredients:
BLUEBERRY COMPOTE
150g blueberries
2 tbsp sugar
3 tbsp water
SESAME AND ORANGE ZEST TOPPING
1 tbsp orange, zested
3 tbsp caster sugar
2 tbsp sesame seeds
WHOLEMEAL RYE PANCAKES
250ml milk
2 tbsp lemon juice
125g Doves Farm Organic Wholemeal Rye Flour
2 tsp Doves Farm Baking Powder
15g butter, melted
2 eggs
butter, for pan
crème fraîche, to serve
Method:
Blueberry Compote
Put the blueberries, sugar and water into a saucepan over medium heat.
Cook for 4-6 minutes until the berries soften then remove from the heat.
Sesame Orange Zest Topping
Peel the zest from an orange using a zester.
Measure 1 spoon of the sugar and the sesame seeds into a small saucepan over a medium heat.
Shake the pan regularly until you see the sugar just starting to melt. Remove the pan from the heat,
Add the orange zest and remaining 2 spoons of sugar and stir vigorously to make small sugary lumps.
Tip everything onto a plate and leave to cool.
Rye Pancakes
Measure the milk into a mixing bowl, add the lemon juice, stir, cover and leave for 30 minutes.
Put the rye flour and baking powder into another bowl and stir to combine.
Melt the butter.
Break the eggs into the prepared milk and beat well.
Sieve the prepared flour into the bowl, adding any bran left in the sieve.
Stir in the melted butter.
Rub a little butter around the inside of a frying pan and put it over a medium heat, making sure the butter doesn't brown.
Tip the batter into the pan to make 10cm/4" circles and cook over a medium heat.
When air holes appear in the pancake top(s) and the base is golden, turn the pancake(s) over and cook the other side.
Lift the pancake(s) out of the pan onto a warm plate.
Repeat until the batter is used.
Serve the pancakes with some berry compote, crème fraiche and sprinkled with the sesame orange topping.